cornucopia cookies for Thanksgiving — decorated cookie idea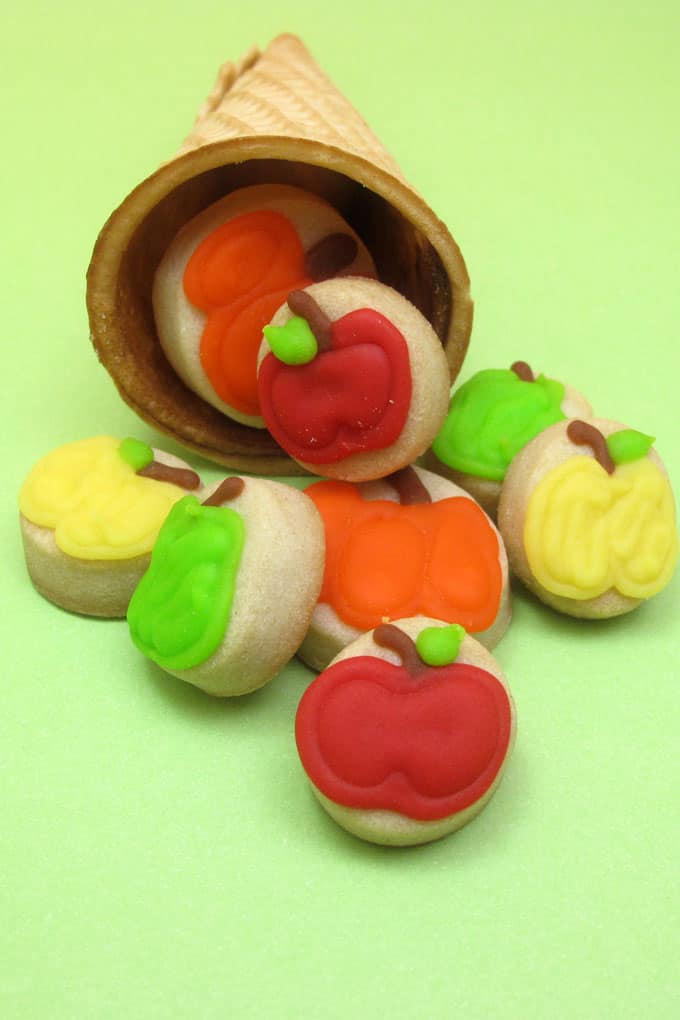 cornucopia cookies
And finally, my favorite of all the Thanksgiving cookie ideas for Celebrations… Cornucopia cookies! Even though I have mini fruit cookie cutters, I just used much-easier-to-find 1-inch circles for all the fruit, just for everyone out there who doesn't have mini fruit cookie cutters. That's how thoughtful I am. After you decorate your mini harvest fruit cookies, fill an ice cream cone and you have an instant Thanksgiving cornucopia centerpiece, place setting or party treat.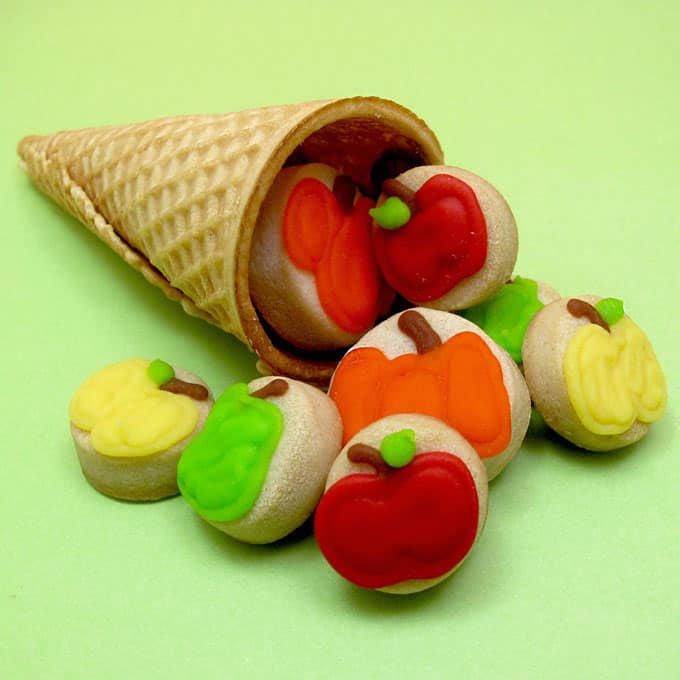 how to make Thanksgiving cornucopia cookies
cookie dough (my go-to cookie recipes)
royal icing
1-inch circle cookie or fondant cutter

food

coloring
5 decorating bags
5 couplers
assorted decorating tips (sizes "2," "3," and "4")
rubber bands
ice cream cones
Find the circle cookie cutter at the craft store, likely as part of a set of circles. (I also used a 1 ¼-inch circle for the pumpkins, but you may use the same 1-inch circle used for the fruit.) Find cookie decorating supplies HERE. For food coloring, I suggest Americolor gel pastes (Chocolate Brown, Red, Electric Green, Orange and Egg Yellow).
Bake your cookies. Roll out chilled cookie dough, cut out mini circles (about 6 to 8 for each cone) and bake according to the recipe. NOTE: For pears, pinch the top of the mini circle a bit before baking.
Prepare your icing. Prepare royal icing, divide and tint your colors: brown, red, green, yellow and orange. Prepare decorating bags with couplers and tips, fill with your colors and close tightly with rubber bands.
Decorate your pumpkins and fruit. Decorate apples, pumpkins and pears. For each, pipe a brown stem with a size "2" tip. Then pipe an apple, pumpkin or pear outline with a size "3" tip in red or yellow, orange and green, respectively, as shown below.
Let set about 15 minutes. Change the tips on the red or yellow, orange and green to size "4" and fill the fruit. With a size "3" tip green, pipe leaves on the apples, if desired. Let the cookies dry well, preferably overnight.
Arrange your cornucopias. Fill an ice cream cone with cookies and arrange on each plate.