Disclosure: *This post may include affiliate links. As an affiliate, I earn from qualifying purchases.


rainbow sandwich cookies
I initially titled these "macaron" cookie pops, because they are supposed to look like macarons without actually being macarons, since I'm terrible at making macarons. But really, they are just rainbow sandwich cookies. So why not call it what it is?
Whilst the crisp but chewy, light as air quality of macarons is lost, unlike real macarons, these are very easy to make. And they are of course delicious.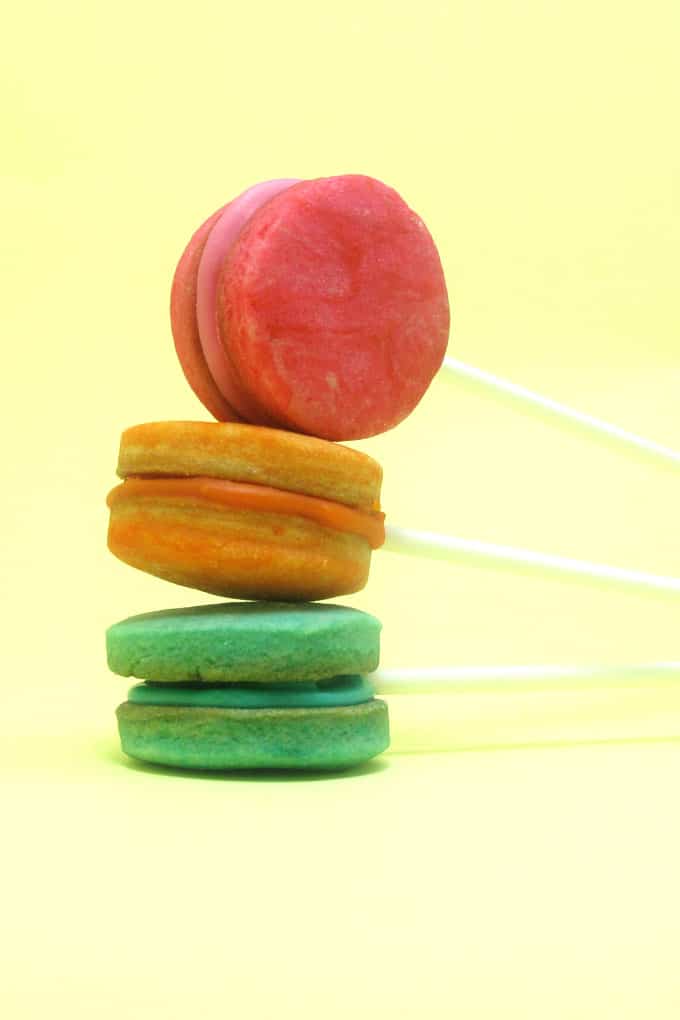 how to make rainbow sandwich cookies
you will need:*
small circle cookie cutter (about 1 1/2 inch)
food coloring
disposable decorating bags
couplers
size "5" tips
rubber bands
lollipop sticks (optional)
rubber gloves (optional)
*For food coloring, I use Americolor soft gel pastes (Electric Pink, Electric Green, Turquoise and Orange). Find the cutter, decorating bags, couplers, tips, sprinkles and lollipop sticks at the craft store. Find cookie decorating supplies HERE.
step one: bake your cookies
Prepare sugar cookie dough, chill, divide, and tint desired colors by kneading drops of food coloring into the dough. If the dough gets mushy from kneading, chill again about an hour before rolling out. Roll out the dough on a floured surface, cut out small circles (two per cookie) and bake according to the recipe. Let cool completely. TIPS: I worked with small amounts of dough at a time, a piece about the size of a large egg. Kneading the color into the dough will stain your hands in a terribly unattractive way, so you may wear gloves. I didn't. I now have terribly unattractive stained hands.


step two: prepare your icing
Prepare icing according to the recipe. Divide and tint the same colors as the cookies. Prepare a decorating bag with coupler and size 5 tip. Fill with the colors and close tightly with rubber bands.
step three: assemble the cookies
Pipe and fill a circle of icing on the back of a cookie and top with another cookie. To make pops, place a lollipop stick on the icing before topping with the other cookie. Let cookies sit on a piece of parchment or wax paper overnight to dry.