Disclosure: *This post may include affiliate links. As an affiliate, I earn from qualifying purchases.


Wrap store-bought Oreo Cakesters with fondant and decorations to make cute snowman Oreo Cakesters.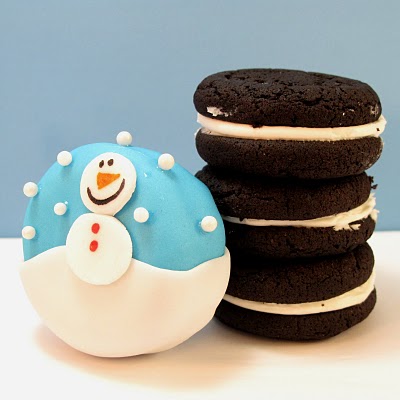 snowman Oreo Cakesters
So how did these fondant covered snowman Oreo Cakesters come about? That is, how did I make a Winter Wonderland on Oreos?
Well, first, bakerella made heart Cakesters. So then I made these colorful Oreo Cakester petits fours.
Then i am baker saw said Oreo Cakester petits fours and made her own gorgeous perfect Oreo Cakester petits fours.
And then Washington, DC got buried in 2-feet of snow and I have Cakesters and fondant in my pantry.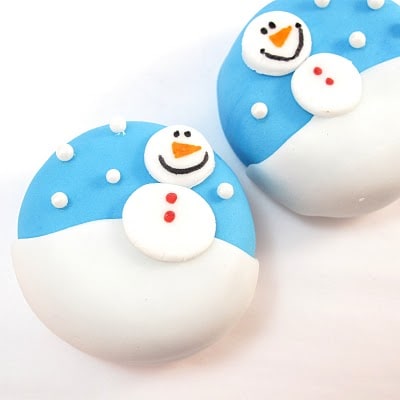 so….
how to make snowman O
reo C
akesters
you will need:
Oreo Cakesters
white rolled fondant
blue food coloring
wax paper
rolling pin
mini circle fondant cutter (about 1/2 inch)
circle cookie cutter (about 3 1/2 inch)
white dragees
food writers (black, orange, and any other color)
toothpick
light corn syrup
*Find most of the above at any craft store. I used Wilton brand prepared fondant and white dragees from the craft store. You can also find coloring and food writers at the craft store, though I use Americolor soft gel pastes and Americolor gourmet writers (click on the links for tips where to buy).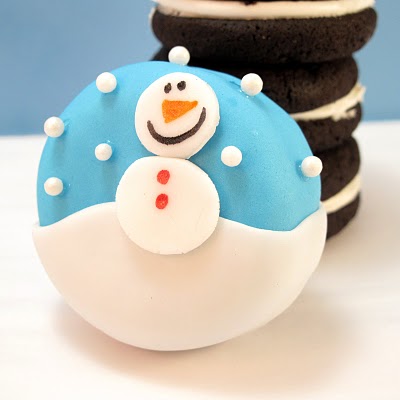 step one: cover the Oreo
1. Knead one drop (or more, as desired) of blue food coloring into a palm-full of fondant very well. If fondant gets sticky, let sit out uncovered at room temperature about 15 minutes or until pliable again.
2. Roll blue fondant thinly, about 1/8 inch, between two pieces of wax paper and cut out a 3 1/2 inch circle.
3. Um, not really a step. This is the Cakester.
4. Place circle over Cakester and cover.
5. Wrap edges underneath. Pat down as needed to smooth and press edges in on the bottom carefully. The bottom won't look pretty, so…
6. Turn over.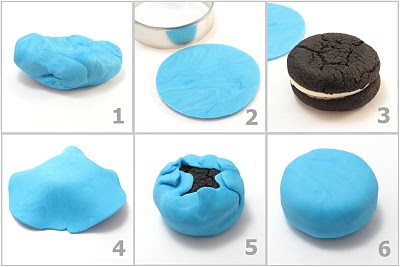 7. Roll out white fondant between two pieces of wax paper and cut out a strip. I did this by using the same 3 1/2 inch circle cutter and simply cutting off the bottom third.
8. Use the strip to cover the bottom third of the Cakester (on top of the blue fondant) the same way you wrapped the Cakester with the blue fondant. Smooth with fingers as needed.


step two: make your snowman
1. Roll out white fondant between two pieces of wax paper and cut out circles with the 1/2 inch cutter (I tried to sort of smush half of them with my fingers a bit to make them bigger, so I could have a body bigger than the head.) Let stiffen about half an hour.
2. On half of the circles, draw faces with the edible writers. On the other half, draw buttons.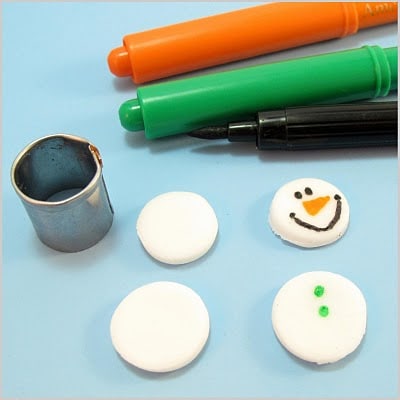 step three: assemble your winter wonderland
1. Dab corn syrup on the back of the snowman circles with your finger and gently press onto the Cakester.
2. Dip a tooth pick in the corn syrup and place dots where you want snowflakes. Carefully attach dragees to dots of syrup and let dry.