Disclosure: *This post may include affiliate links. As an affiliate, I earn from qualifying purchases.


Super-simple googly-eyed monster cookies for a fun Halloween dessert idea.
googly-eyed monster cookies
I've been posting so many eye-treats over at my (former) other blog, so many that I declared a "candy eye trend" this Halloween, that I figured I better get on posting something here, too. That baking aisle at Michaels is such a dangerous thing. That's where I got these candy eyes, and I've been making quite a bit of use of them, like with these googly-eyed monster cookies. They couldn't be simpler… but so spooky. (I mean, sorta.)
If you like these, you'll love these easy monster cookie sticks. Or these easy googly-eyed cupcakes.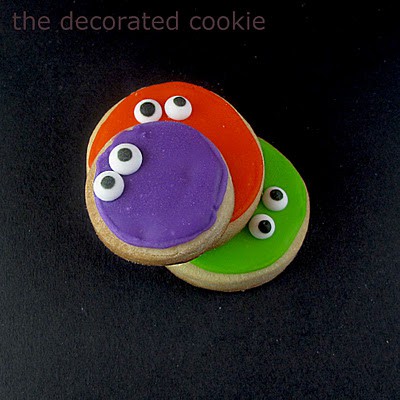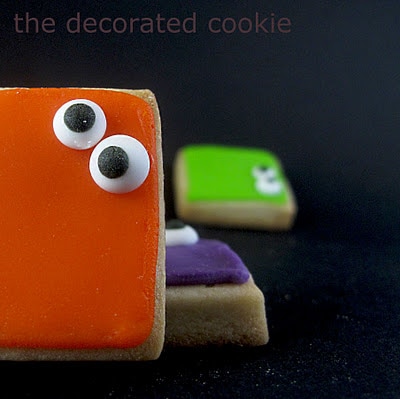 These are super-simple to make. Just some good ol' fashioned flooded icing background.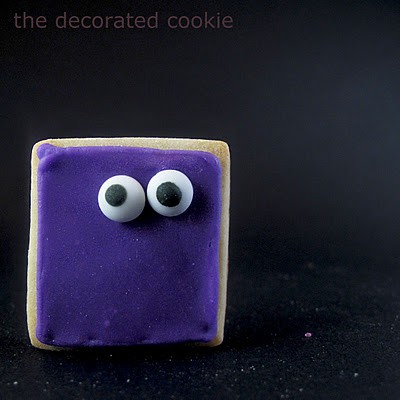 how to make monster cookies
you will need*
cookie cutters (circle, square, whatever)
food coloring
decorating bags
couplers
size 3 decorating tips
rubber bands
candy eyes
toothpicks
light corn syrup
*Find cookie cutters, decorating bags, couplers, decorating tips, and candy eyes in the craft store. For food coloring, I prefer Americolor Soft Gel Pastes (Electric Purple, Electric Green and Orange used here). Find cookie decorating supplies HERE.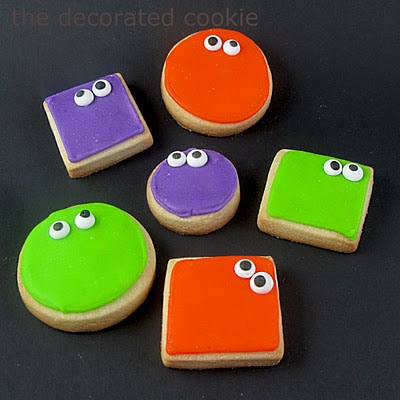 step one: bake your cookies
Roll out chilled cookie dough, cut out your cookies and bake according to the recipe. Let cool completely.
step two: prepare your icing
Prepare royal icing, divide and tint your preferred colors. I made purple, orange and lime green. Prepare decorating bags with couplers and size "3" decorating tips. Fill with your half of each of your colors and close tightly with rubber bands. Cover reserved icing.


step three: flood the backgrounds
Pipe an outline on a cookie and let set about 15 minutes. Thin the reserved icing of the same color with water, a few drops at a time, until the consistency of thick glue. (Take a spoonful and drizzle it over the bowl. The icing should disappear into itself in 10 seconds. When in doubt, err on the side of slightly too thick.) Fill an empty decorating bag with the thinned icing, snip 1/8 to 1/4 inch off the tip, and loosely pipe the icing to fill the cookie. Use a toothpick to encourage the icing as needed. Let set very well. A few hours at least, but overnight preferred.
step four: add your eyes
Use a toothpick to dab a dot of light corn syrup on the back of a candy eye and attach to the cookie as desired. Let dry.