Disclosure: *This post may include affiliate links. As an affiliate, I earn from qualifying purchases.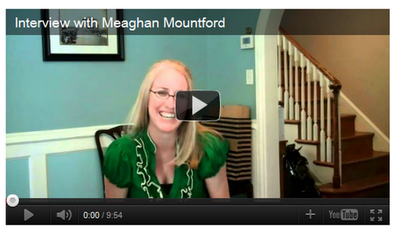 I have a not-so-uncommon problem. I hate pictures of me. I hate videos of me even more. Oh sure, I joke about wanting to be on Martha, but in reality, you know what would happen? Remember that episode of The Brady Bunch where Cindy acts all high and mighty because she studied hard and got to be on that quiz show while Bobby goofed off? And then she sees the red light on the camera and freezes, unable to utter a word? (Yeah, I know my Brady Bunch. Like "won trivia contests" know my Brady Bunch.) That would be me on Martha.
So when Karen of Warning Sugary Goodness was coming through DC on her travels and she asked if she could video interview me, my first thought was "Red light. Camera. Freeze." Then, "Conquer the fear, Meaghan." And finally, "Yes, Karen." I'm so glad I did. Karen proved the perfect opportunity to face my fears. This could easily be her career. She's warm, engaging, and so easy to talk to I'm afraid I could've kept her at my house trapped for days just talking.
She's way too kind to me, too. I love how she calls my house "spotless and gorgeous." Because now I feel the need to point out a couple things.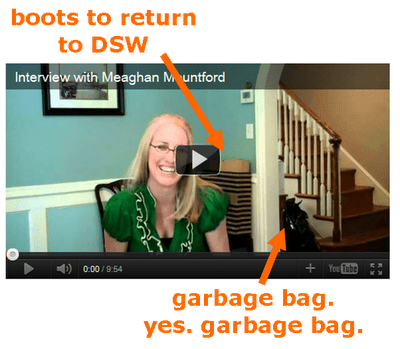 Note to self: Run your errands and put the trash outside before your video debut. Or at least just move these things 5 feet to the right.
But other than that, I think I'm ready.
Thank you, Karen!! Also, you will now have to accompany me to every TV appearance I may ever make in the future.