Disclosure: *This post may include affiliate links. As an affiliate, I earn from qualifying purchases.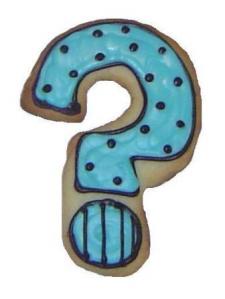 Ever since I wrote my book, bakers have sought me out to ask me questions. What am I doing wrong with my frosting? How long do the cookies keep? What's "meringue powder"? How do I keep the stem on the martini glass cookies from breaking?
Many of your great questions are scattered in the comments throughout this blog. This post is to handily collect them all so not only will your answers be easily accessible, but others can easily find them.
Have a question? Leave a comment here and I'll be sure to answer, usually within a day. So be sure to check back! Your answer will be right beneath my name.
Thank you and happy baking!
Meaghan
Kathy asked "I hope you can help me find a recipe. My friend called them snowballs, they had whole hershey kiss inside and were covered with powdered sugar. I think they were like a butter cookie. When she baked them the kiss kept it's shape": I've never made these myself, but I found a few recipes that might match. (click the links to go to the recipes). Hope this helps!!
—snowball surprises at Food.com.
—snowball cookies at she bakes and she cooks.
—snowball cookies (with brandy) at cooks.com.
—a chocolate version from betty crocker.
megan asked "I decorated sugar cookies this weekend using royal icing to pipe the outline and thinned the icing with some water to flood the rest of the cookie. However, after the cookies dried I noticed they appeared to have a hazy or crystallized finish, most obvious with the black and purple icing." It's hard to tell without seeing it. Traditional royal icing in theory dries shiny, though almost across the board (especially with my recipe, where other ingredients are added), if left to dry overnight, the icing will have a sort of matte finish. The crystallizing is hard to picture, but it leads me to believe it's more than just a matte finish, and something that appears just wrong. Darker colors like black and purple are probably more obvious as they will show more imperfections, and you usually need a lot of coloring to make a deep black and purple. Hence, more liquid added. It could be your icing is separating a bit. Almost always the culprit here is too much water in the thinned icing. I actually thin my flooded icing thicker than most people do. While the icing doesn't have stiff lines and will fall into itself, I keep it thick enough that you usually have to encourage it to flood a bit. The more water you add, the riskier in my view. But then, I'm a control freak! The thicker the frosting, the more I can control it. Could be that your icing has too much water (worsened by greater amounts of coloring) and when drying, the water caused some problems. Also, are you letting them dry at room temp, uncovered overnight? And whipping your meringue powder long enough that stiff peaks form and it looks snowy?
Joan wondered about the huge issue of drying (and the inconvenience when cookies take so long to fully dry). How to they teach classes and have kids take cookies home that are wet? I'm afraid my answer won't help you sleep. There is no way to speed dry cookies. Maybe with fans you can encourage drying enough to handle in a couple of hours, but you still need to use caution. The store where I worked participated in many festivals with kid-cookie-decorating booths (and not on sticks). Kids decorated, then walked away with wet cookies on napkins or plates. Most ate theirs almost immediately. Plates, boxes, any container where you don't have to touch the cookie is the way to go. Or perhaps in some of these classes they request the students pick up their cookies the next day? That's what I would do if hosting a class, especially with cookie bouquets (I wait at least overnight before assembling a cookie bouquet), so spreading a class over two days would ideal. Transporting dry cookies is infinitely easier and like I said, no shortcuts to drying.
What I often do when I need to store/transport wet cookies is place them in underbed storage boxes. A baking tray fits almost exactly, so you don't even have to take the cookies off the tray, and it has a lid. This isn't apt for classes, but just a tip for your own use!
Andrina had a problem with the edible markers, the ink sank right into the icing when left overnight. I'm about 98 percent sure it's the icing, not the markers. Yes. Humidity will affect the icing drying. You should use a bit less water in your royal icing to help speed the drying, and let the icing dry overnight at least (or 2 nights) to totally harden before you use the markers. You don't need to let the markers dry overnight, maybe a couple hours if you are packaging them, but it's more important to let the icing be totally dry. You should be able to press on the icing with your finger without any indentation at all before pulling out the markers.
Lots of readers have also had drying issues, and I include tons of tips in some of the answers below about things to do to encourage drying, but the most important things to do: let cookies topped with flooded icing sit out a couple nights, put fans on the cookies in hot and humid climates, use less water in the flooding icing, for sure, and always wait until the icing is totally solid before using the markers. For that reason, it's best to use a royal icing (the recipe on my blog works) and NOT buttercream, which never fully hardens. All that should help!
mom and son minus one asked about black frosting coloring turning mouths black. Is there a solution? I'm afraid not. This is absolutely normal, particularly with blues and red-based food coloring, like black. And especially when you need a load of coloring to turn frosting a deep shade. I remember once at the store where I worked, we had an irate customer who was horrified that the food coloring had such an effect and worked very hard to convince us there were alternatives to tinting frosting than using coloring. While fruits and vegetables can be used in some cases, to get the deep colors needed for the more unique designs, like music notes, it's food coloring. And it stains. Just as when you have a sno-cone, or lollipop, your tongue turns the same shade. As a cookie decorator, I walked around with stained hands permanently (and still frequently, for a day or two after kneading coloring into fondant).
That being said, you can certainly try natural food coloring, such as THESE HERE. I've not tried them, and can't give an expert opinion on them, but I would imagine natural is less apt to stain. I use Americolor soft gel pastes, and while dark colors will most certainly stain, I've not had as dramatic a result as you describe, so maybe a higher quality paste is the way to go, too. But in the end, you did nothing wrong. 'Tis the way it is! Though you may sacrifice the design, you can always opt for light colors when all else fails, or find ways to use very dark colors and blues (which can turn you into a Smurf with their staining powers) sparingly and hope that the consumers of the cookies are understanding!
anonymous asked a great question about the frosting recipe in my book vs. on my blog (the shortening is reduced from 1/2 cup to 1/4 cup on my blog): I did reduce the amount for the blog (the more updated) because some folks did have some trouble with drying. The less shortening, the better the frosting dries. This recipe is pretty forgiving, either amount will work just fine, though. Basically, the recipe is for royal icing (which is meringue powder/water/powdered sugar) but with extra stuff added for texture and flavor (shortening and vanilla). Traditional royal icing (without the extra stuff) dries rock hard, which has its advantages, like for making gingerbread houses. I add the shortening and extract to make it a little smoother for decorating and to taste much better, but it still dries well enough to handle and package. I'd opt for the 1/4 cup, though, as I think the reduced amount is better. Because the frosting is pretty forgiving, I don't even measure anymore. After mixing up my meringue powder and sugar, I just take a spoonful of Crisco and add it, and I dump in some extract straight from the bottle. Then I play with the sugar and water just adding more randomly until I get the right consistency. You don't have to worry about measuring everything to the grain, as long as your consistency is where you want it! (The powdered sugar and water ratio is the most important)
and an update for anonymous (see below): Yes, you would put plastic inserts if using plaster if you want to reuse the container, but the more I'm thinking of it, the more difficult plaster will be. The store methods are complicated (not to mention top secret, I definitely don't have the power to go through all the steps to expose what they did to make perfect bouquets, the owner'd kill me!!)… To have the plaster work, you'd have to put the cookies/sticks in when wet, then let it dry, and the sticks would be stuck. Because they are baked on the cookies, then you couldn't remove them! Yikes. Don't know logistically how that'd work, unless you are familiar with plaster and can think of a way. You might have to stick with styrofoam/florist foam, but if you do, just choose a deep-er container and really pack it in tightly so it doesn't move. And stick with small arrangements if you can (only a few cookies, if they have to be the big ones.). Cookie sticks look the same as lollipop sticks, but are thicker. I find it hard to believe they are made with different materials than the lollipop sticks, and the cookie sticks are supposedly oven safe. I use lollipop sticks because they are thinner, and I like that (though for arrangements, the cookie sticks might be your better option). Even though it says not to put it in the oven, I do. I've never had a problem. Just keep your eye on things. That's my purely unofficial suggestion, I wouldn't ever officially suggest something unsafe. (hence, at your own risk, but the sticks are non-toxic, so I have no problem at all making them this way)
anonymous asked: "how does one display cookies they made on a stick in a container? do you use floral foam? How do you keep the whole bouquet from tipping over as I would think it would be top heavy even with floral foam?"
Oh my, this is a great question, and I think many would benefit from learning how to do this. I've never really addressed this on my blog. Where I worked for so many years (here), we specialized in cookie bouquets, however, at that level, we were using plaster, especially as the cookies were so large. This is certainly an option for a bouquet made at home, but messy and difficult, so not a practical solution unless you are making many. You can use floral foam or you can use styrofoam blocks. Both of these are available in the craft store. However, they can be top heavy, so here are some tips:
1. choose your container first, then choose styrofoam that fits tightly in the chosen container (chip away edges if needed, or wrap the styrofoam in colorful tissue paper to really get it in there tightly). Fit the styrofoam first, then put the decorated cookies on a stick in the styrofoam.
2. don't try this with large cookies. Stick with smaller cutters, in the 3-4 inch range. Those large copper cutters (5-8 inches) may work, but will be less stable.
3. don't crowd the cookies in the container so they are hitting each other. You will fit less than you think in there. Also, the more you try and shove in there, the more top heavy. Opt for a good weight container of medium size with just a few cookies (so say, an 8 by 10 inch container may hold 7 cookies or so. Or a smaller container will hold 4 or 5.)
4. If desired, put cookies on varying levels of lollipop sticks so you can arrange them at different heights.
5. After the cookies are arranged (carefully), you can stick tufts of tissue paper in between the sticks to cover the styrofoam (this will take care of the noncrowding back in tip number 3)
6. you might want to bake the cookies a couple minutes longer than usual to make sure they aren't soft at all in the middle.
7. Use extra care when handling/moving the arrangement if traveling with it. You may want to put the whole thing in an open box until you give it to the recipient.
8. Also a good idea to just make a couple extra of each design in case of breakage, if that's possible.
hope this helps!
laura asked: "How on earth do you bake, ice, and decorate more than two cookies in a day? And without your kitchen looking like a bomb dropped in it? I worked on a batch of cookies today, and after three hours, I had about three dozen cookies baked, but only 8 iced…and that was only the background. I don't know what took so long but after three hours I was pooped and didn't ever want to see a sugar cookie again! Advice?"
Ah Laura, you're so so right. I've been decorating cookies for well over a decade. When working full-time, I would decorate hundreds of cookies a day. Not only did I get hand cramps, but I got pretty good at speed. And I STILL find the chore of decorating a batch of cookies ridiculously time-consuming. So, here's what I do :
—day one: mix a batch or two of dough and put the unbaked dough in fridge.
—day one or two: mix a batch of frosting. If time, I'll make all of my colors and prepare my frosting bags.
—day two or three: take the dough out of the fridge, let soften at room temp. a bit until still chilled but pliable, then roll out and bake cookies.
—day three or four: decorate
Now, you don't have to break things up over four days. I'll also do this over just two. The point is that you can make the dough and frosting (frosting can be kept at room temp if made with meringue powder) the day or two before. You can prepare your frosting bags the day or two before. And you can even cut out and bake the cookies a day or two before you decorate. You can also freeze dough and cookies (scroll down these answers for more tips on how to do that.) So the best answer? Break things up over two to three days. (Freshness wise, sugar cookies last awhile, luckily, about a week, so gives you a bit of wiggle room.)
And I'll leave you with one more thought. For my book, I decorated hundreds of cookies. In my home kitchen. On 12 inches of counterspace! I did lots and lots of prep like this 🙂 or I would've gone completely mad.
serena said this: "Your cookie dough is great to work with as it keeps its shape well from cutting to baking. The cookie is lovely and crisp if unfrosted but once frosted it becomes soft. Is there any way to maintain the crispness?" Hmmm, not sure that there is. You may cook your cookies a bit longer than mine (unless you're referring to the chocolate, which I do cook pretty crisp), as the regular sugar dough tends to be consistently soft-ish for me unfrosted or not. I'm afraid the moisture from the frosting is the culprit in your case. Not sure that it's solvable, but some things you might want to try…. 1. make a thicker frosting. If you have too much water in the frosting, that will certainly soften. You can generally use a thicker (as in, more confectioner's sugar) frosting than you think. You can still flood the cookies, just move it around with a knife more than letting it flood on it's own. 2. You can try spreading a thin layer of light corn syrup on the cookies before decorating to form a barrier, though I've not tried this, and I would test one first. Could make for an overly sweet cookie. 3. You can pipe a design on the bare cookie with a thicker frosting and simply leave the background unfrosted. That way, you'll still get some sugary taste but leave some crispy part. I hope this helps! Thanks for your great question!
MissNekoChan asked about linking to her blog (check out her blog HERE), which is inspiring me to make a whole post about linking and press and building your blog (thanks Cat! I'll hope to put a post up soon). I've been slowing down my blog roll and usually only link to blogs after I develop a relationship with them (as in, we chat over email quite a bit and we post on each other's work). BUT the best way for me to help giving exposure to other blogs is through my column, edible crafts. The readership is much higher and you have a whole feature which drives traffic to your blog. You can submit posts HERE for consideration. You should check out some of my prior posts to see the kind of stuff I accept. I usually favor posts that have good photos and definitely how-tos included. I also rarely post on straight baking, but on goods that have an artistic feel to them. So for example, your Easter sugar eggs would be perfect. If you post the tutorial or a recipe, be sure to send it to me!
Autumn in Philly asked about St. Patrick's Day ideas, and turning the gingerbread man into a Leprechaun (as I did with the mummy HERE). I was juuuust thinking yesterday that I need to get some St. P's ideas up ASAP! I have got get on that, and will try and have something by the end of the weekend. I've done hundreds of man-turned-leprechauns over the years when working as a cookie decorator, and of course, no pictures. If you go to the site where I used to work, Bundles of Cookies, and click "Arrangements," then "Themes", then "St. Patrick's Day," they have a couple arrangements with St. P's ideas…but I will get working 🙂 !!
Heather (aka Auntie) asked if I've ever used the gourmet writers with a rubber stamp to transfer an image to fondant. And my answer is, why no, I've never heard of that and I'm going to look into it immediately! (hold on… OK, I'm back) Looks like you just use regular old rubber stamps (I assume new, clean ones) and use the marker on them? Methinks I shall try this! Thanks, Heather, for the suggestion!
keep smiling asked: The last time I made 200 cookies for a playschool, the icing either stayed tacky or took forever to dry. when it finally dried, the icing was full of little holes and cracks…They look perfect when I am done icing them, but withing 24 hours, they look funny or are still shiny and tacky. Though I've had issues with drying before (especially during the humid summers, so that CAN be the culprit), I've heard of this problem (check out "serena" below and my answer. She had drying issues.) This is my frosting recipe that works really well for me, HERE, though it sounds similar to yours. I wish I knew exactly what the frosting answer is, and I'm afraid I don't, but here are some tips just in case (unless you've already tried these and they didn't work):
1. make sure when whipping your meringue powder and water you whip it VERY well. A few minutes. It should look like snow.
2. For frosting colors, try soft gel pastes (I like Americolor brand, you can see their site for info where to buy, though I'm guessing if you use the term "icing sugar" which we call powdered or confectioner's sugar here, you're not in the US? I would search for "soft gel pastes" where you are and hopefully there are comparable brands). Always tint "white" with white coloring, too, never use just the plain frosting for white. But the coloring you're using can make a big difference.
3. Your frosting may be too watery. Are you flooding with icing? If so, try not making it soooo runny (add a lot more confectioner's sugar). If it's more like a thick glue, you may have to encourage the flooding with the back of a spoon to get it to the edges, but it will dry much better and without holes. While you see the lines more, I often don't flood at all and just pipe the whole cookie with a thicker icing.
4. Always let the cookies dry one to two days fully, uncovered, at room temp, and if it is hot or humid, run fans on the cookies.
I hope this helps! A lot of it is trial and error. I think the biggest suggestions are 1. make the frosting thicker and 2. run fans if it's hot.
serena asked: I live in Singapore where it is very humid all year round. Do you have any tips for making the sugar cookie dough easier to work with? And the icing tends to take very long to set. Should i make it thicker? We had the same problem at the store in summer. Ovens running all day long, the humidity through the door, hundreds of cookies on the rack… Made things difficult. Chill dough VERY well before using it. I'd refrigerate it at least 2 hours, or even 3, before rolling it out. Work with small amounts, keeping unused dough in the fridge while you work. As for the icing, thin icing does take longer to dry, although too thick will make it difficult to get out of the frosting bag, so use caution with thickening. Sugar cookies last longer freshness-wise than drop cookies, so it's OK to let them sit for up to two days to dry. We used to keep fans blowing on the cookies and that helped tremendously.
anonymous asked: "how you stick the photographies to the cookies. I make with paper(role) of sugar and with paper(role) of wafer and not as(like) stick these you finalize? Do you use royal(real) ice for the base? And you do not stop to dry and put the image?" Hmmm, I've not used photograph or wafer paper on cookies before, so I hope I can help. I have used transfer sheets, but I use melted candy or chocolate, not royal icing. (For directions on how I used the transfer sheets, CLICK HERE). However, you should be able to find help at Fancy Flours. They are wonderful and I believe they have the product you are using. If you CLICK HERE, you'll find a tutorial on making wafer paper cookies (is this the product you use?). They let the royal icing dry overnight and use a clear edible gel to adhere. They also say you can use a thin layer of light corn syrup. Now you've inspired me to try this!
cat asked "If I was to add more water in the icing recipe, would that make the icing smoother and not show lines, yet dry just the same?" Referring to the recipes I have on the blog HERE, yes! You can add water to the frosting to thin and confectioner's sugar to thicken. The frosting recipe here is a middle-of-the-road thickness. I often use it for both outlining and filling. But you can also use it for flooding. Outline with the frosting (you can thicken if desired, but this recipe should work fine for the outline), let set about 15 minutes, then in a bowl, thin some of the same color frosting with a few drops of water at a time until it's about the consistency of glue. Then use a small spoon or squeeze bottle to fill the cookie.
autumn in philly asked about how to decorate the mummy cookie, as seen in my book. This is such a timely question, I devoted a whole post to answer! Thought the graveyard scene might be inspiring this time of year. Thanks for reminding me I have the Halloween scene in the book! See the mummy how-tos HERE.
serena asked: "6-8 hours after white icing dries, yellow patches start to form on the icing. I suspect it's the 'oil' from the cookie seeping into the icing." hmmm, I've not encountered this problem before, so I wonder if I'd be able to help. I do have grease from cookies, even 2 days out, as is apparent if left on paper. But I don't have the yellow patches into the icing, even if the decorated cookies are left for many days. I wonder if it's in the icing. Are you using a store-bought white icing? Or do you use butter cream instead of a royal icing? To decorate with white, I use my recipe HERE (never fails me) and I always, always, always tint the frosting with white food coloring, specifically, Americolor bright white soft gel paste. It takes a lot of coloring, too, to get a pure white. Are you using margarine in either the cookie dough or the icing? I wonder if that can do it too.
UPDATE to Serena: It seems counterintuitive to add white coloring to frosting that already looks white, but I would guess that's the issue. Adding white dye is a must must must! Hope that works!
Little Ducky asked about powdered food coloring, as in adding orange to a cake mix gift. What a super cute gift idea. I have never worked with powdered food coloring, but I see your dilemma. In theory, you should be able to add it to the mix, then when the recipient bakes the cookies, they will be orange, but I would definitely test a batch first. I know this can be wasteful, but my fears would be that the coloring wouldn't work as well as liquid in tinting dough, or that the cake mix itself wouldn't be orange (hence, you'd have to explain any odd coloring or let the recipient know the batter will be orange when mixed with eggs or the liquid). If testing doesn't produce the results you're looking for, you can also include a small bottle of orange colored concentrated paste food coloring or (what I prefer) soft gel paste food coloring. Then, once the batter is mixed, they add a few drops of coloring. Hope this helps! I wish I had powdered food color experience. If you experiment, I'd love to hear about the results!
Gloria, who lives in the Middle East where cookie decorating supplies are less than abundant, asked for tips on what basic supplies are best to have sent. Thanks for your kind words Gloria! Good question. I'll assume you have the basic ingredients to make a sugar cookie, but for decorating, the vitals would be (you may have access to some of these items, but I'm listing them all to keep them straight in my mind):
For baking: cookie cutters, good, thick baking trays, rolling pin, parchment paper (this isn't necessary, but useful to line trays)
For the icing: meringue powder, confectioner's sugar (as opposed to granulated, you must use confectioner's, also known as powdered or 10X), vanilla extract, Crisco or a similar vegetable shortening.
For decorating: 12-inch disposable decorating bags , standard couplers, decorating tips (Wilton is the best, simple round tips numbers 2 through 6 are what I use, I don't use fancy star tips or 3-D tips for cookies), rubber bands, soft gel pastes food coloring. All of these items, except for the gel pastes, can be found at any major craft store here in the U.S., like Michaels. I linked some of the above to items on the Wilton.com web site so you can see exactly what they look like, though not sure if they ship internationally. Craft stores DO sell concentrated paste food colors, that are also quite good, but they taste sort of funny. The soft gel pastes are harder to find, but I use Americolor brand. Their site has links on where to buy. Hope this helps! Good luck!
kay asked how long the cookies are good in the freezer, if the icing consistency is changed, and a thawing method: When making tons of cookies, freezing is inevitable. Or, when only making a few and when you have leftover dough, also inevitable. I've had VERY good luck freezing my cookies, both the raw dough and finished cookies, with the icing recipe I have on this site (HERE). Things I freeze, when sealed well in freezer storage bags: the unbaked cookie dough, cut out and baked but undecorated cookies, and the finished decorated cookies (fully dry at room temp overnight before freezing). All of the above can be frozen for several months. I've really noticed no difference in consistencies, though sometimes the icing colors can bleed a bit, especially black and red-based colors, so make sure the cookies are fully dry before freezing. To thaw, leave in their sealed bags at room temp for at least an hour, or until fully thawed. Removing from the bags too early causes sweating and can damage the cookies. If you are making cookies for an important event and need to freeze, best to do a dry run with a couple to make sure all looks well. But again, I've had great luck with freezing. No one can tell the difference.
tracy mentioned the difficulty in finding supplies in the UK. I'm a total Anglophile and dream of living in England (I spent a few months at Oxford, but it didn't satisfy the craving), but I do admit I would miss the accessibility of so many craft stores and cake decorating supply stores. I know I came across a super-cute online UK-based shop but I can't find it in my bookmarks. I'll keep searching. The shops I did find are cakes cutters and crafts shop, cake-links, and cake craft shop, though I know online ordering isn't quite the same as being able to browse for products in a shop. Are there any major craft stores, not necessarily cake decorating stores? A lot of time the big shops have an aisle with cake decorating wares.
noor asked how long decorated cookies keep, as she's making at least 3000 for her wedding 6 months away. And I was impressed by myself for making all the cookies for my wedding and getting them to Vegas. And I had a mere 75 guests! Bravo for you. Starting now is wise. The cookies themselves last up to a week, and making 3000 cookies a week before your wedding is unrealistic, so you will most definitely have to freeze. We've had orders upwards of 10,000 cookies at the store, and even with a staff, we had to work ahead of time and freeze. Some freezing tips: Let cookies dry completely, at least 2 days (for this reason, you'll need to use a royal icing, not buttercream). Wrap individually in cello bags and stack tightly in another sealed bag. To thaw, remove from freezer and let thaw completely before removing from the sealed bag. The dough can also be frozen and thawed until pliable in the fridge. The recipes I use on my site freeze very well, but I would also suggest a trial run of freezing/thawing to make sure it works for your design. Some vibrant colors are at risk of running. Hope this helps, and keep us updated if you can!!
Soleil has been searching for a recipe for an icing that dries rock hard and is shiny. If the icing was rock hard, it was almost certainly a traditional royal icing. The recipe I have on my site for royal icing has shortening to soften it just a bit (so it dries enough to handle, but has a bit of softness for taste), but traditionally, royal icing is just confectioner's sugar and egg whites. In some cases, just confectioner's sugar and water. You can google a lot of versions of royal icing, some including milk, lemon juice and extracts. A basic recipe: Whip 4 Tblsp meringue powder with 1/2 cup cold water VERY well, until stiff peaks form and it's fluffy. Add 4 cups or more (depending on how stiff you need your icing) of confectioner's sugar and blend. You can also substitute 3 egg whites and 1/2 tsp. cream of tartar (a stabilizer) for the meringue powder/water combo.
The shiny part, however, is the trickier factor and more of a mystery to me, too, I'm afraid. Most frosting loses its shine when it dries, even if people claim their royal icing dries "hard and shiny." My guess is the icing for the cookies you mention is "painted" with glycerin or corn syrup after it dries to give it that effect. As in, it's a trick used, maybe not one that's user friendly in the home kitchen. I haven't tried these techniques, but some people claim to have the answer here (though I'm weary that the addition of milk would inhibit the rock-hard-drying):
https://www.letsbakecookies.com/karens-favorite-recipes/403-shiny-royal-icing
https://cakestylist.wordpress.com/2007/09/13/royal-icing-color-flow-technique/
Hope this helps! Sorry I couldn't offer a more definitive answer!
Katie asked about substituting egg whites for meringue powder, as meringue powder is hard to find in NYC (ie places without a Michaels or other craft store handy): Traditional royal icing is made with real egg whites, so you can substitute. I would substitute 2 large egg whites, making sure your bowl is REALLY clean to start and make sure you whip it very well. Meringue powder is so much more user friendly than egg whites, which is why I rely so heavily on it. And meringue powder doesn't need refrigeration, so the recipe for frosting I have on this site lasts a couple months at room temperature. Great when you have leftover colors.
I understand the angst of living in a major city and not having chain craft stores available. I live in Washington DC and have to drive at least 30 minutes for a Michaels run. But you should still have a couple NYC options. Sur la Table is a chain store, and they have a shop in SoHo (see surlatable.com, search for NYC and you can call first). They should carry meringue powder. There should also some independent chef's level cake decorating shops that carry the stuff, though that might take more digging. And if time allows, there are internet resources that ship. Some I've used: sugarcraft.com, cookiecutter.com, candylandcrafts.com. Hope that helps!
Anonymous asked about how to transport cookies, especially with little bits that break off: This was always a challenge for us at the store. Imagine shipping 100s of cookies across the country in one piece for a wedding! Ugh… no small thing. A few tips: 1. Let cookies dry at least a day, wrap them individually in cello bags, then pack. 2. I tend to bake cookies a bit thicker and for a few extra minutes if transporting. Makes them more solid (as long as you're sure they bake through the center). 3. To transport when not shipping: Line a large FLAT tupperware or box container with bubble wrap, then lay cookies in a flat, single layer and top with another sheet of bubble wrap for the next layer of cookies. this of course only works with totally dry and wrapped cookies (see number 1) You can also put packing peanuts in between the little pieces. 4. To transport many cookies, do the same as in step 3 with the bubble on the bottom, but stack cookies on their side tightly in a row. Believe it or not, this works. I actually ship this way.) 5. When shipping, do the same, but pack very tightly, with popcorn in all the tiny parts. You should be able to shake your packed box and hear nothing rattling. 6. Bake extra. You will always lose a few delicate cookie pieces, so always bake extra. 7. Basically…loose packing, jostling, and cookies bumping each other cause breakage, so take precautions against that: use bubble wrap, peanuts, tight stacking, flat containers, DRY wrapped cookies.
I was wondering why your cookie recipe doesn't contain baking powder? (from Anonymous) I may get some of the science wrong here, so forgive me… Yes. My recipe for "sugar" cookies that I post here is really a "shortbread" cookie. I have no aversion to leavening agents, by any means. The recipe in my book is a true sugar cookie and does contain baking powder. But I still keep coming back to this one here simply because it works so flawlessly for me. The pros of a traditional sugar cookie are that they do taste lighter (as the baking powder is responsible for some sort of bubble and air type scenario), and a shortbread cookie is denser. Not as pleasing to many. And sugar cookies with higher flour content can hold their shape well enough to take a cutter. But I've always struggled to get sugar cookies from maintaining the exact shape of their pre-baked state. The shortbread recipe does this. It's almost exactly the same size, and you can bake it thicker to accommodate lollipop sticks and it still cooks evenly in the middle.
So to recap: If you have a traditional sugar cookie recipe that works well for you, by all means keep using it! I use a shortbread recipe for decorated cookies because they maintain their shape so perfectly. (And I personally like the taste better.) Thank you!
(PS to other readers: Find the shortbread recipe HERE)
How long do the cookies last? And how do you keep (the frosting) from separating? (from amyk8gapgirl):
Thanks for your kind words about my book and your great questions! You aren't alone. These are frequently asked questions. When baking so many cookies solo, you simply have to do a lot ahead of time. (Ugh, I remember we had a record order for 15,000 cookies once at the store! All done by hand. We used the freezer for that one. My hand almost fell off.)
The cookies are ideal made 2-3 days ahead of time. You have to make them at least 1-2 days ahead if wrapping, as the cookies need to sit overnight to dry. (I never ever ever ever make, decorate and give cookies the same day. Never ever ever.) But they will last up to 5 days. I break things down like so: Day 1, make and color the frosting, prep the frosting bags. As frosting–royal icing, that is, not buttercream, as buttercream has a much shorter shelf life–will last a month and is one of the most time-consuming parts of the process, doing this a few days out leaves you more time for decorating cookies closer to the event. Day 2, mix dough and bake cookies. If time, decorate on Day 2. If not, decorate on Day 3. Let sit overnight and wrap on Day 4. (Or even Day 5.) If you prep the frosting ahead of time, you should be able to decorate all 48 in one day if you through and outline all, fill all, etc.
As for the frosting, others have mentioned the separation issue. I wish I knew more about chemistry, because I'm not entirely sure why this happens. I always have wonderful results with the frosting, so just to make sure the frosting mixes perfectly: First, find the recipe HERE. Use cold water and meringue powder (not real egg whites, find the powder in craft stores) in a clean bowl and beat on high VERY well…several minutes at least. The mixture should be white, fluffy and with peaks. This is vital, and I believe here is where future separation problems occur. So make sure your meringue is perfect!!! Then stir in, on low, the powdered sugar–a lot of it, like 6 cups–vanilla extract, and about 2 Tblsp Crisco. If you have separation issues, don't use the full amount of Crisco. You can cut the shortening out (many think the shortening causes the separating, but since you have that problem when not using shortening, leads me to believe it's in the first step) , but it helps with the taste and consistency. Blend well. Heat does affect the frosting, so you don't need to refrigerate it, but don't put it by a heat source.
You should be able to make 48 cookies with 2 batches of dough and 1 batch of frosting, but depending on the size of the cutters–and any inevitable errors–prepare to make more just in case. As for storage, after I decorate, I spread the cookies in one layer in parchment-paper-lined tupperware. A plastic underbed shoe storage container works perfectly. You can decorate on a baking tray and put the whole baking tray in the container. I cover and let dry overnight at room temp. You don't need to cover overnight to dry, and the cookies will likely dry better NOT covered, but I cover because I have cats. When dry, wrap in cello bags and give out.
Hope this helps! Thanks for your great questions, Meaghan