Disclosure: *This post may include affiliate links. As an affiliate, I earn from qualifying purchases.


alien cupcakes!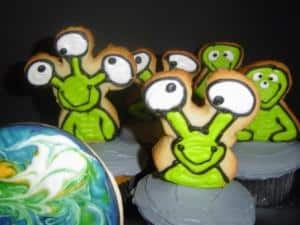 how to make alien cupcakes
These alien cupcakes would be perfect for Halloween or an outer space party.
I broke out of my cookie mold to try my hand at cupcakes (I entered these in Martha's cupcake contest. Sigh. I didn't win the cupcake tree.)
First, I baked the cupcakes (from a mix, I admit), using Reynolds aluminum cupcake holders.
Second, I made the cookies. After rolling out pretty thick, about 1/4 inch, I cut the aliens by hand and inserted lollipop sticks. The lollipop sticks had been broken in half, as you only need a couple inches sticking out from the cookie. Lollipop sticks are at any major craft store. Lay the cut-out dough on the cookie tray first, gently insert stick about 1 1/2 inches, and pat dough back into place if there is any warping. Then bake as you would ordinarily bake your cookies, with the sticks in the cookies.
Third, I decorated the aliens with royal icing (using Electric Green, Bright White and Super Black gel pastes) and let them set enough to handle.
Fourth, I frosting the cupcakes with homemade buttercream tinted with a bit of Super Black and Bright White gel pastes.
Fifth, I carefully inserted the lollipop sticks into the cupcakes so the aliens "sat" on top of their spaceships.