Disclosure: *This post may include affiliate links. As an affiliate, I earn from qualifying purchases.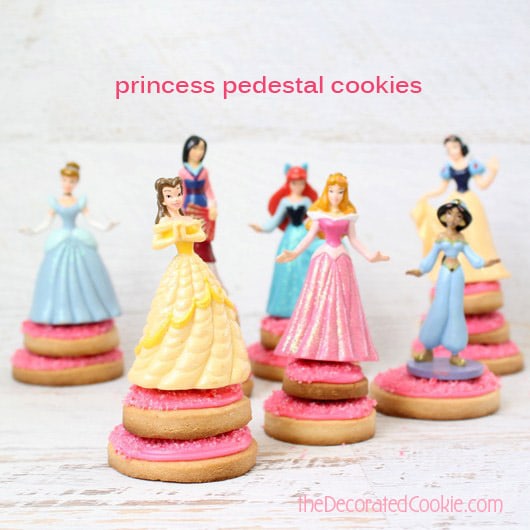 princess cookies
While I have my own princesses, I made these sparkly pink pedestal princess cookies for two other special princesses. I joined 14 other bloggers to throw a virtual baby shower for two wonderfully talented bakers and cookie artists, or cookie "queens," as it were, both with brand new little princesses: Callye of The Adventures of Sweet Sugarbelle and Georganne of LilaLoa. Two such lovely ladies I've admired for so long, and I'm wishing them peaceful nights soon.
Check out all the sweet princesses!
1. Sweet Ambs
2. Jill FCS
4. Klickitat Street
5. Semi Sweet
8. Haniela's
9. Montreal Confections
10. The Partiologist
11. Munchkin Munchies
12. The Cookie Puzzle
13. De-Koekenbakkers
14. Chapix Cookies
And special thanks to Michelle, Hani and Mike for organizing!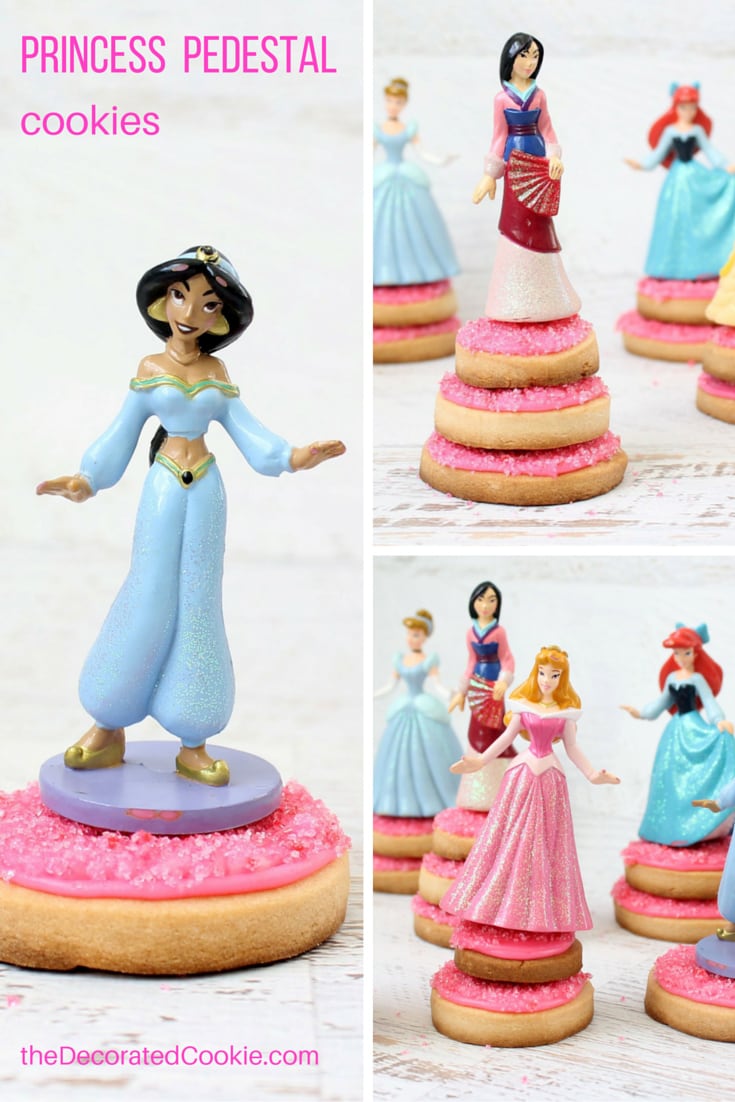 PINK PRINCESS COOKIES with sprinkles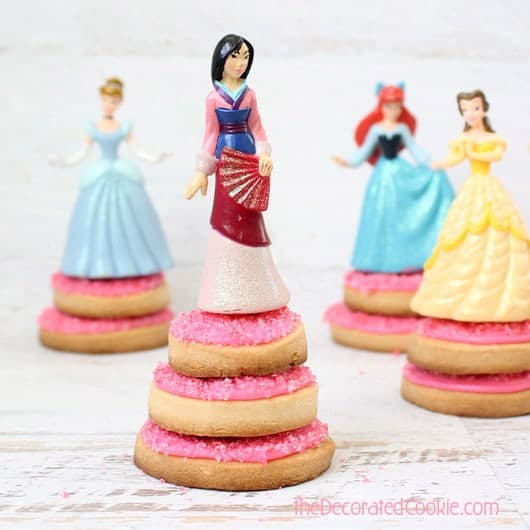 Now, what to make, what to make? I enlisted the help of my own princess, 6 year old Maeve, for ideas. Our discussion of her princess figure collection led to these pretty, sparkly pink pedestals. Now, my 1 year old, I can already tell, won't touch pink or princesses with a ten foot pole, except to use said pole to knock them off their pedestals and destroy them. She's only 1, but I just know. I know like I knew Maeve would be all over the princess scene. The dress-up, the purses, the glitter, the nails, the pink. Oh my, the pink. So very much pink.
And so, to honor the arrival of two darling little princesses, these pedestals are where they should go. (Note, Disney princess figurines are standing in for the real princesses.)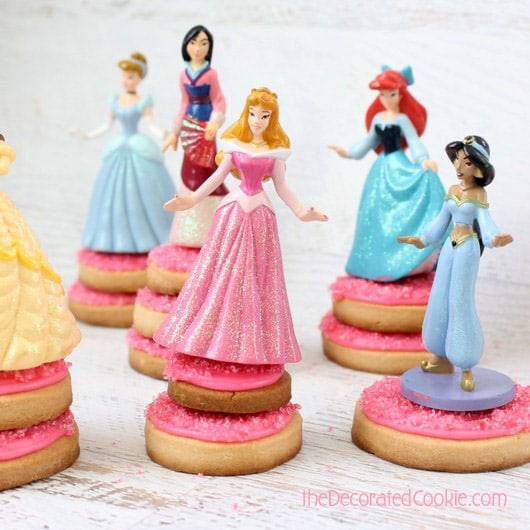 how to make sparkly princess cookies
you will need*:
cookie dough
royal icing
circle cookie cutters
pink food coloring
disposable decorating bag
coupler
size "5" decorating tip
rubber band
pink sprinkles (see below)

*Find the decorating bag, coupler, tip and sprinkles in the craft store. For food coloring information, click HERE. (Electric Pink Americolor Soft Gel Paste used here.) To find cookie decorating supplies, click HERE. For basic cookie decorating instructions, click HERE.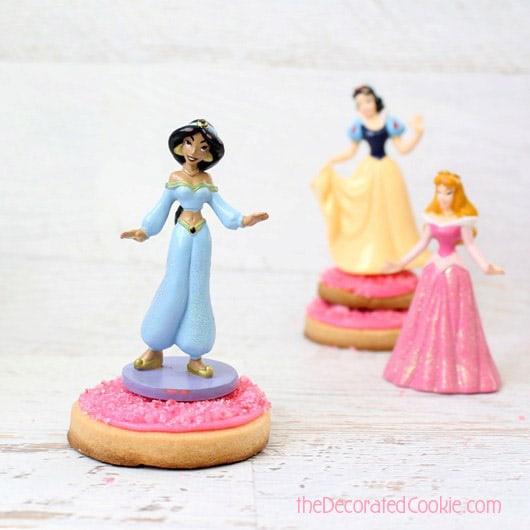 bake your cookies. Prepare cookie dough according to the recipe, chill, and roll out. Cut out circles in any sizes you prefer. Shown here are a mix of 2-inches, 1 3/4-inches and 1 1/4-inches. Bake and let cool completely.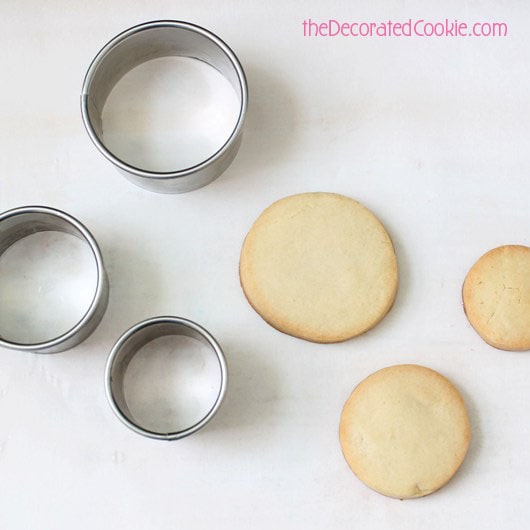 prepare your icing. Prepare royal icing according to the recipe and tint pink. Prepare a decorating bag with coupler and tip, fill with the icing and close tightly with a rubber band.
decorate your cookies. Pipe a circle on a cookie and then pipe back and forth to completely fill the cookie with icing. Immediately coat the cookie with sprinkles and overturn to remove excess. (Because the sprinkles cover the lines and imperfections, I'm only using one consistency of icing here, there is no need to thin the icing and flood.)
set up your cookies. Let the cookies dry completely, overnight is best. Stack the cookies or just stand princesses on their pedestals. These would make fabulous cookies to serve at a princess party, and the guests can keep the princesses.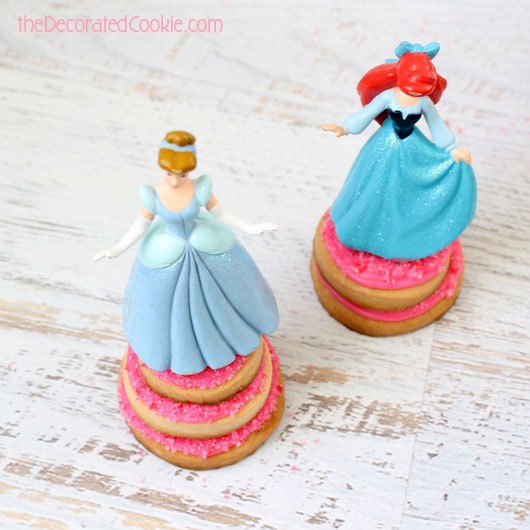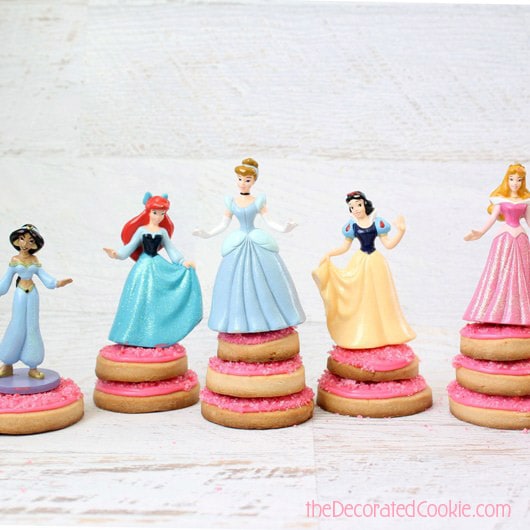 how to make your own sprinkles
By the way, I some how some way ran out of pink sprinkles, so I dumped some white sanding sugar in a Ziplock bag, added a drop or two of pink food coloring, shook like mad, and made my own.