Disclosure: *This post may include affiliate links. As an affiliate, I earn from qualifying purchases.


If you're looking for the BEST shortbread cookie recipe ever, these berry shortbread cookies have it.
berry shortbread cookies
Oh my word. These berry shortbread cookies are divine. There is no other way to describe them. I took my classic, never-fail cut-out cookie recipe (which is essentially a shortbread cookie, and the best shortbread cookie recipe for cookie decorating because it keeps its shape so well when baking), topped them with fresh blueberries and strawberries and a sprinkle of sugar. The result is a rich cookie with a burst of berries and just a touch of sweetness. If you make any cookies this Summer, try these first. I brought these to the pool and they were gone in about 3 minutes.
For the cookies, I used a dough scraper to cut out sticks about 1 1/4-inches by 3 1/2-inches. You can cut out any shape you like. But to avoid soggy centers, choose smaller cookie cutters. These are so rich, I wish I had cut out smaller cookies. Next time. And there will be a next time.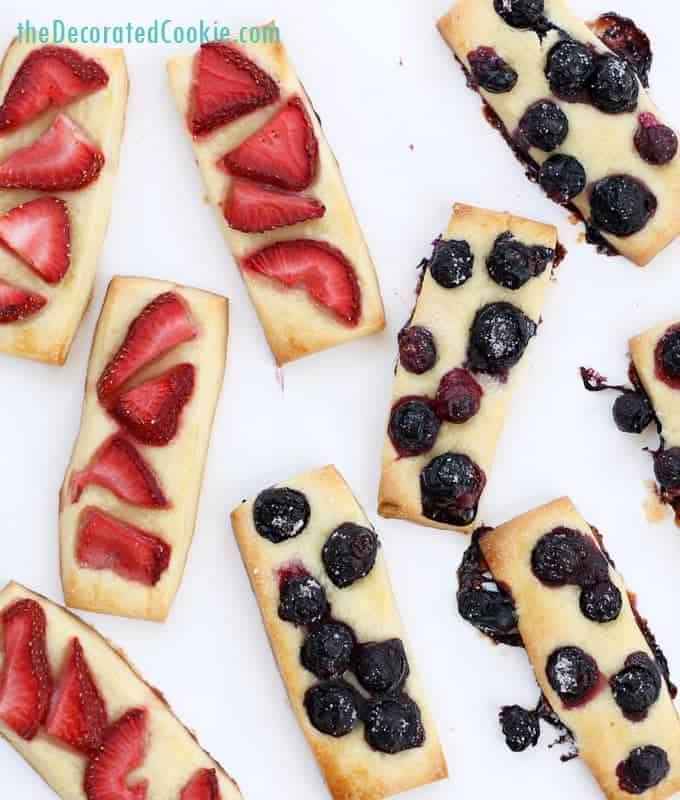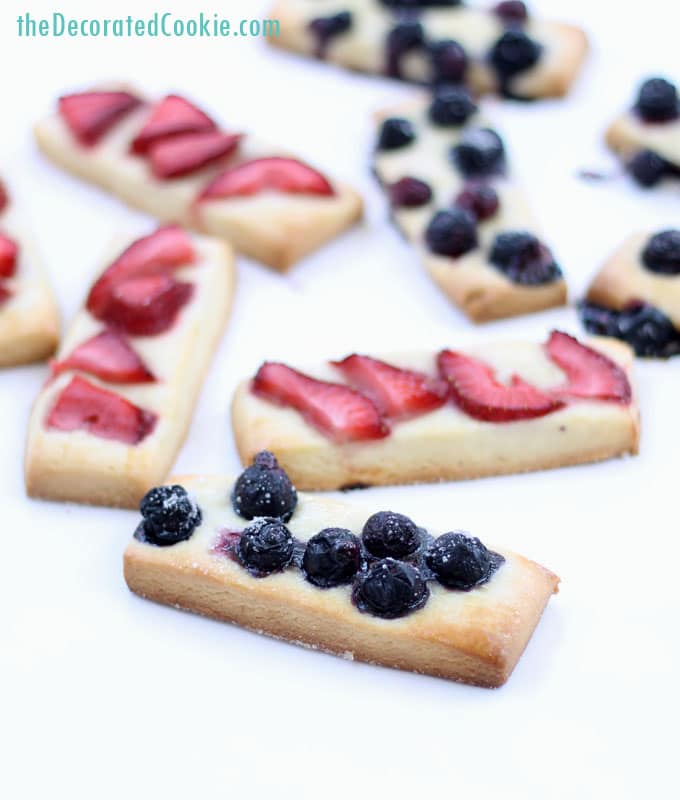 summer berries
Try mixing up the berries. Use blueberry and strawberries on the same cookie. Or add blackberries. Or raspberries. Or snozberries.
And you might want to try serving these with sweetened whipped cream. That would take these berry shortbread cookies to one stop past divine.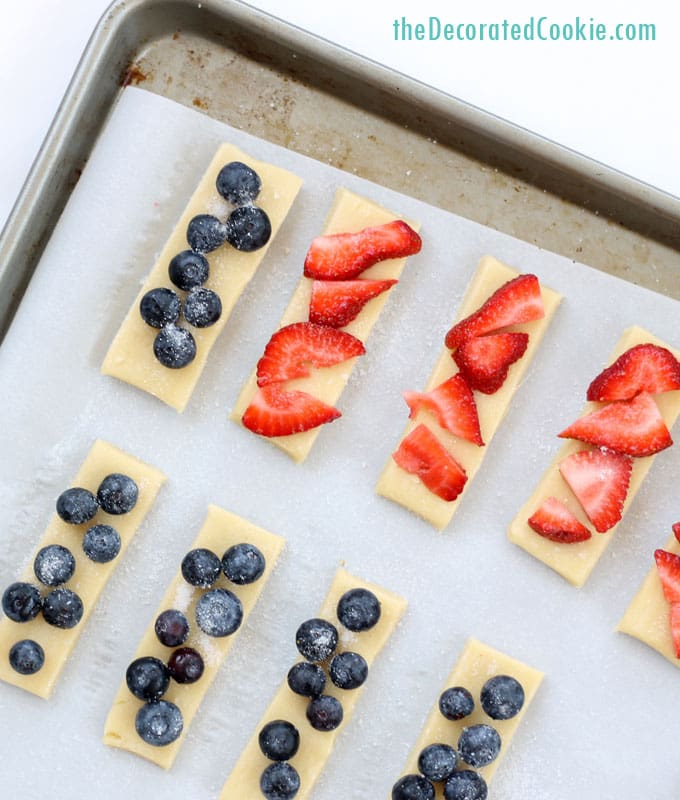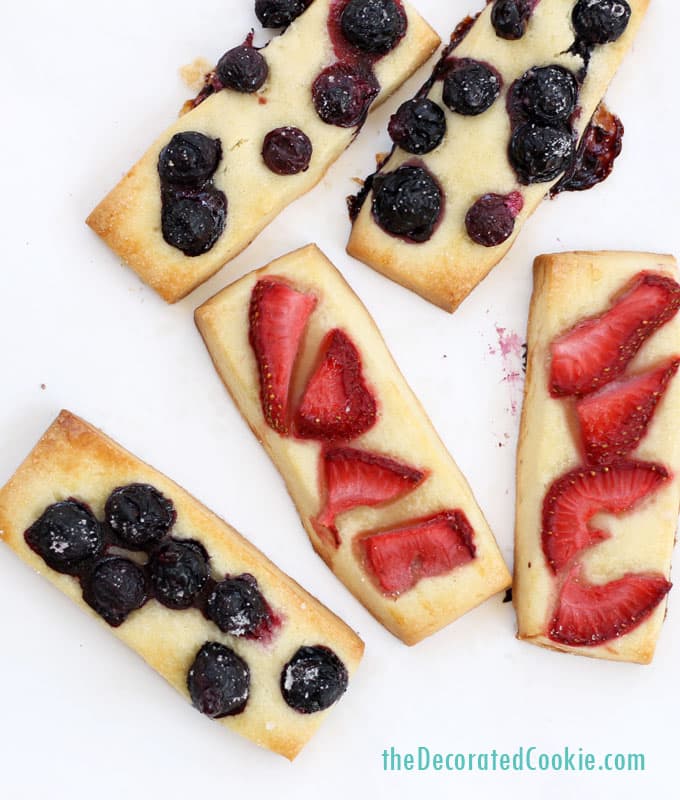 the BEST berry shortbread cookies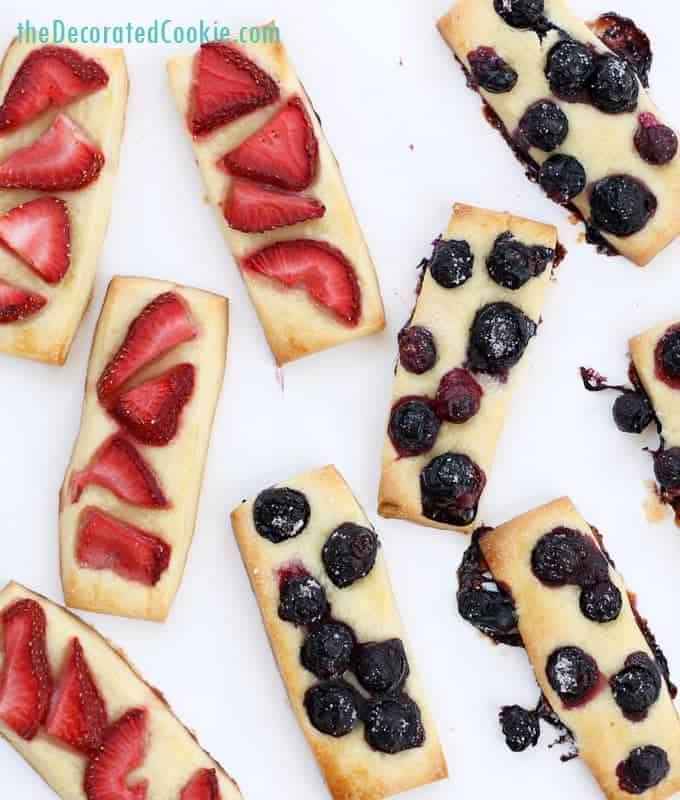 Ingredients
2 sticks (1 cup) butter, softened
1 cup confectioner's sugar
1 egg
1 teaspoon vanilla extract
2 1/2 cups all-purpose flour
3/4 teaspoon salt
1 egg white
fresh berries
granulated sugar
Instructions
In the bowl of a standing mixer fitted with the flat beater, or in a large bowl with an electric hand mixer, beat the butter and confectioner's sugar. Mix in the egg and extract and blend well, scraping down sides of bowl as needed.
In a separate bowl, stir together the flour and salt with a whisk. Gradually add the flour mixture to the butter mixture to form a dough. Cover and chill the dough for 2 hours.
Roll the dough out to 1/4-inch thickness on a floured surface. Cut out desired shapes.
Gently whisk the egg white with a 1/2 teaspoon of water. Brush the egg white over the cookies. Top with berries and sprinkle each cookie generously with granulated sugar.
Place the cookies on a baking tray lined with parchment paper and bake in a preheated 375 degree F oven for 15 to 20 minutes or until the cookies are golden on the edges.
Need more ideas for your summer berries?
Try this frozen yogurt and berries snack, or put frozen yogurt and berries on a stick. Here is a no-bake strawberry spread with pie chips.