Disclosure: *This post may include affiliate links. As an affiliate, I earn from qualifying purchases.


These easy fruit and frozen yogurt bites make a great, healthy snack.
frozen yogurt bites
I can be healthy, too, you know. And that's what these cute and simple fruit and frozen yogurt bites are.
I made them in the shape of hearts because that's the only mold I could find in the craft store that had little-shaped cavities, and I really wanted them to be bite-sized.
But these needn't be just for Valentine's Day, of course. These would be a perfect healthy snack to keep in the freezer all summer. Ooh, and kid-friendly. I may even tell them it's ice cream.
Anyone remember when TCBY was the best new thing ever? When we thought it was the answer to all the world's problems? Sigh. I remember those days
.
more Valentine's Day treat ideas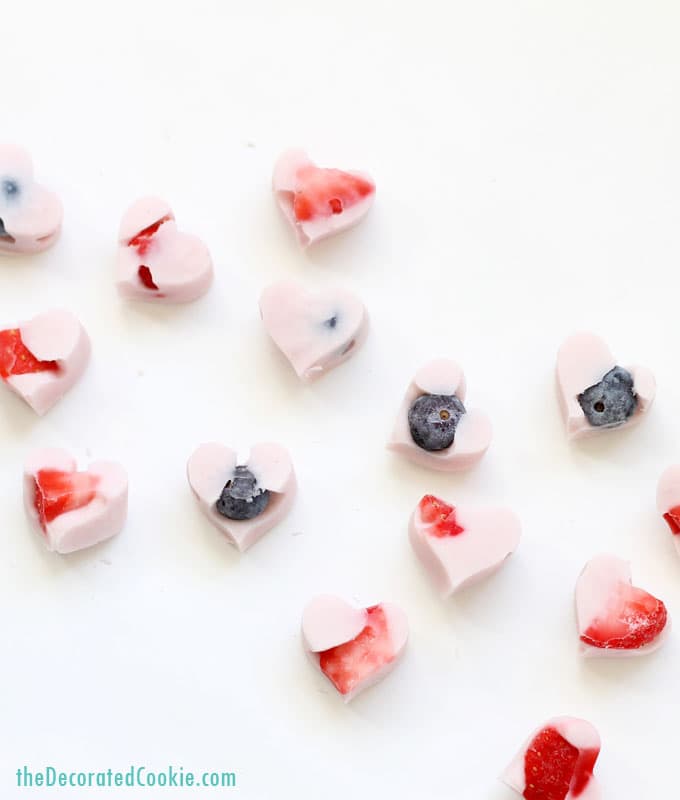 how to make fruit and frozen yogurt bites
you will need:*
*Find the bags and mold in the craft store.
To make these, you'll need a silicone mold with small cavities, like this heart mold. Drop in a single blueberry or a small piece of strawberry. Or, skip this step and add no fruit at all.
Choose your favorite yogurt (it can be Greek yogurt or regular yogurt). Pour some in a disposable decorating bag (you can also use a Ziploc bag, although I always have the decorating bags on hand). Snip the tip and pipe yogurt to fill the cavities.
Freeze, pop out of the mold and enjoy!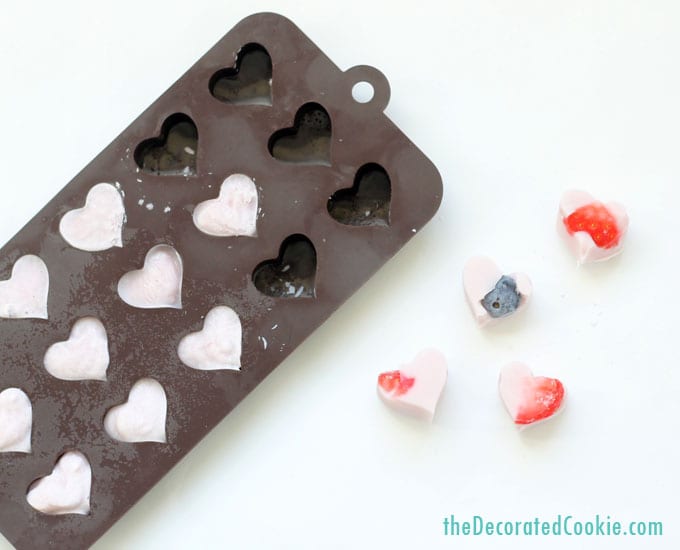 If you like this idea, check out these FROZEN YOGURT FRUIT POPS.