Disclosure: *This post may include affiliate links. As an affiliate, I earn from qualifying purchases.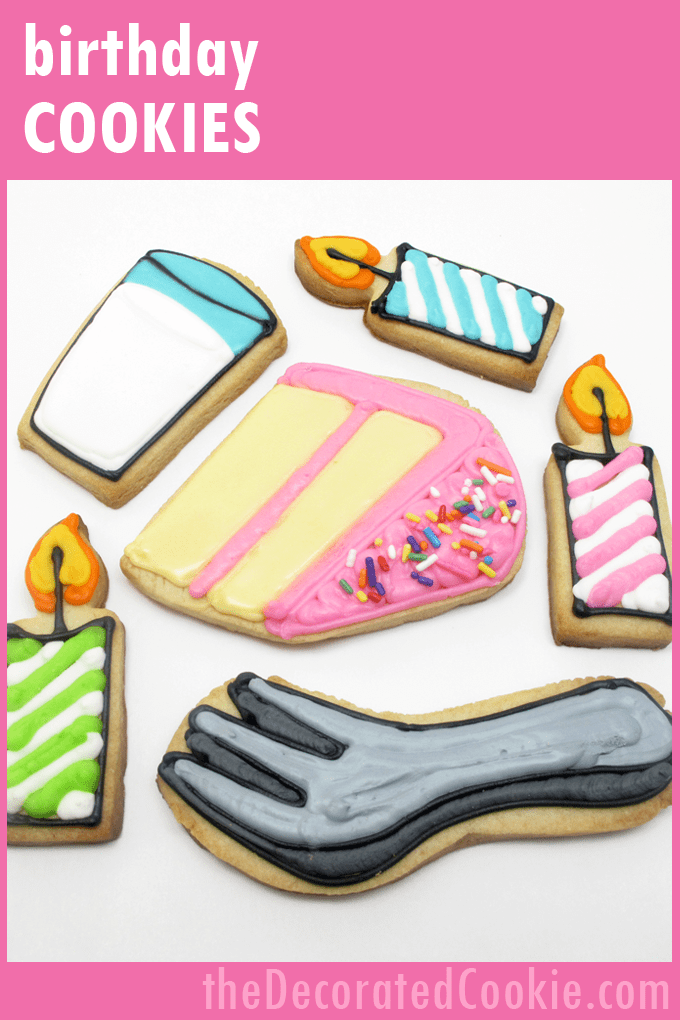 birthday cookies
I made these birthday cookies for a friend I've known since–yikes!–1990. That's twenty-plus years if you're counting. I had the candle cutter, but I cut out the milk, the slice of cake and the fork by hand. Here are some tips on making them.
how to make birthday cookies
I used my cut out cookie dough and royal icing recipe. Made these colors with my handy Americolor soft gel pastes (Egg Yellow, Electric Pink, Orange, Turquoise, Electric Green, Bright White, Super Black): very light yellow, yellow, pink, orange, turquoise, lime green, white, two shades of gray and black. Prepared disposable frosting bags with couplers and decorating tips, filled with the colors and tied closed with rubber bands. (For tips on finding cookie decorating supplies, click HERE.)
For more cookie decorating recipes, click here. If you need vegan cookies and icing recipes, click HERE.
Need a tag to go with your cookies? Here is a free birthday gift tag printable.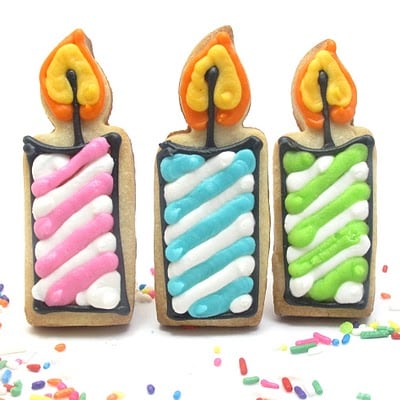 To decorate the candles, I outline the wick and the candle with the black (3 tip). Outlined the flame with orange (3 tip). Filled the flame with yellow (3 tip). Then made the stripes with white and colors (4 tips).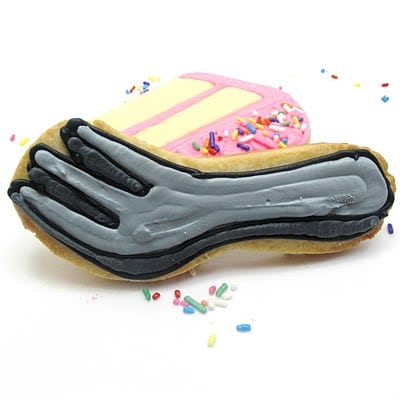 To decorate the fork, I outlined with black (3 tip) and piped to fill with light gray and dark gray (3 tips). (As you can see, I should've flooded the gray icing, but I was feeling very lazy and just piped it in.)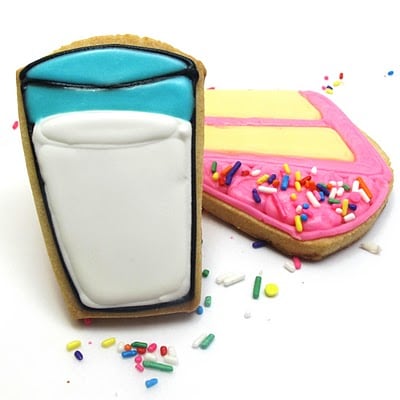 To decorate the milk, I outline with black (3 tip), then piped an outline with turquoise and white (3 tips). Then flooded icing in the same colors to fill. To flood, thin icing by stirring in drops of water until the icing is the consistency of thick glue, fill an empty frosting bag, snip 1/4 inch from the tip, and loosely pipe in the area to be filled. Let the icing run to the edges, encouraging with a toothpick as needed.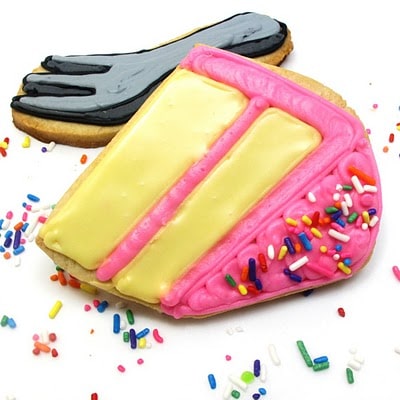 To decorate the cake, I outlined the frosting with pink (3 tip). I outlined the cake part with light yellow (3 tip). Then I piped pink to fill the frosting area using a 5 tip and immediately added sprinkles. Then I flooded the cake part with light yellow.