Disclosure: *This post may include affiliate links. As an affiliate, I earn from qualifying purchases.


Blue and white china cookies are bite-size beauties that pay homage to the classic patterns.
blue and white china cookies
Blue and white china cookies were kind of inevitable. While most kids in the early '80s were obsessed with their Rubik's Cubes, Intellivision and Cabbage Patch Kids, I was into blue and white china. (OK, I was also into those other things, but add "blue and white china" to the list.) I've always, always, always loved the look of blue and white china. All blue and white china, but particularly Delftware. My grandmother had her plates hanging on the wall in her dining room, and I swore when I grew up I would do the same with mine. And so, mission accomplished.
I went through a phase where, anytime I hit a flea market, I'd pick up vases and coffee grinders and tea pots and anything I saw that was blue and white. Then I promptly got rid of much of that excess in one of my "must get rid of everything" moments. But I still pause when I see the stuff.
If you share my love, check out my Pinterest board, Inspired by Blue and White China. Oh my gosh, I can stare at the screen all day.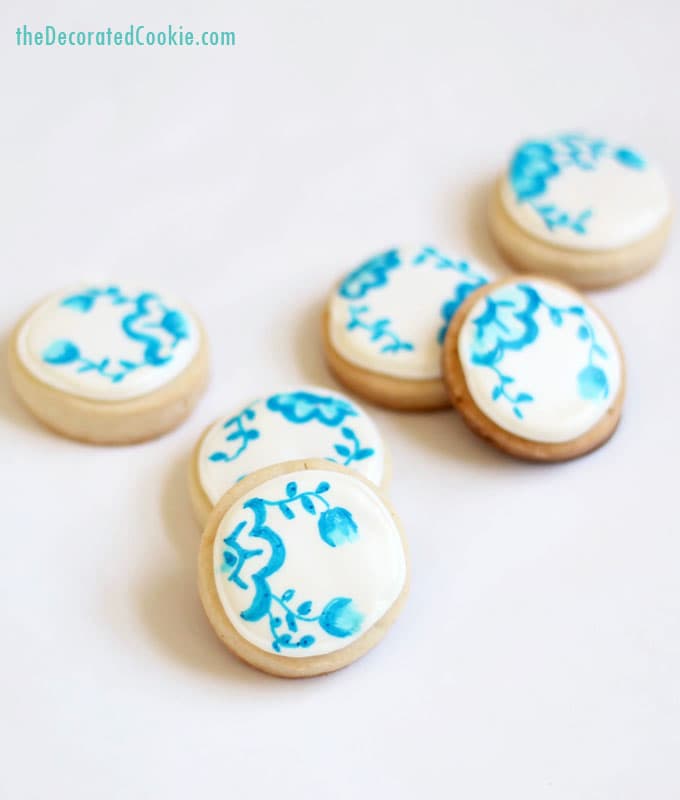 These cookies are quite simple to make and a perfect gift for your blue and white china-loving loved ones. Or for yourself. Wouldn't they be lovely at a Delft-inspired wedding? My Vegas wedding didn't lend itself to that theme but, maybe for my next marriage (kidding, darling).
how to make blue and white china cookies
Here, I use my hand dandy blue Foodoodler fine line marker for most of the design, and the blue Americolor Gourmet Writer for highlights, to draw on cookies that have been topped with white royal icing. You MUST let the royal icing set well, overnight for sure. You may also use fondant. Fondant stiffens much more quickly, so you can draw the designs the same day. And if you really want to go for easy, just grab some marshmallows and draw right away.
how to make blue and white china cookie bites
you will need:*
cookie dough
royal icing
circle cookie cutter (1 1/2-inch used here)
white food coloring
disposable decorating bags
size 3 decorating tip
blue edible writer(s)
*Click each supply above to see what each looks like. For more tips on finding supplies, click HERE. For basic cookie decorating how-tos, click HERE. For more on edible writers, click HERE.
For more cookie decorating recipes, click here. If you need vegan cookies and icing recipes, click HERE.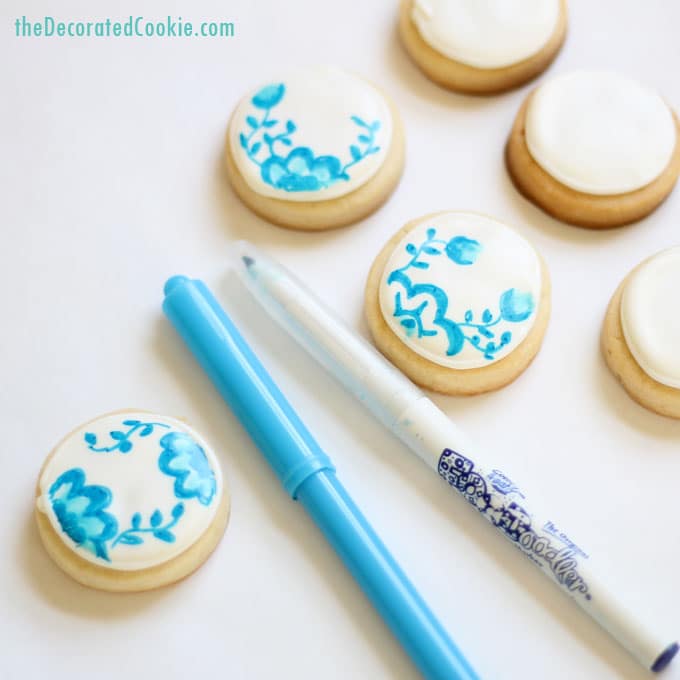 what to do:
First, make your cookies. Prepare cookie dough according to the recipe. Chill, roll out, cut out your circles and bake. Let cool. Prepare royal icing according to the recipe and tint white. Prepare a decorating bag with size 3 tip and fill with some of the white icing, closing tightly with a rubber band. Outline the circles and let set. Thin additional white icing with water until flooding consistency. Fill an empty decorating bag, snip the tip and pipe back and forth to fill the cookies. Let the cookies set very well, at least overnight.
Second, draw on your cookies. Once the icing has set super duper well, draw the designs on the cookies with the blue writer. See the video above for how-tos. I used two writers, the blue FooDoodler for the main designs and a few highlights with the Americolor Gourmet Writer.