Disclosure: *This post may include affiliate links. As an affiliate, I earn from qualifying purchases.


Easy bones chocolate Halloween pops.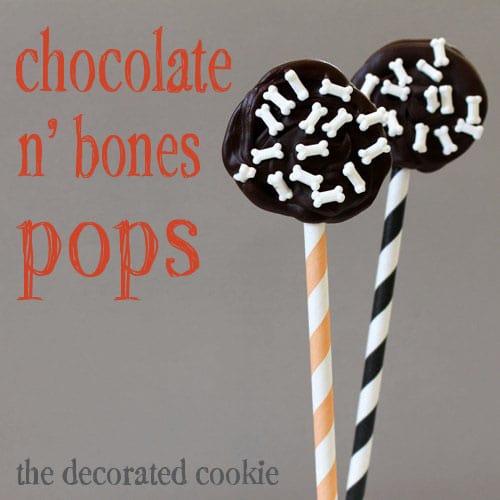 What is it with me and chocolate lately? Must be a pregnancy craving. Nah, I'm also eating cookies and ice cream indiscriminately.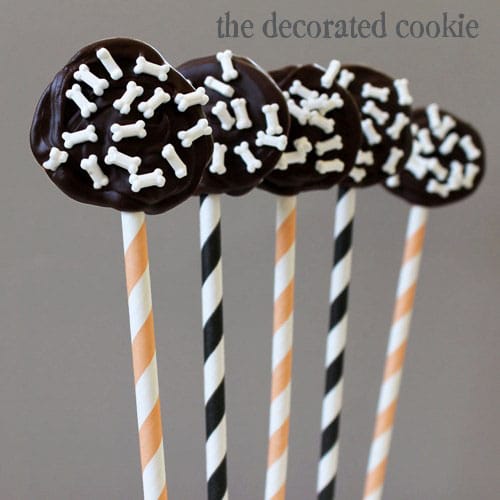 These pops are about as bare bones as you can get for a Halloween treat (ha ha, get it? stop rolling on the ground laughing…). This is yet another example of taking a quick and simple method of making chocolate pops, as seen in Sugarlicious, of course, with slight variations. Last year at Halloween I made my easiest-ever chocolate spider pops by just piping legs and adding candy eyes. These are even easier without the legs.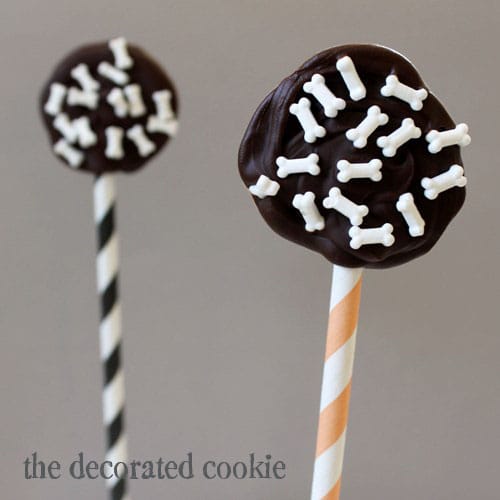 All you need is some chocolate, a disposable decorating bag, lollipop sticks and these had-to-buy bones sprinkles I found at Michael's craft store.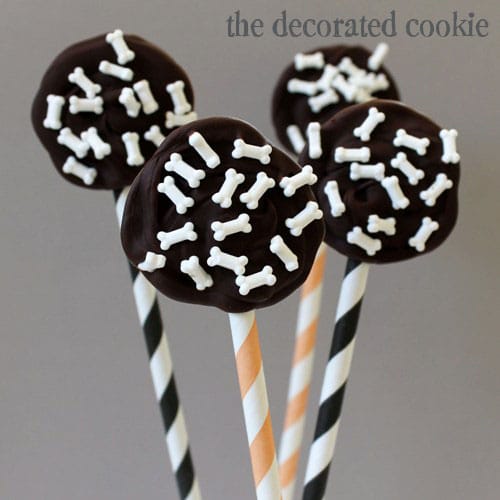 how to make chocolate n' bones pops
you will need:*
Bones sprinkles

bag of chocolate chips (milk, semi-sweet, whatever your preference)

disposable decorating bag

rubber band

lollipop sticks

baking tray

wax paper

scissors
*Find the sprinkles, disposable decorating bags and lollipop sticks at the craft store.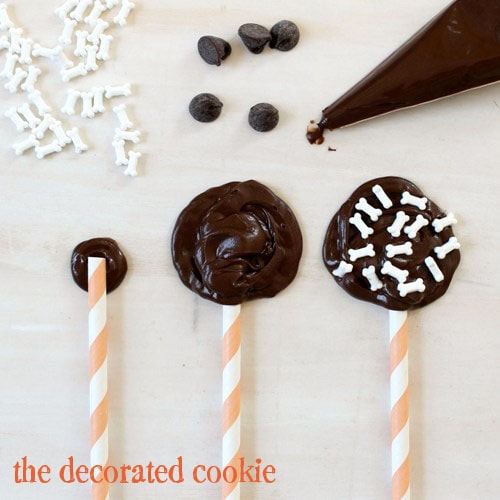 what to do:
Line a baking tray with wax paper. Fill a disposable decorating bag about half full with chocolate chips. Microwave at 70 percent power for 1 minute, then at 30 second intervals, massaging the chocolate chips periodically, until the chips are almost completely melted. Massage the chips in the bag until totally melted. Close the bag with a rubber band unless you're careful about holding the bag so the chocolate doesn't ooze out. Snip 1/4 inch from the tip of the decorating bag. Pipe a dot of chocolate about the size of a nickel on the baking tray. Lay a lollipop stick on top, pipe another chocolate circle on top, about 1 1/2 inches in diameter. Sprinkle with bones. Repeat until the tray is filled. Stick the tray in the fridge for a couple hours or until well set.