pumpkin fudge on a stick and 20+ other ways to use a pumpkin cutter, for Sugarbelle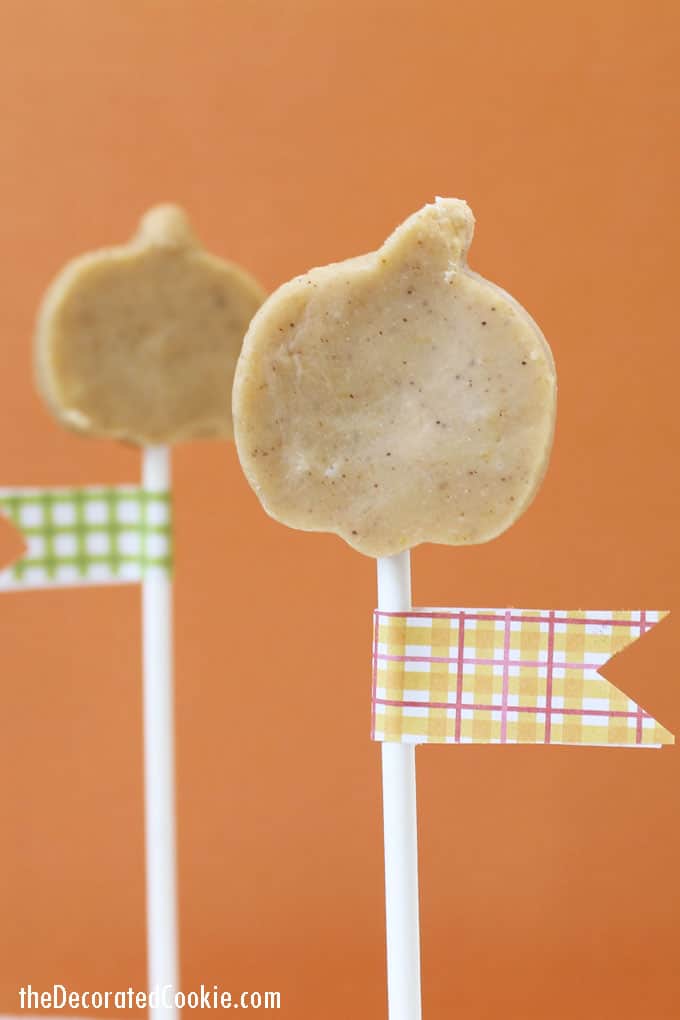 Hello Fall, come on in. I've missed you ever so much this long, hot, sticky Summer. I embrace you, Fall, and all you bring, like pumpkins. So yes, Callye of The Sweet Adventures of Sugarbelle, of course I'm joining your pumpkin cookie cutter extravaganza. Remember back when she asked a bunch of supercool bloggers to create something, anything with a star cookie cutter? This time around, it's a pumpkin cookie cutter. Isn't this collection of talent and sweet art freakin' amazing? Forgive my language, but it just is. For links to all 23 bloggers, scroll to the end. I went with pumpkin fudge, and on a stick of course.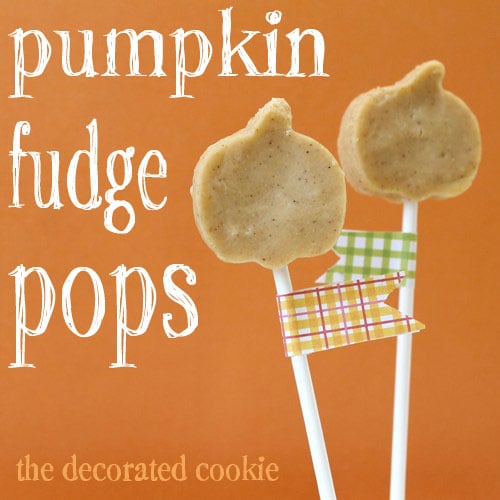 I didn't live up to my name and actually decorate my pumpkins. No cookie recipe is used here.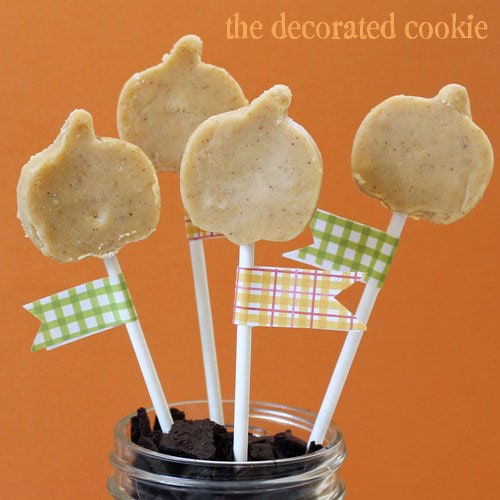 I've mentioned 169 and 39 times on this blog that Fall is my favorite season (by the way, "169 and 39" is my daughter's go-to phrase for expressing a large volume, so I thought I'd try and start a trend). Summer is too hot. Fall brings a crisp chill that is fully welcome after the sweltering heat. And Fall brings the promise of winter and holidays and pretty snowfalls. And that promise is even better than the real thing, because the real thing is terribly inconvenient when it happens. But the promise of it makes you only think of the pretty part. As a fan of Fall, I adore the smells and flavors of the season. So when Callye challenge us to use a pumpkin cutter, I not only wanted to step away from my usual cookies, but I wanted to make something that incorporated the flavors of Fall.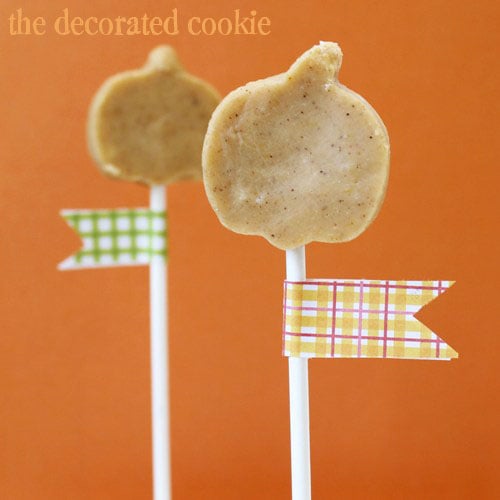 So I chose candy. Pumpkin fudge, that is. On a stick, of course. I played around with my go-to recipe for chocolate fudge until I got the pumpkin fudge just right. And by "played around" I mean I made four batches. We're swimming in pumpkin fudge in my house.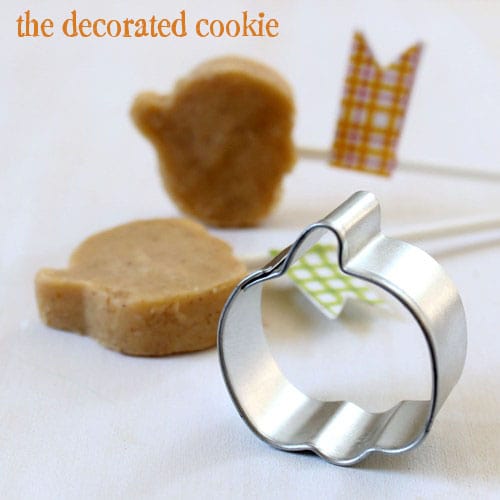 I have a few different sizes of pumpkin cutters, but I chose the little one-inch pumpkin cutter I got in a set of Fall cutters for these. It was a wise choice. This fudge is way too rich to have more than an inch. I know, because I ate all the scraps as I went along and I could barely move afterwards.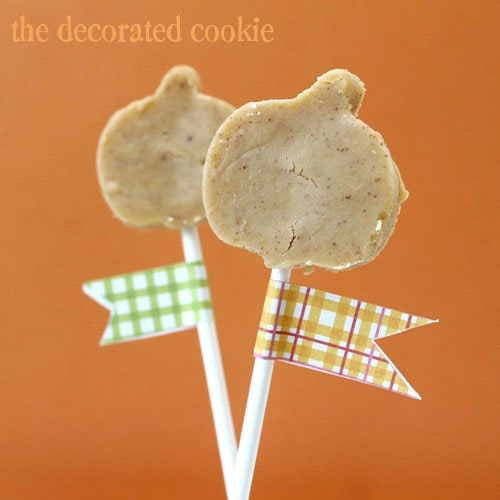 how to make pumpkin fudge on a stick
pumpkin fudge recipe
2 tablespoons unsalted butter

1 1/2 cups granulated sugar

1/2 cup evaporated milk

1/2 cup pumpkin puree (a can of Libby's is the best)

1/2 teaspoon salt

1 teaspoon cinnamon

1/2 teaspoon ground ginger

1/2 teaspoon nutmeg

1/4 teaspoon ground cloves

2 1/2 to 3 cups white chocolate chips*

1 teaspoon vanilla extract
*Note that this is just over a 24-ounce bag of chocolate chips. You don't necessarily need the extra half cup, but I wanted my fudge a little thicker so it would hold its shape better, so I bought the larger bag.
Grease a 9 x 13 inch pan. In a small bowl, combine the salt, cinnamon, ginger, nutmeg and cloves and set aside. In a saucepan over medium heat, combine the butter, sugar, evaporated milk, pumpkin and the salt and spice mixture. Stir constantly with a whisk until the mixture comes to a boil. Lower the heat a bit and continue to simmer for five minutes, stirring constantly. Remove from the heat and use a spoon or spatula to stir in the chocolate chips and vanilla extract. Stir, stir, stir until all the chocolate chips are melted. Pour into the pan, cover with plastic wrap and refrigerate until set, about 2 hours. Remove and cut into squares or pumpkins. Keep refrigerated to keep firm. Makes about 25 little pumpkins.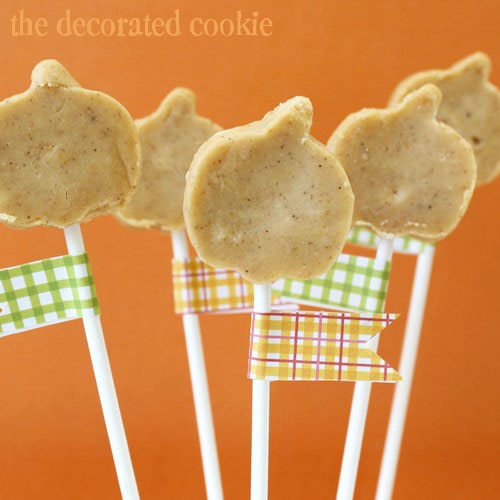 putting it on a stick
you will need:*
1-inch pumpkin cookie cutter
lollipop sticks
When the fudge has set, use the cookie cutter to cut out the pumpkins as closely together as possible. If the fudge is too firm, let it rest at room temperature a bit. To make the cutting easier, dip the cutter's edges in hot water or grease with shortening. I pressed down my greased cookie cutter, then used a large, off set spatula to lift the piece out of the baking pan, then I gently pushed the fudge out of the cutter. Insert a lollipop stick. Refrigerate the fudge to keep it firm.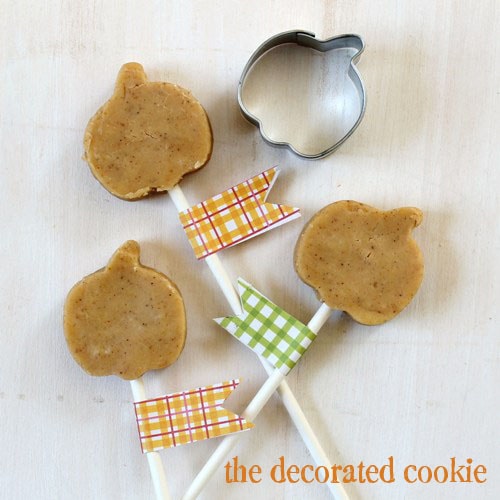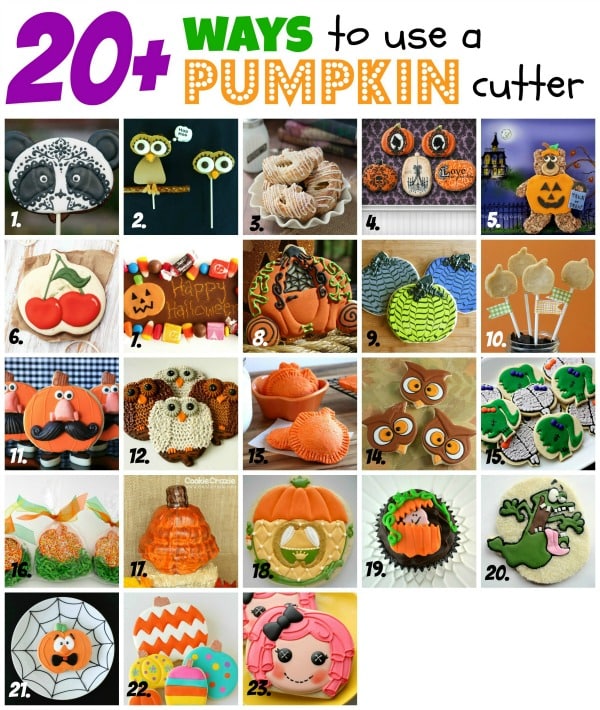 Here they are, 20+ ways to use a pumpkin cutter, hosted by Sugarbelle. Click the links to go to the bloggers' posts.
2.       Owl S'mores on a Stick, Kitchen Fun with my Three Sons
3.       Pumpkin Cheesecake Pasties, Bakingdom
4.       Halloween Pumpkin Wall, Arty McGoo
5.       Cocoa Krispies Trick or Treat Bears, Hungry Happenings
6.       Creative Cherry Cookies, Lila Loa
7.       The Ultimate Halloween Candy Bar, Dollhouse Bake Shoppe
8.       Halloween Pumpkin Carriage Cookie, Trilogy Edibles
9.       Easy Cheveron Pumpkin Cookies, Lizy B Bakes
10.   Pumpkin Fudge on a Stick, The Decorated Cookie
11.   Funny Face Pumpkin Cookies, Munchkin Munchies
12.   Woodland Owl Cookies, The Bearfoot Baker
13.   Pumpkin Cheesecake Hand Pies, Created by Diane
14.   Wide Eyed Owl Cookies, Simply Sweets by Honeybee
15.   Zombie Girl and Brains Cookies, Not Your Momma's Cookies
16.   Cookie Cutter Pumpkin Fudge, The Partiologist
17.   3-D Pumpkin Cookie, Cookie Crazie
18.   Faberge-Style Pumpkin Coach, Oh, Sugar Events
19.   Peek-a-Boo Pumpkin Cupcake Topper, Sweetology 101
20.   Slimy Green Ghost Cookies, Pink Little Cake
21.   Silly Pumpkin Face Cookies, Klickitat Street
22.   Pretty Painted Pumpkin Cookies, Glorious Treats
23.   Lalaloopsie Cookies with a Twist, SweetSugarBelle