Disclosure: *This post may include affiliate links. As an affiliate, I earn from qualifying purchases.


How to make a booze bouquet homemade gift idea.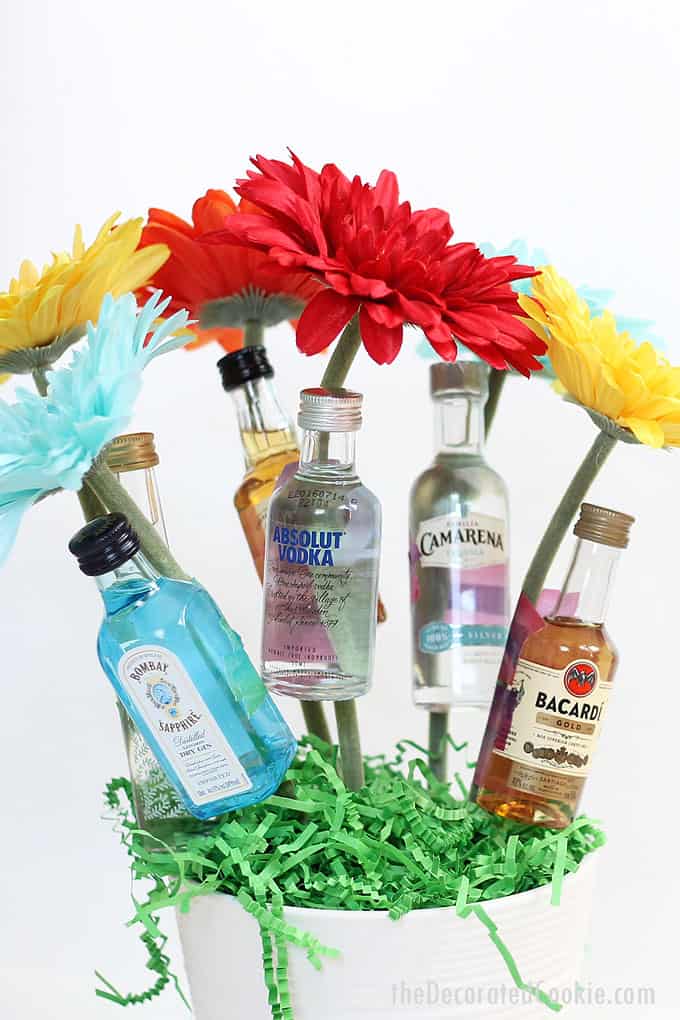 booze bouquet gift idea
You know what the best gift to give (to adults) ever? A booze bouquet. Bright, colorful, fun, totally unique, and boozy. It's the perfect homemade gift idea for Mother's Day, birthdays, bridal showers, housewarming, hostess gift, Arbor Day… whenever.
I came up with this idea in about three seconds when I drove out to the 'burbs to a Total Wine.
Do you have those near you? Wow. Huge, wide aisles filled with booze of all sorts. And they have tons of these mini booze bottles, which I think are the cutest thing ever. (I mean, in the alcohol universe.)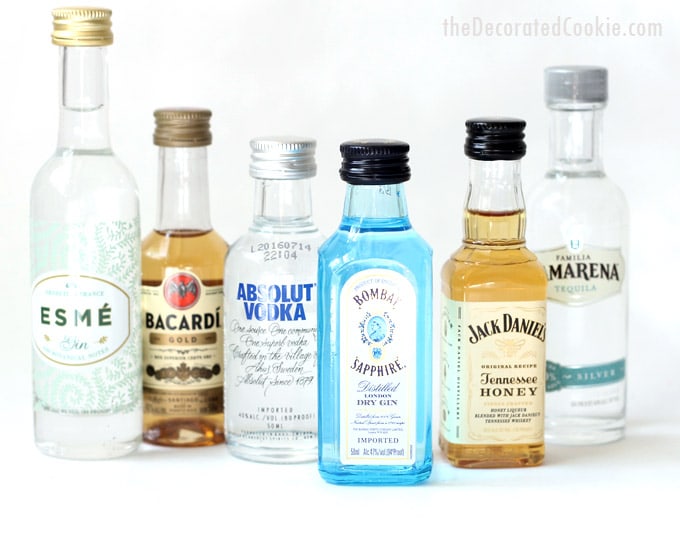 And if you love this idea, try making them boozy birthday fudge. Or, for another homemade gift idea for the booze fan, try painting these wine glasses.
Let's get right to the how-tos, yes?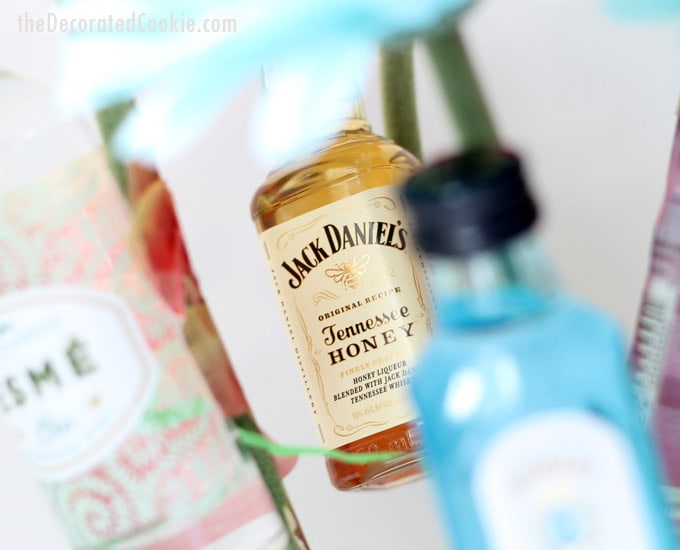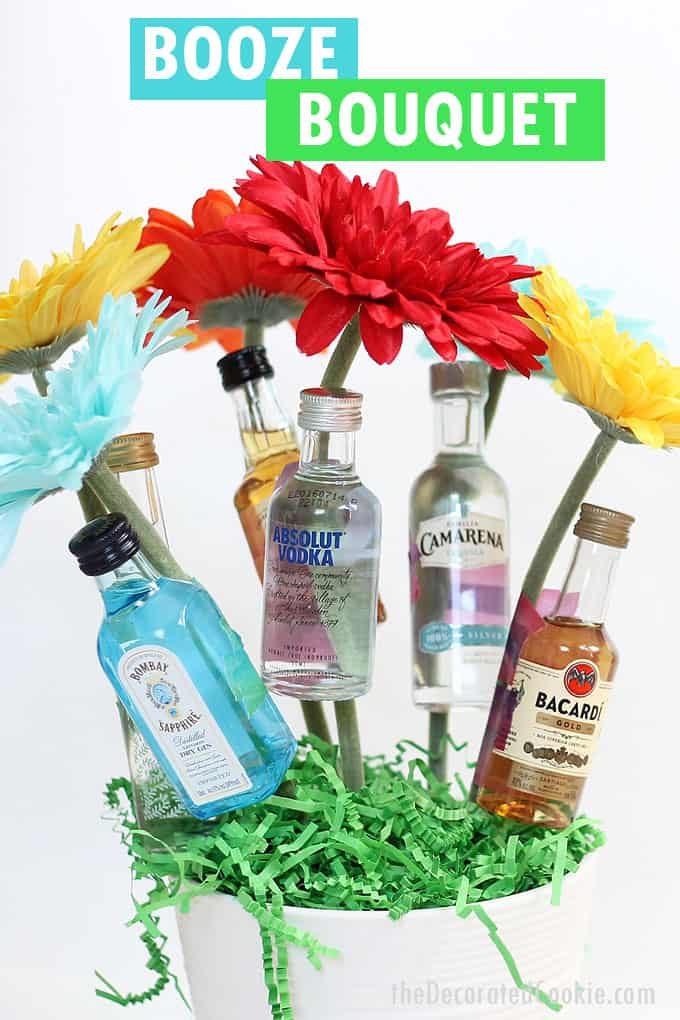 how to make a booze bouquet
You will need:*
mini booze bottles
sturdy container (the one shown is a heavy ceramic pot)
Styrofoam block(s) to fill the container snugly
single-stem faux flowers
wire cutters or strong scissors
strong decorative tape
filler to top the Styrofoam
*Find all of the supplies, except for the booze, at the craft store. (Affiliate links above so you see what these items are, but it's best to pick out the container and Styrofoam in the store so you can be sure it fits tightly in the container.)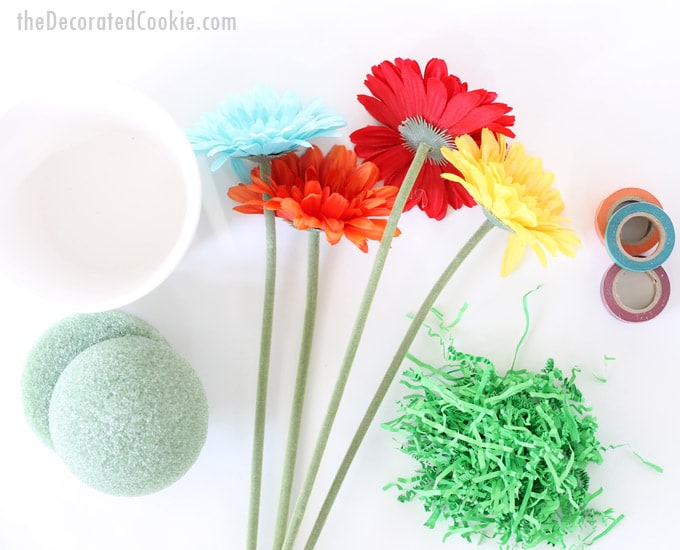 what to do:
Jam the Styrofoam tightly in the container.
With the wire cutters, trim the faux flowers so that when inserted into the Styrofoam all the way to the bottom, the booze bottle will fit on the stem without much space between the bottle and the Styrofoam and the bottle and the top of the flower.
(Don't insert all of the flowers yet, just test one to see what length you'll need to trim the flowers.)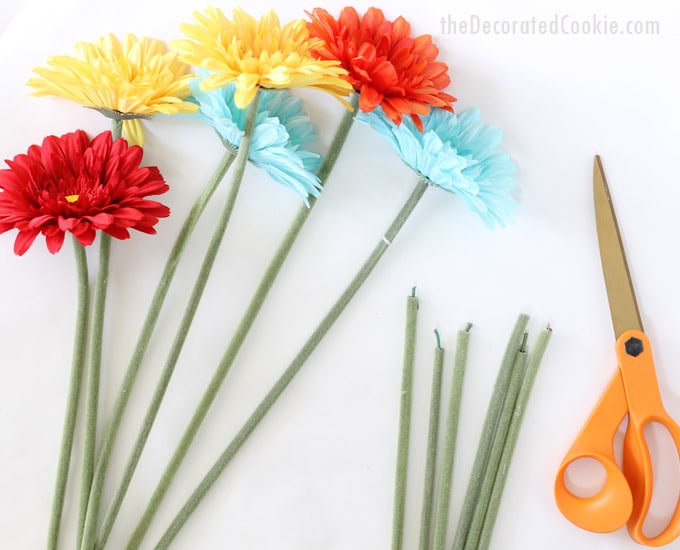 Tape the booze on the flowers. A strong tape, such as duct tape, is best. I used a good washi tape, which worked, but next time I'll skip right to the duct tape. Arrange the flowers in the container and top with a bit of the filler.