Disclosure: *This post may include affiliate links. As an affiliate, I earn from qualifying purchases.


Using a brush embroidery cookie decorating technique to make turtle cookies.
turtle cookies
Turtle cookies might need to make an appearance at your summer parties. (Or swamp parties?)
I've been wanting to try the brush embroidery cookie decorating technique for years now, and given the title of my blog, it's shameful I've not yet.
These turtle cookies were inspired by a Lily Pulitzer pillow at Garnet Hill. To echo my own words about this pillow for my roundup of throw pillow ideas at Houzz (see all 20 pillows here), everything about this pillow is my grandmother.
She grew up on the Jersey shore, so she was no stranger to beach-themed decor, but always in the most subtle, clever and tasteful way. An early-Lilly addict, she'd have loved this print. That and the piping on the border, shape of the pillow and colors are so reflective of her house when I was a kid. Sigh. But I digress…
more turtles!
By the way, if turtles are your jam, find how-tos to make a turtle from a seashell here, or make turtle candy pops here.
turtle decorated cookies
For the turtles, I think these would've made a greater impact had I had the detail on top be an even darker shade of green, but alas, next time. For a much more apparent contrast, use white instead of green: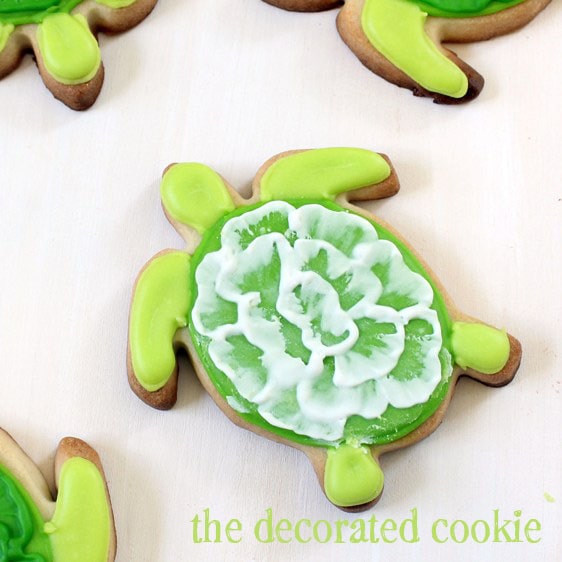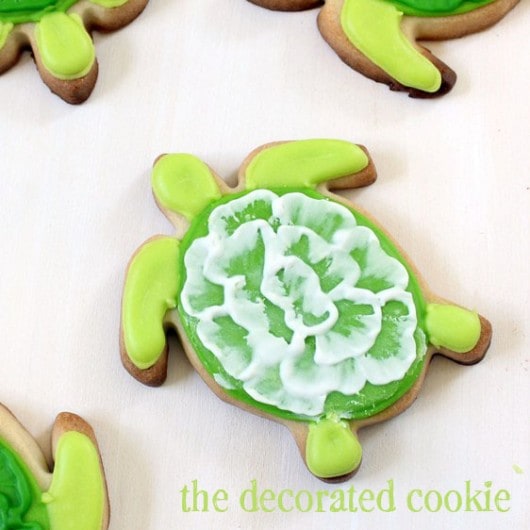 how to decorate cookies
For basic cookie decorating instructions, click here.
You may also take my 6-video cookie decorating course at The Sugar Academy.
How to make brush embroidery turtle cookies
you will need:*
3 couplers

rubber bands

scissors

toothpicks

small, clean, flat paint brush (squared bristles)
*For food coloring, I prefer Americolor Soft Gel Pastes (Electric Green used here). You may find the cookie cutter in the craft store seasonally. Or click HERE for tips on finding cookie cutters. Find the decorating bags, couplers, tips and paint brush in the craft store.
step one: bake your cookies
Prepare cookie dough according to the recipe, chill, roll out, cut out turtles and bake according to the recipe. Let cool completely.
step two: prepare your icing
Prepare royal icing according to the recipe. Divide and tint (I usually work with about 1 cup at a time) three shades of lime green.
Just use one or two drops for light, more drops for medium, many more for dark.
Prepare three decorating bags with couplers and tips, fill with each of the three colors (reserving half of the light green and the medium green) and close tightly with a rubber band.
step three: decorate the background
Pipe a circle for the shell with the medium green and let set. Pipe the head, feet and tail with the light green and let set.
Thin both the medium and light greens with water, a few drops at a time, until the consistency of thick glue.
Fill empty decorating bags with each of the greens, snip about 1/2-inch from the tip and pipe to fill the shell with the medium green and the head, feet and tail with the lighter green, using a toothpick to encourage the icing as needed until the entire background is filled. Let set overnight.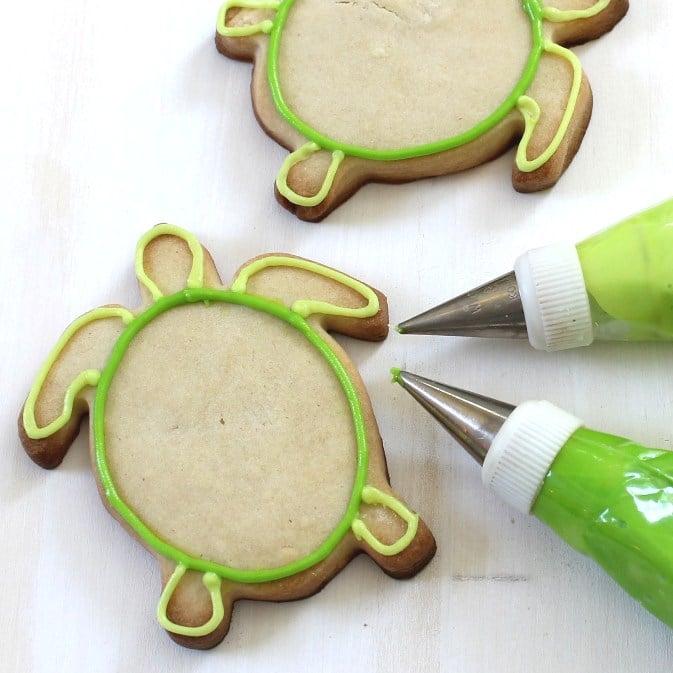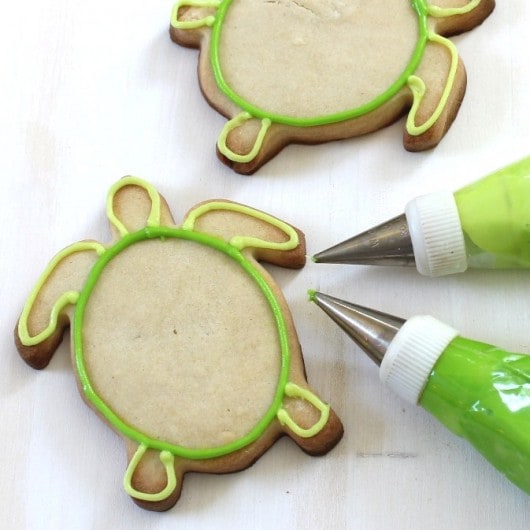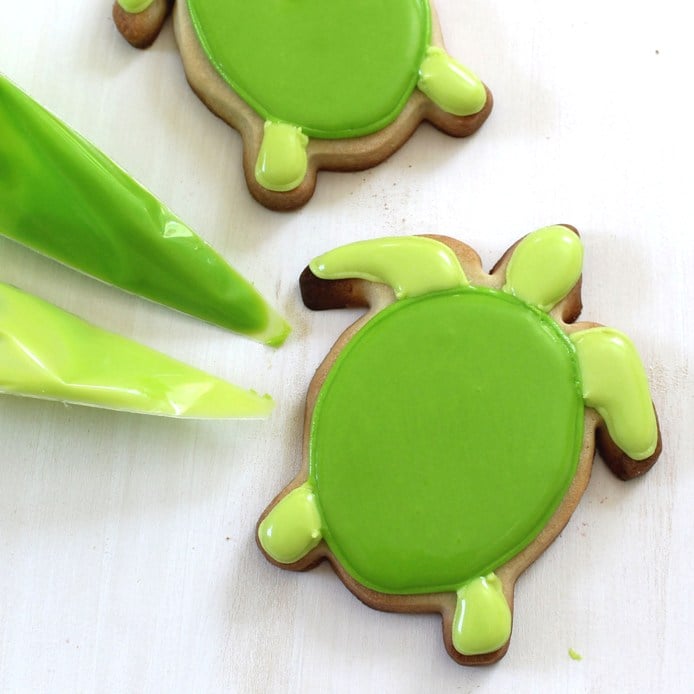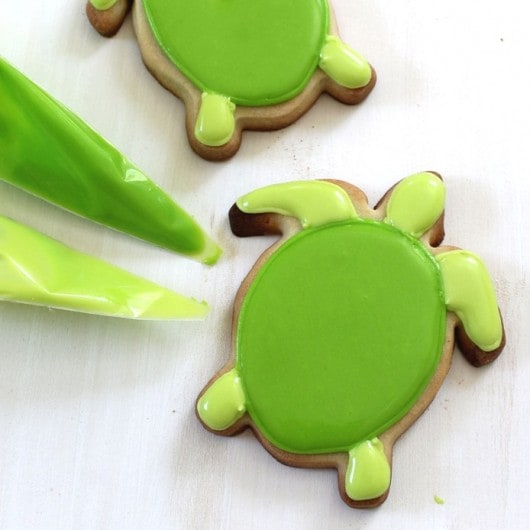 step four: brush on the design
When the cookies have set well, pipe the design with the darkest green. First, pipe this sort of rectangular petal shape. Then dip your paintbrush in water, dab on a paper towel and brush from the icing inward in little strokes.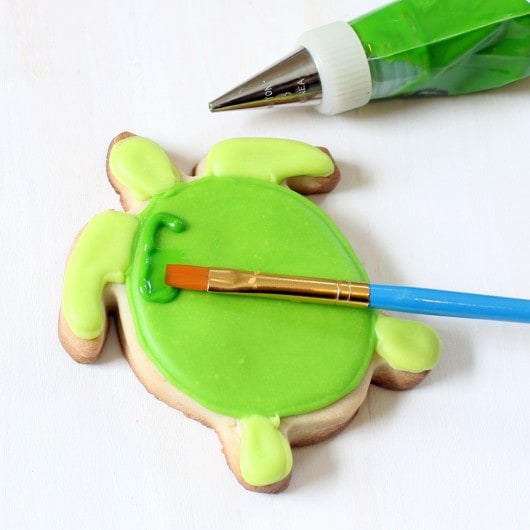 Repeat all the way around the outside of the shell, dipping your brush in water and dabbing on a paper towel as needed.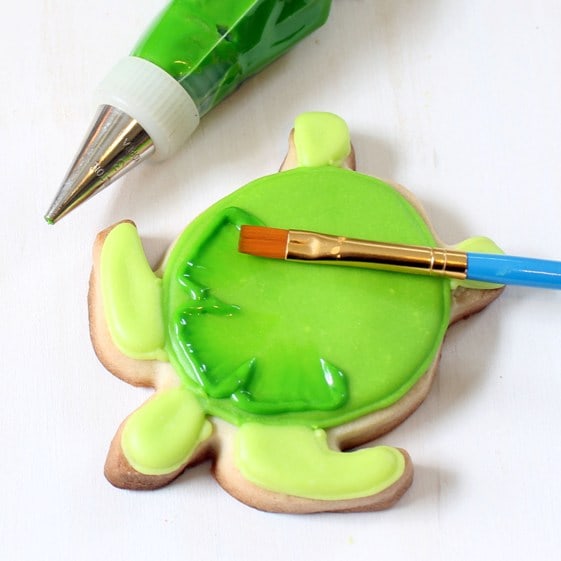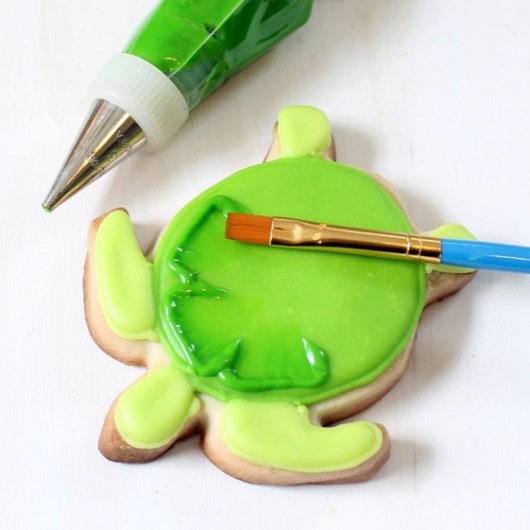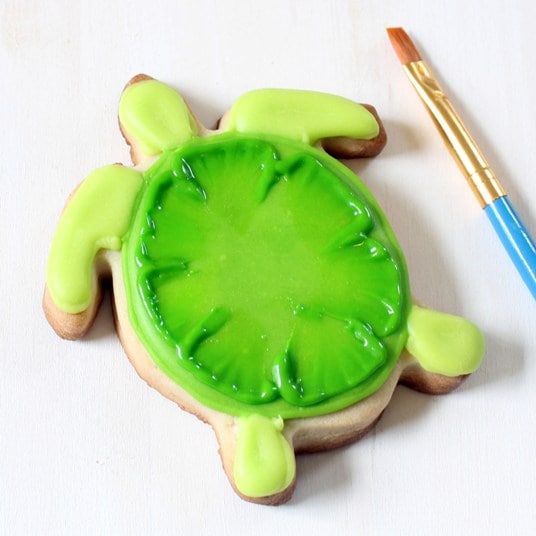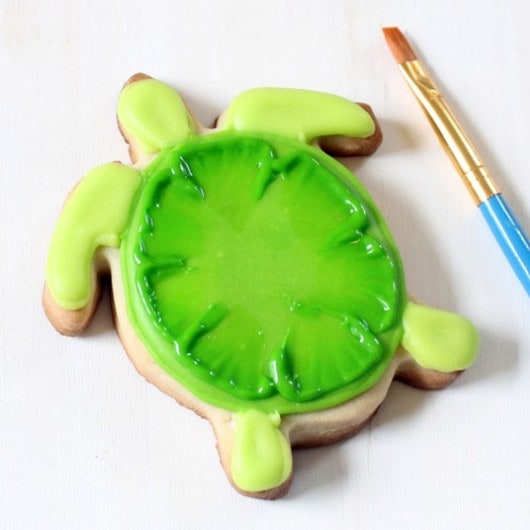 Then repeat with an inner circle: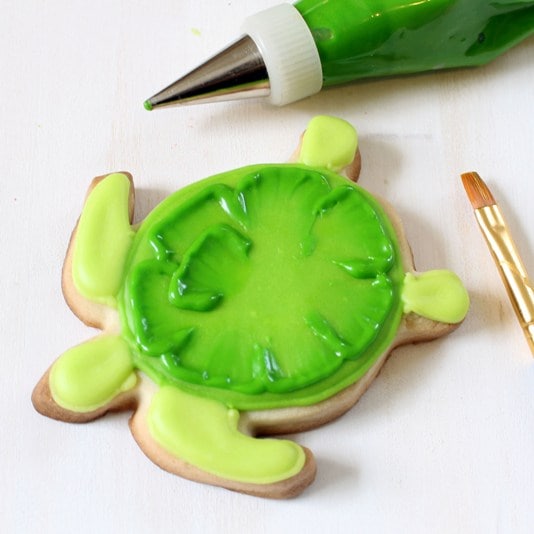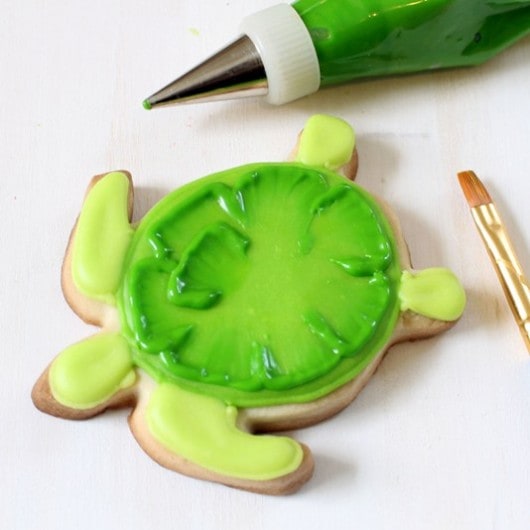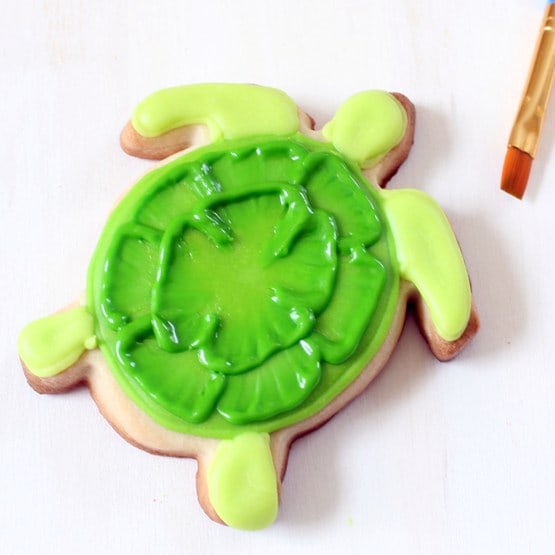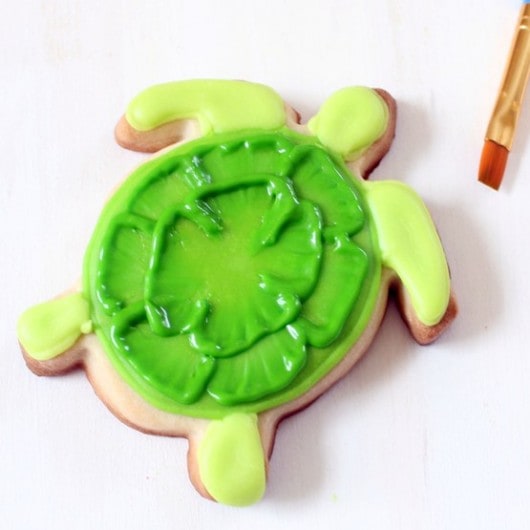 Then one more little rectangle in the center: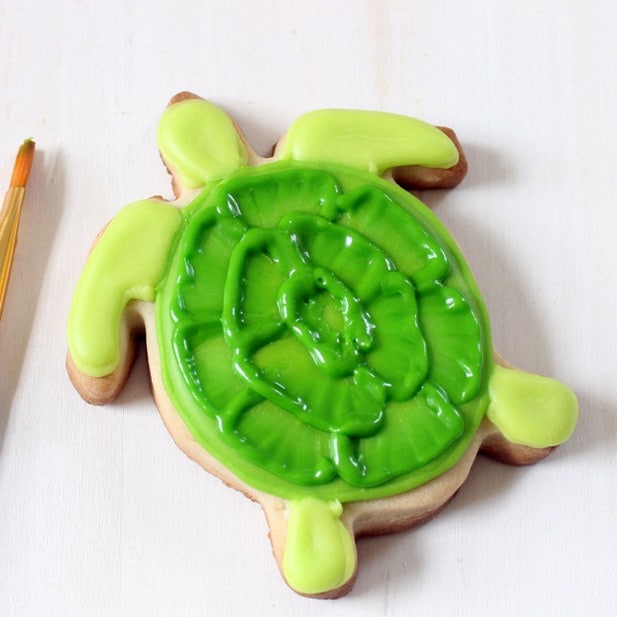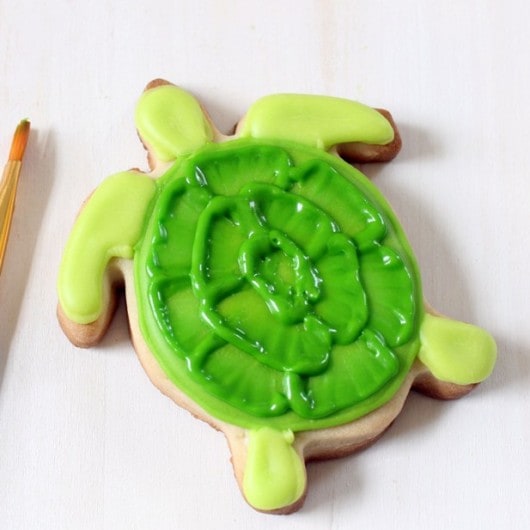 Let dry well, preferably overnight, before handling and packaging.
This post for turtle decorated cookies was originally published in April 2012 and updated in June 2020.