Disclosure: *This post may include affiliate links. As an affiliate, I earn from qualifying purchases.


These simple Christmas tree cookies gives decorated Christmas cookies a mod, retro feel.
simple Christmas tree cookies
My next Christmas treat idea for Celebrations … a bunch of triangles transformed into a Christmas tree cookie pops forest. So easy peasy. These simple Christmas tree cookies are a great Christmas cookie to decorate for beginners. You can also use this method to make Christmas wreath cookies.
This felt Christmas tree centerpiece craft would go nicely with the cookies.
how to make Christmas tree cookies
Bake your cookie pops: Snap the ends off of the cookie sticks so they are roughly 4-inches long, or, use 4-inch lollipop sticks instead of cookie sticks. You may also use a variety of stick lengths so your trees stand at different heights. Roll out chilled cookie dough, cut out triangles, insert cookie sticks, and bake according to the recipe. Let cool.
Prepare your icing: Prepare royal icing and tint one or two shades of green. Prepare decorating bags with couplers and size "4" tips. Fill with your half of the green icing(s) and close tightly with rubber bands. Cover and reserve remaining icing.
Decorate your cookies: Pipe an outline on the cookie with green icing and let set about 15 minutes. Thin the reserved icing of the same green color with water, a few drops at a time, until of flooding consistency (a spoonful turned over the bowl should disappear into the icing in ten seconds). Fill an empty decorating bag, snip about ¼ inch from the tip and loosely pipe to fill the triangle with green. Encourage the icing as needed with a toothpick until the entire triangle fills with green icing.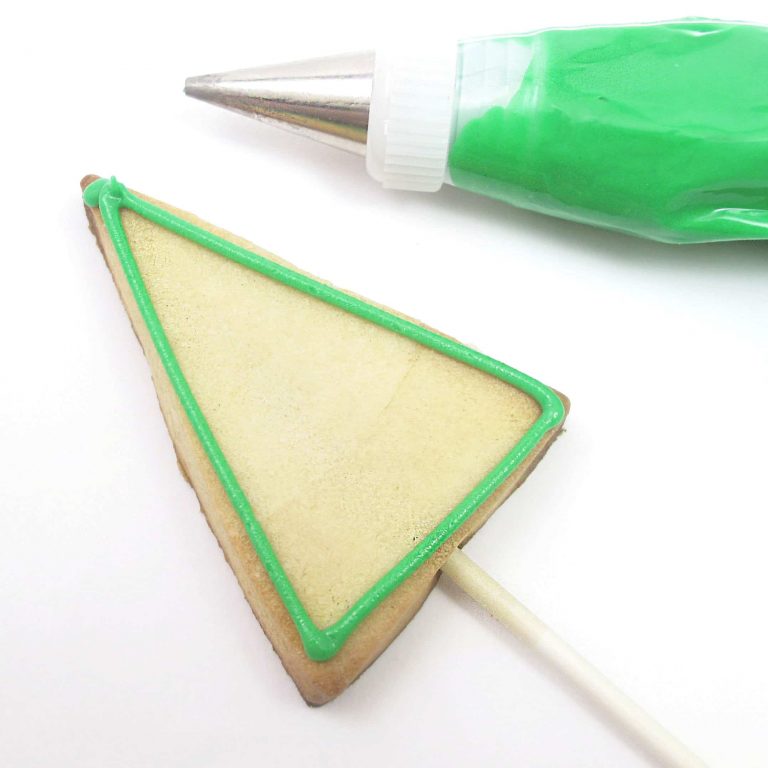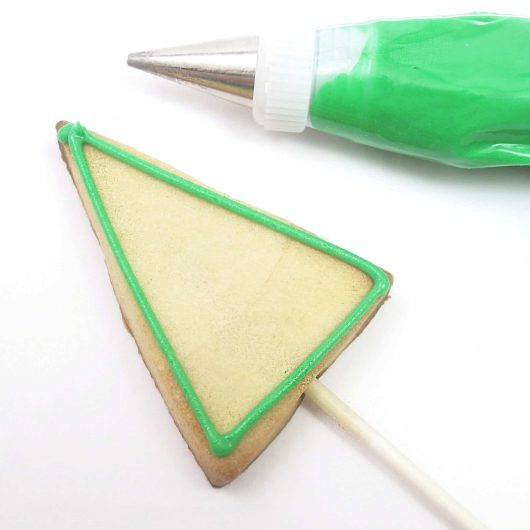 Let the cookies set twenty to thirty minutes and attach the dragees while the icing is still wet, but not so wet the dragees sink. If the icing has dried too much, adhere the dragees with a dab of light corn syrup. Let the cookies dry well, preferably overnight. Arrange cookies in a Styrofoam block.