Disclosure: *This post may include affiliate links. As an affiliate, I earn from qualifying purchases.


Christmas wreath cookies
These Christmas wreath cookies are so simple and pretty easy to decorate. Using circle cookie cutters, one color of icing, and silver dragees, you can make Christmas cookies in a snap.
It's shameful to admit, but I "borrowed" this idea. Sure, I borrowed it from myself (see? These Christmas tree cookie pops I made), but it still feels a little like cheating.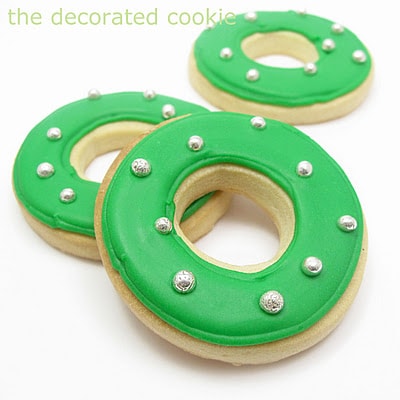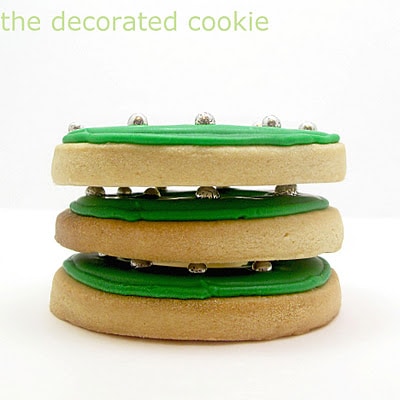 how to make simple wreath cookies
you will need:*
green food coloring
circle cookie cutters
2 decorating bags
1 coupler
1 size "4" decorating tip
rubber band

silver dragees
*I suggest Americolor Soft Gel Pastes (Leaf Green used here). For circle cookie cutters, I use this set of circle cutters. Choose any two cutters that have enough diameter difference to make wreaths, such as the 3-inch and 1 1/4-inch circles. Find the decorating bags, coupler, tips and dragees in the craft store.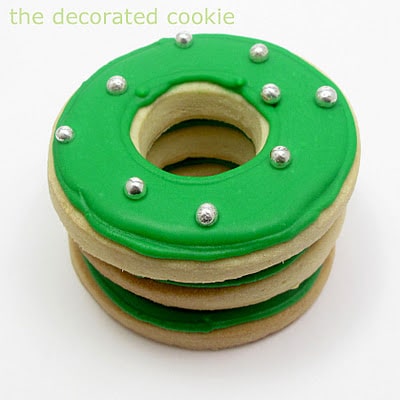 step one: bake your cookies
Roll out chilled cookie dough. Cut out a big circle and then cut out a little circle from the center of the cookies to make a wreath. Bake according to the recipe and let cool.
step two: prepare your icing
Prepare icing and tint green. Fill a decorating bag fitted with the coupler and tip with about 1/2 to 3/4 cup of the green icing and close with a rubber band. Cover reserved green icing.
step three: flood your cookies
Flood the wreaths with icing: Pipe an outline on the wreath, both the outer circle and inner, and let set. Thin the reserved green icing with water until the consistency of thick glue, fill an empty decorating bag with the thinned icing, snip about 1/4 inch from the tip and loosely pipe to fill the wreaths, encouraging the icing as needed with a toothpick until the entire wreath is filled.
step four: add your decoration
Wait for the icing to set about ten minutes and add the dragees. Waiting the ten minutes leaves the icing still sticky enough for the dragees to adhere, but sets enough so they don't sink into the icing. Let the cookies dry very well, overnight preferred.