Disclosure: *This post may include affiliate links. As an affiliate, I earn from qualifying purchases.


These copycat Lofthouse cookies are delicious, soft sugar cookies topped with pretty pink bakery-style frosting.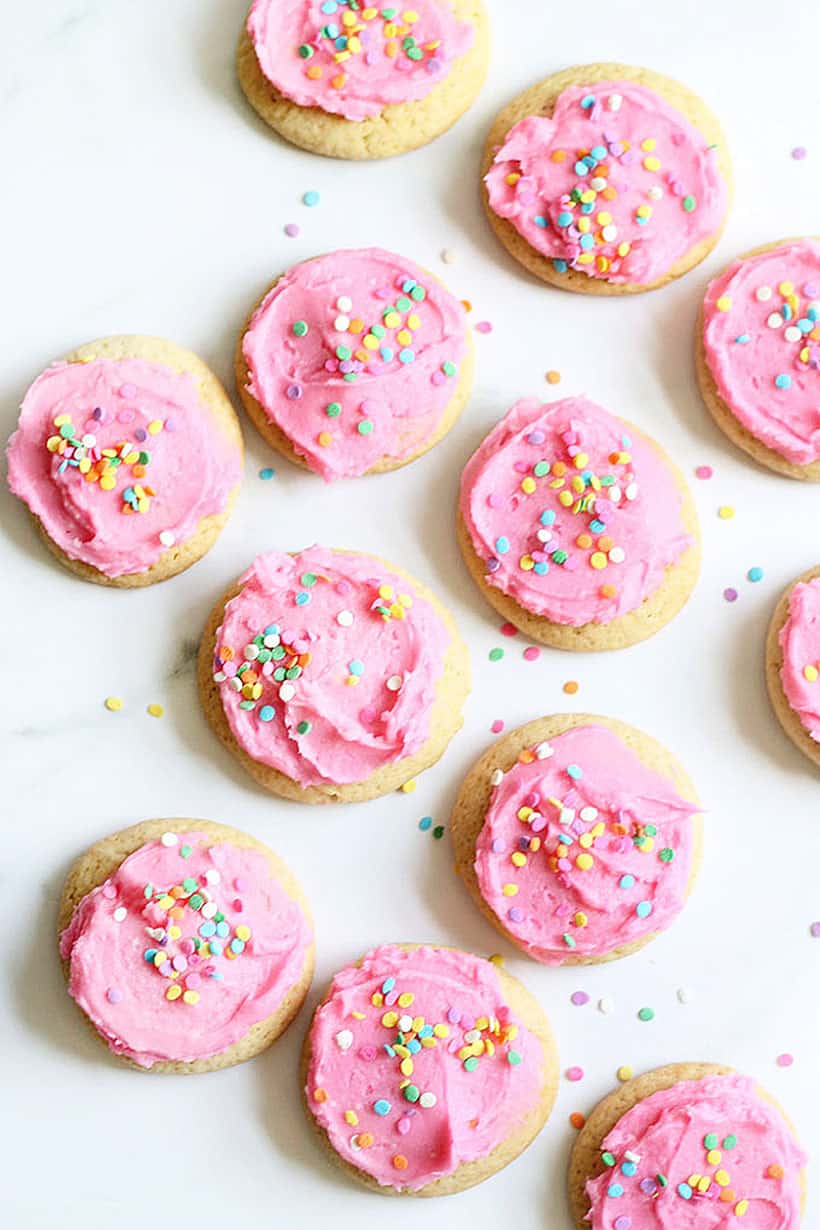 copycat Lofthouse cookies
Copycat Lofthouse cookies are an easy, delicious homemade soft sugar cookie topped with a generous layer of frosting.
Sour cream in the sugar cookie recipe adds richness and keeps the texture perfect.
Soft sugar cookies don't keep their shape perfectly, and have a chewy texture, as opposed to more traditional cut-out sugar cookies, which are firmer.
Scroll to the end for a printable recipe AND video how-tos.
The soft, tender original Lofthouse cookies with pillowy frosting, a recipe handed down over generations, have been in stores since 1994, but there isn't much information out there on the history of the cookies.
So we home bakers are left to our own devices. Sour cream is the secret ingredient in these cookies to achieve just the right softness.
Tips on making the cookies
The dough is a little soft, so it helps to chill in the refrigerator before baking.
After chilling, you may roll out the cookie dough on a floured surface with a floured rolling pin and use a 2-inch cookie cutter to cut out the cookies.
Alternatively, you can scoop about a tablespoon and a half of dough, roll it in a ball, and flatten the ball with the palm of your floured-hand.
To frost the cookies, I use a bakery-style buttercream frosting that combines shortening and butter for just the right grocery-store cookie taste.
You use any of your favorite buttercream frosting recipes, or even store-bought. Choose any color, too, to tint your frosting, and the sprinkles are optional. Or, try chocolate frosting for something different.
how to make copycat Lofthouse cookies
Let's get to baking these soft sugar cookies.
For the cookies, you will need:
2 cups all-purpose flour
3/4 teaspoon baking powder
1/2 teaspoon baking soda
1/2 teaspoon salt
1/2 cup butter, softened
3/4 cup sugar
1 egg
1/2 cup sour cream
1 teaspoon vanilla extract
For the frosting, you will need:
1/4 cup (1/2 stick) butter, softened
1/2 cup vegetable shortening (Crisco used here)
1 pound confectioner's sugar
Pinch of salt
2 to 3 tablespoons milk
How to make the cookies:
Preheat oven to 350 degrees F. Line two baking trays with parchment paper and set aside.
In a bowl, place the flour, baking powder, baking soda, and salt. Briefly mix with a whisk.
In a large bowl with an electric hand mixer, or in the bowl of a standing mixer, place the butter and sugar. Beat until fluffy. Add the egg, sour cream, and vanilla and blend well. Gradually stir in the flour mixture.
Chill the dough for 1 hour. Roll the dough on a generously floured surface with a floured rolling pin about 1/4-inch thick. Use a two-inch circle cookie cutter to cut out the dough. Place the cookies on the prepared baking tray. Alternatively, roll about 1 1/2 tablespoons of dough into a ball and gently flatten with your floured palm.
Bake one tray at a time in the middle of the oven until edges start to brown, 12 to 14 minutes. Keep the other tray of cookies in the refrigerator while the first tray bakes. Let cool completely before frosting.
Makes 24 cookies.
how to make the frosting
In the bowl of a standing mixer or in a large bowl with an electric hand mixer, blend the butter and shortening on low speed.
Gradually add about half of the confectioner's sugar. Blend in the vanilla, salt and two tablespoons of the milk. Gradually add the rest of the confectioner's sugar and mix very well until the frosting is smooth. If necessary, add additional milk or water to desired consistency.
Tint the frosting with food coloring. Use the frosting to top Lofthouse cookies and add sprinkles if desired. You may not use all of the frosting.
printable Lofthouse cookies recipe
Yield: 24 cookies
copycat lofthouse cookies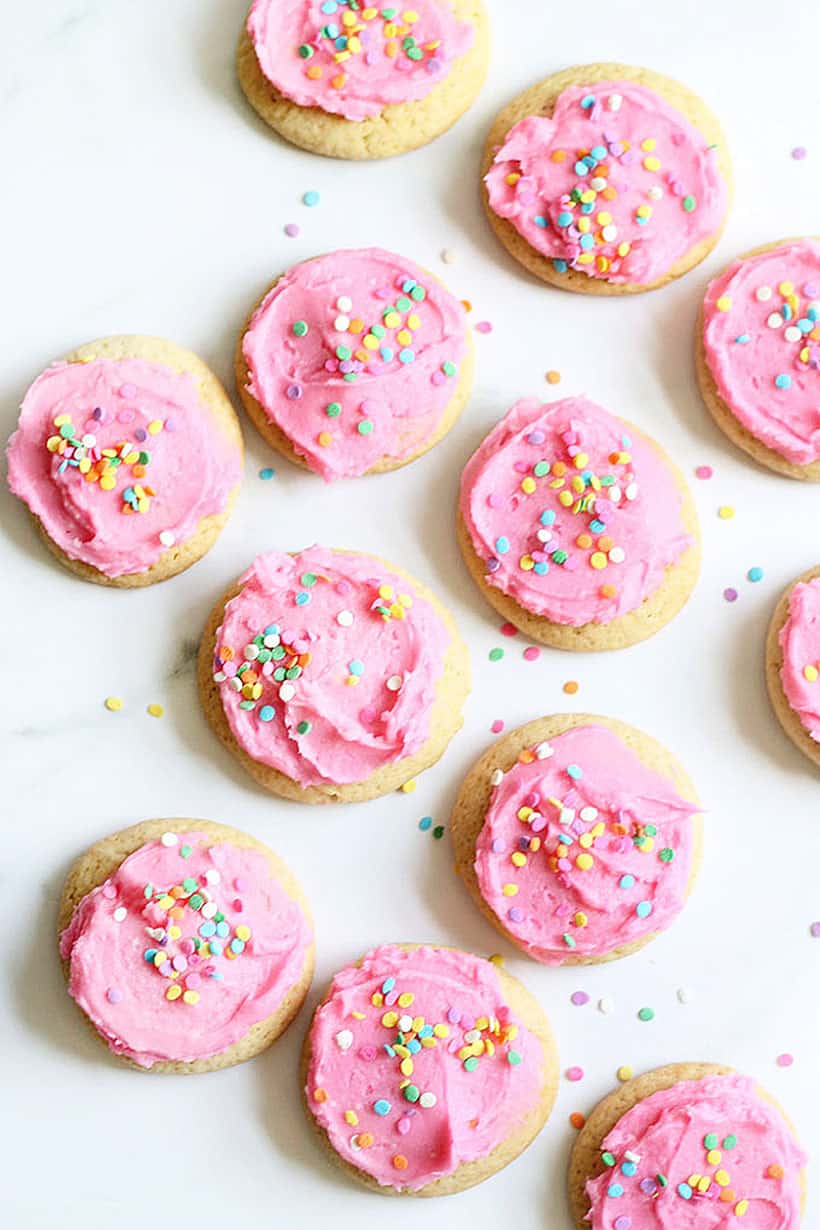 COPYCAT LOFTHOUSE COOKIES-- a soft and chewy sugar cookie recipe topped with bakery-style buttercream frosting. Video recipe included.

Prep Time 20 minutes

Cook Time 14 minutes

Total Time 34 minutes
Ingredients
For the Cookies:
2 cups All-Purpose Flour
3/4 teaspoon Baking Powder
1/2 teaspoon Baking Soda
1/2 teaspoon Salt
1/2 cup Butter, softened
3/4 cup Granulated Sugar
1 Egg
1/2 cup Sour Cream
1 teaspoon Pure Vanilla Extract
For the Frosting:
1/4 cup Butter, (1/2 stick) softened
1/2 cup Vegetable Shortening, (Crisco used here)
1 pound Confectioners Sugar
pinch of Salt
2-3 tablespoons Milk
Instructions
Preheat oven to 350°F. Line two baking trays with parchment paper and set aside.In a bowl, place the flour, baking powder, baking soda, and salt. Briefly mix with a whisk.
In a large bowl with an electric hand mixer, or in the bowl of a standing mixer, place the butter and sugar. Beat until fluffy. Add the egg, sour cream, and vanilla and blend well. Gradually stir in the flour mixture.
Chill the dough for 1 hour. Roll the dough on a generously floured surface with a floured rolling pin about 1/4-inch thick. Use a two-inch circle cookie cutter to cut out the dough. Place the cookies on the prepared baking tray. Alternatively, roll about 1 1/2 tablespoons of dough into a ball and gently flatten with your floured palm.
Bake one tray at a time in the middle of the oven until edges start to brown, 12 to 14 minutes. Keep the other tray of cookies in the refrigerator while the first tray bakes. Let cool completely before frosting.
In the bowl of a standing mixer or in a large bowl with an electric hand mixer, blend the butter and shortening on low speed.
Gradually add about half of the confectioner's sugar. Blend in the vanilla, salt and two tablespoons of the milk. Gradually add the rest of the confectioner's sugar and mix very well until the frosting is smooth. If necessary, add additional milk or water to desired consistency.
Tint the frosting with food coloring. Use the frosting to top Lofthouse cookies and add sprinkles if desired. You may not use all of the frosting. 
Notes
For food coloring, I recommend Americolor Soft Gel Pastes
Nutrition Information:
Yield:
24
Serving Size:
1
Amount Per Serving: Calories: 222Total Fat: 9gSaturated Fat: 5gTrans Fat: 0gUnsaturated Fat: 4gCholesterol: 23mgSodium: 127mgCarbohydrates: 33gFiber: 0gSugar: 25gProtein: 2g

This post for copycat Lofthouse cookies also appears on Food Fanatic.