Disclosure: *This post may include affiliate links. As an affiliate, I earn from qualifying purchases.


Ugh. I've shared that moment when you see your beloved cookies start to spread in the oven and you think all is lost. This blog posts is full of tips on preventing cookies spreading when baking, because perfectly shaped cookies are so essential in cookie decorating.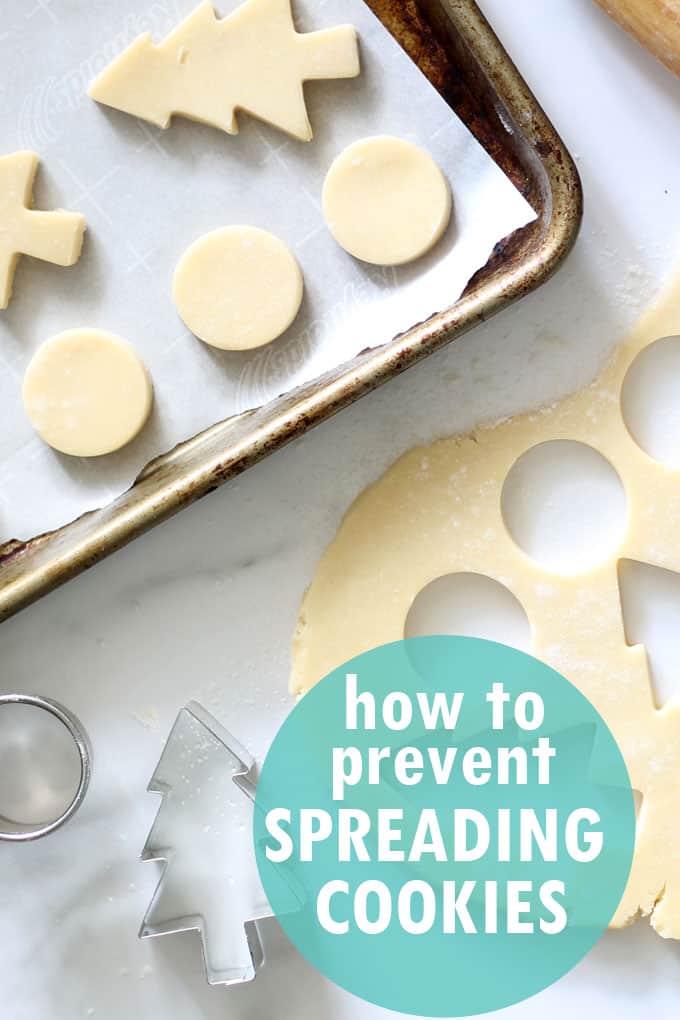 why do cookies spread?
So how do you keep cut-out sugar cookies from losing their shape? I just got another plea for help from a frustrated baker with spreading cookies. Ugh. I know that angst of looking through the oven window at your cookies losing shape and mushing into one another. You watch, helpless. I've been contacted by others with this problem as well, so here are some tips that I hope will help.
Many factors cause spreading cookies, which is less of an issue with drop cookies, such as chocolate chip cookies, but spreading cookies will be the downfall of cookie decorating. If you mis-measure (even just a bit) the ingredients, the cookies may misbehave. Baking isn't cooking, where you can throw together ingredients and create magic. The science requires precision. The temperature of your ingredients is also a factor. The ingredients should all be room temperature, although I admit to be too lazy to wait for butter and eggs to warm up. Your oven may be too hot and melting the butter too quickly. Or it's too cold and it didn't preheat enough.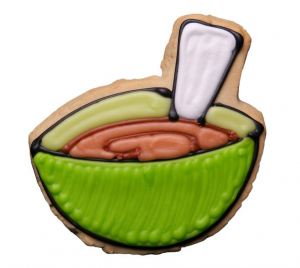 tips on how to prevent cookies from spreading
Good, thick baking trays are a must for baking cookies. A useful investment. Williams-Sonoma, Sur la Table, other fine kitchen stores carry these items. I line my trays with parchment paper, too. Silpat mats also work well. I prefer lighter-colored trays, as dark trays get hot too quickly. Traditional cookie sheets are flat and do not have a rim, as do jelly roll baking trays, but I've been known to use both anyway.
Check your oven temperature. Many ovens lose their accuracy. I have a thermometer inside that I go by, rather than the dial. (Do ovens HAVE dials anymore? I'm old beyond my years. I mean digital readout.) Your oven should be fully preheated.
Bake on the middle rack, one tray at a time. I only bake one tray at a time and place it on the middle rack. (This doesn't apply to convection ovens, which heat the entire inside of the oven evenly.) Because I can't fit two trays on one rack, one of my best investments was this professional-size cooking tray that holds more than a standard tray and lets me keep them all on one rack.
Your recipe. Make sure you aren't using any old sugar cookie recipe. Many sugar cookie recipes are for "drop" cookies (similar to chocolate chip cookies, as in, you "drop" spoonfuls on the tray and they are meant to spread a bit.) You should use a sugar cookie recipe for "rolled" cookies (meant to hold their shape.) These recipes will probably have more flour (usually about 2 1/2 cups) and less eggs (one, not two). My never-fail cut-out sugar cookie recipe is perfection! It's more of a shortbread cookie, and it does not have any leaveners. They don't move a millimeter.
Baking soda or powder. If your recipe calls for a leavener, make sure it's fresh and not expired! Old baking soda or baking powder can be the culprit.
Brrr…chill your dough. I ALWAYS chill my cookie dough at least an hour before rolling out, and I keep unused dough in the fridge while the cookies are in the oven.
I hope these tips help prevent cookies spreading and keep those silly cookies in place!
cookie decorating resources