Disclosure: *This post may include affiliate links. As an affiliate, I earn from qualifying purchases.


Easiest ever candy flower pops, a cute spring treat kids can make for Mother's Day.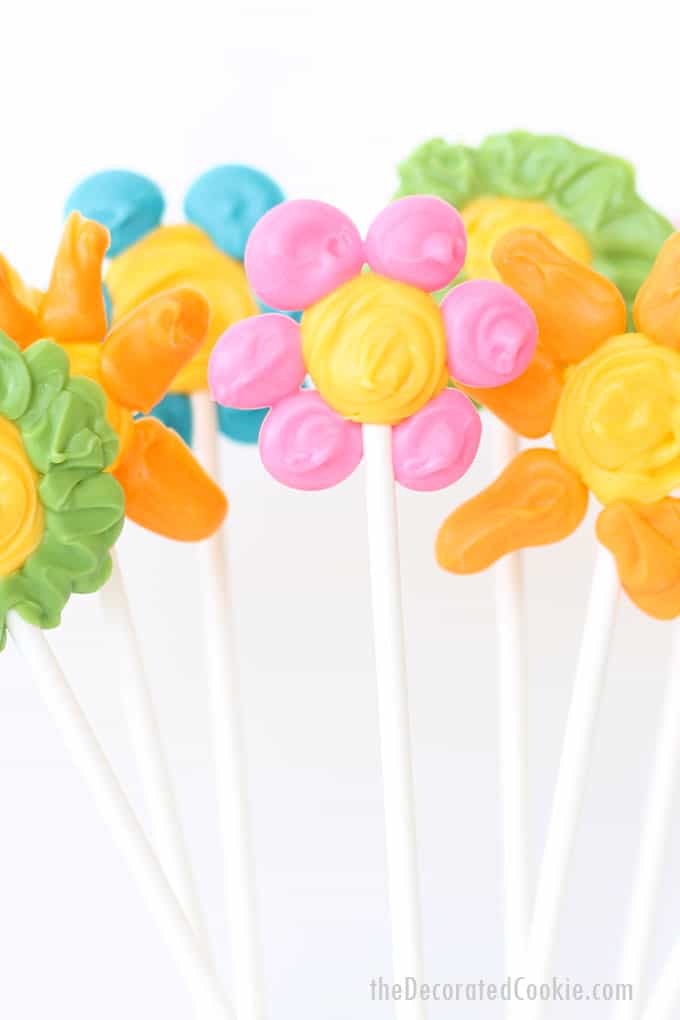 candy flower pops
These candy flower pops are so easy to make, require no mold, taste fantastic, and even kids can make them. Use any colors you like.
I made these for a friend and her kids, but they would also work for any Springtime event. Or make a bouquet for Mother's Day.
I have a history of shortcut desserts, as many know. Melting candy melts and piping designs on sticks is a recurring theme here. Check out all my chocolate pops HERE. Some of my favorites are the sea animal candy pops and mini "donuts."
Because candy melts harden relatively quickly, it's best to only melt one color at a time. That's why my centers are all yellow. It was just efficient. You can do anything you like, of course.
Watch how simple they are to make:
how to make candy flower pops
you will need:*
candy melts in various colors
disposable decorating bags
lollipop sticks
baking tray
wax paper
*Find the candy melts, decorating bags and lollipop sticks in the craft store. I also linked to resources. For colors, choose any you like, but I went with yellow, bright pink, bright green, orange and blue.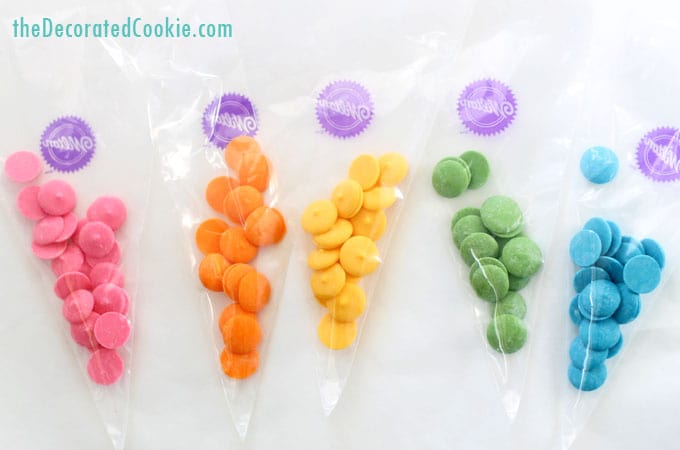 what to do:
Line baking trays with wax paper. Work with one candy melt color at a time, as they harden quickly.
Place about 1/2 cup of candy melts in a disposable decorating bag.
Microwave for 90 seconds at 70 percent power. Massage the bag and continue to microwave at 15 second intervals until fully melted.
TIP: If your microwave runs hot and the bags ever feel too-hot while microwaving, you can instead melt in a bowl and pour into the bags.
Snip the tip about 1/4-inch. Pipe a dot on the tray.
Place a stick on top and pipe another, larger dot on top. Repeat with the rest of the sticks, leaving a couple inches of space between each.
Working with one other color at a time, melt the candy melts and pipe designs for flowers: Dots, lines, zigzags, whatever.
Let dry well, about an hour, before removing from the tray.