Disclosure: *This post may include affiliate links. As an affiliate, I earn from qualifying purchases.


Easy weeknight dinner: Chicken and kale in white wine and herbs.
chicken and kale in white wine and herbs
Wait, what?! This is totally not a dessert. I know. And I'm still all about desserts. But this chicken and kale in white wine and herbs is so freaking delicious and easy to make and perfect for a fast, weeknight dinner, that I had to share.
So here's an episode of Easy Dinner instead.
In the last few years, I've also been cooking like crazy and stockpiling dinner recipes.
I've always kind of sort of cooked. Not like I've baked. But I know the basics and how to follow a recipe. I had my go-tos. And my go-tos got boring. So I got more adventurous and starting NOT following recipes to precision.
The result of this experimenting (and eating, don't forget the lots of eating) is a big, huge collection of pinned dinner recipes to try and a smaller collection of recipes that have worked well for my family. (And by "family," I mean, my husband, myself and the one daughter who eats.)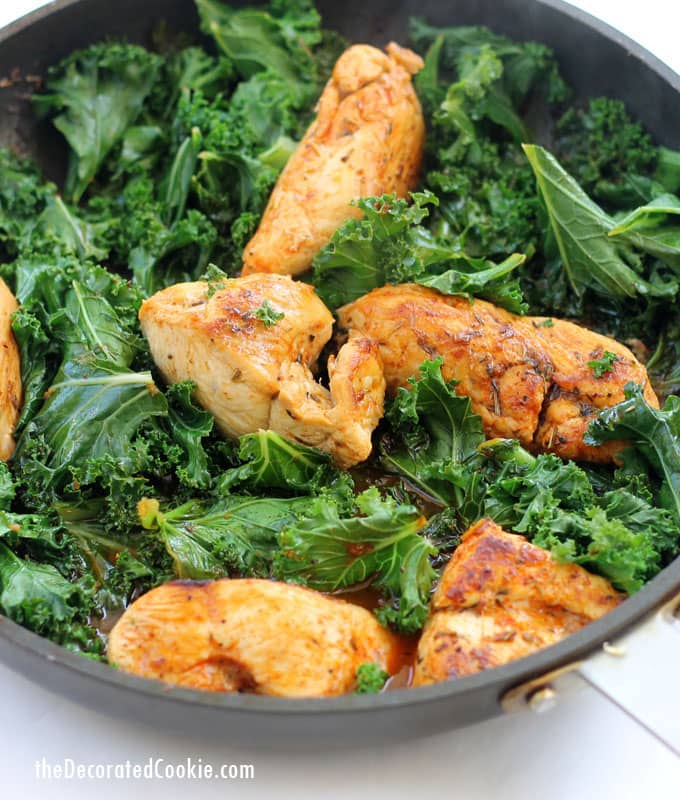 I should note, before we go down this road, I add kale to almost everything.
And it's almost always optional. But I need to eat green every day, and that's a good one to go for. You can substitute spinach and other greens, but I'm a big fan of the hardiness of kale. It can take a lot and won't look sad when wilted.
I'm also a fan of shortcuts. Sure, I could make a side dish that's green, but when you can just add it to the main dish and save a pan and precious minutes, then why not?
This dish originally started as this fantastic Paprika Chicken and Spinach with White Wine Butter Thyme Sauce, from The Paper Kitchen. As I mentioned above, I'm getting all adventurous like in adding my own preferences to recipes. So I swapped out a few things and added some others, and now I have a new favorite dinner.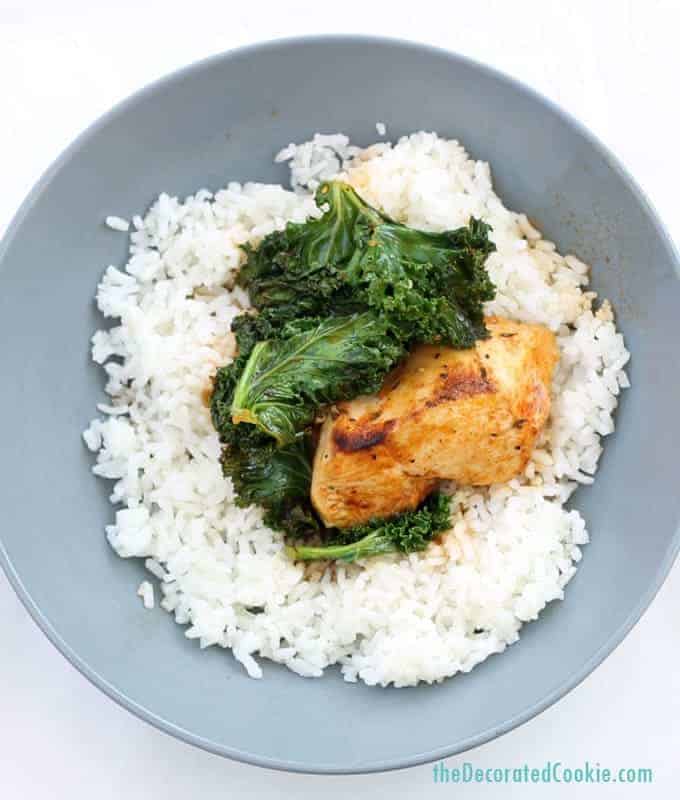 If you aren't as big a fan as I am of kale, add less or use spinach. This recipe is NOT very saucy, which I personally like.
But using less kale will also make it saucier if you prefer.
Tip for picky kids: I serve this over plain white rice, buttered and salted, so I have something to serve my kid who would never EVER mix foods together and would certainly never EVER eat "sauce."
The only downside of this dish is that it uses two whole cups of my precious white wine. But it's also what makes it so flavorful.
Choose a dry white wine, not too sweet. Pinot Grigio or Sauvignon Blanc work well. And please enjoy a glass while you cook, too. I sure did.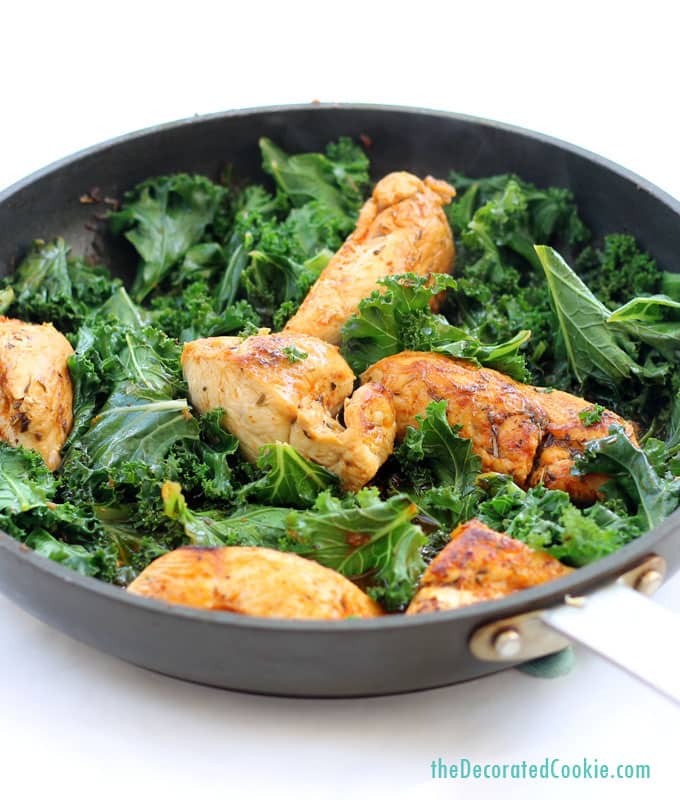 easy dinner: chicken and kale in white wine and herbs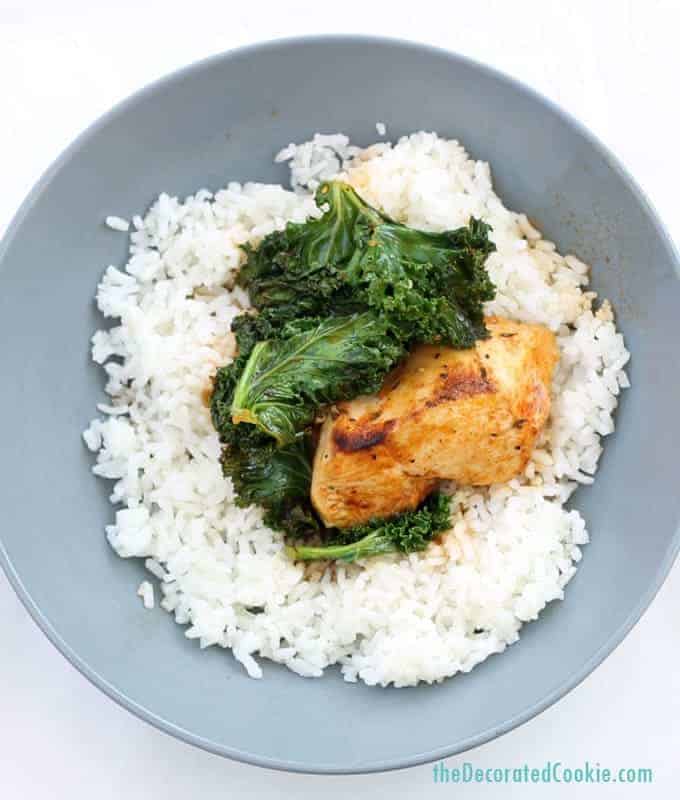 Easy weeknight dinner idea: Chicken and kale with herbs. Serve over rice.
Ingredients
1 1/2 pounds boneless, skinless chicken breasts, cut in large pieces
coarse sea salt
black pepper
1 teaspoon paprika
4 tablespoons butter
1 tablespoon olive oil
3 cloves garlic, minced
2 teaspoons dried thyme
1 teaspoon dried sage
1 to 2 cups white wine, divided
2 to 3 cups kale, coarsely chopped
Instructions
Sprinkle chicken with sea salt and black pepper. Sprinkle both sides of the chicken with the paprika.
Heat the butter and olive oil in a saute pan. Add the garlic and cook for 2 minutes.
Add the chicken and brown, about 3 minutes. Turn and brown the other side. Sprinkle the dried thyme and sage over the chicken. Add 1 cup of white wine.
Let the chicken simmer, turning occasionally, until no longer pink inside, about 20 minutes. As the wine reduces, add additional wine as desired.
Place the kale on top of the chicken and cook just until the kale wilts, stirring occasionally. Sprinkle with additional sea salt and pepper. Serve over rice.
Nutrition Information:
Yield:
4
Serving Size:
1
Amount Per Serving:
Calories:

572
Total Fat:

22g
Saturated Fat:

10g
Trans Fat:

0g
Unsaturated Fat:

10g
Cholesterol:

175mg
Sodium:

415mg
Carbohydrates:

16g
Fiber:

5g
Sugar:

4g
Protein:

57g
more easy chicken recipes