Easy mummy pretzels treats for Halloween — quick 3-ingredient Halloween party food.
mummy pretzels
These mummy pretzels fall into the category of "quick and easy Halloween treats." They take minutes to make and you can find the few things you need at the craft store. Plus, messy makes for scarier mummies, so you don't need to pipe perfectly, which also makes these a good let-kids-make-themselves Halloween treat. (Not that I'm suggesting kids are messy an imperfect, but I am suggesting that.)
Need more for HALLOWEEN! Check out my collection of Halloween food crafts from around the web. Try making mummies for your hot cocoa, too. This mummy fruit is a healthy Halloween treat idea.  I also have a roundup of 20 Halloween pretzels.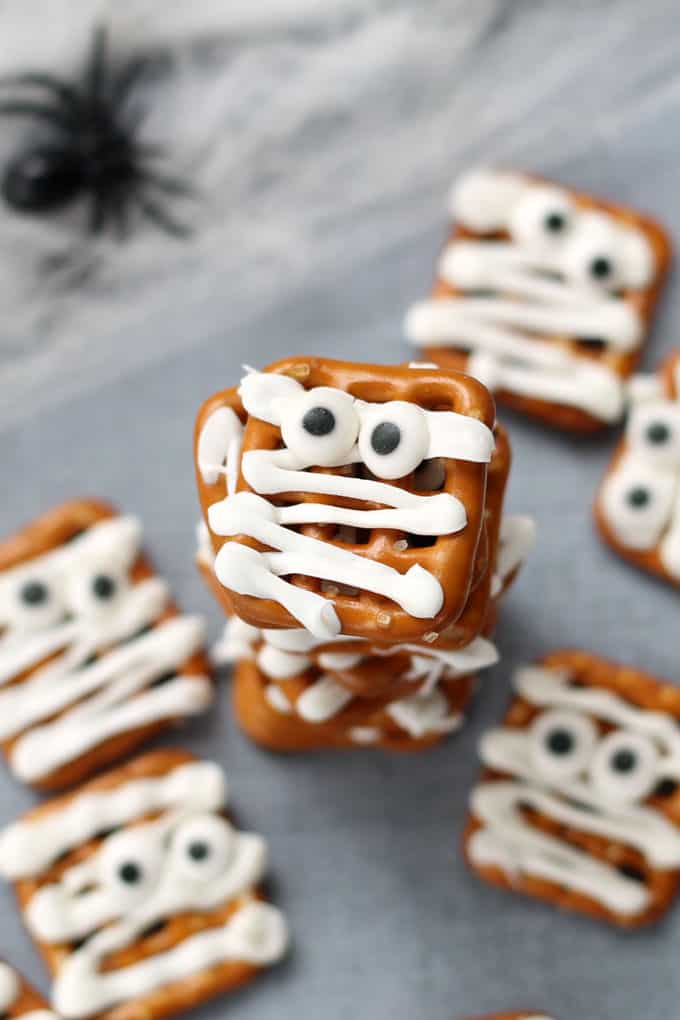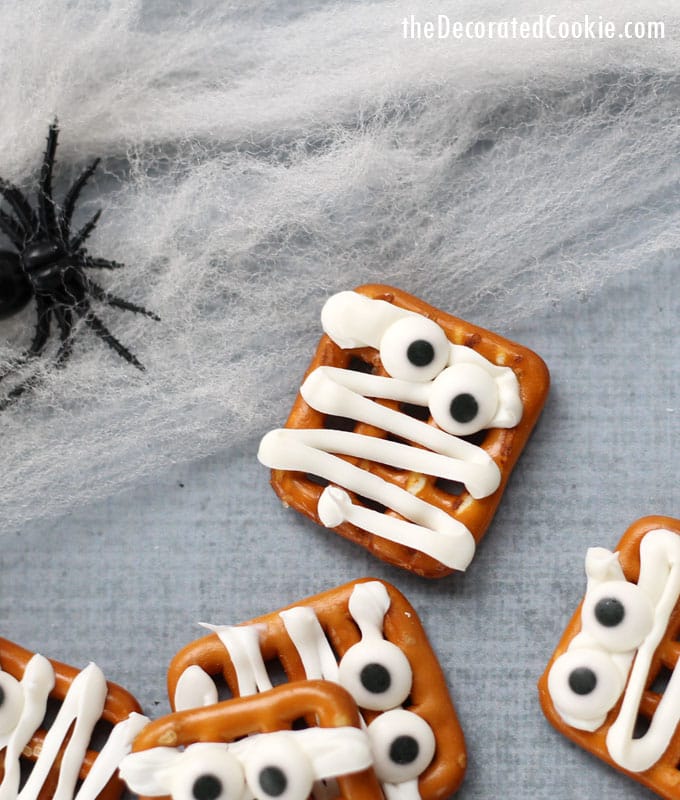 To make easy mummy pretzels treats for Halloween
you will need:*
*Find the candy melts, decorating bag and candy eyes in the craft store, or click the links above to see what the products look like or to buy online.
what to do:
Line a baking tray with wax paper and arrange the pretzels on the tray. Place about 3/4 cup of candy melts in a decorating bag. Microwave for 90 seconds at 70 percent power. Massage the bag and let the residual heat melt the candy melts. If necessary, continue to microwave for 15 more seconds. Alternatively, melt the candy melts in a microwave-save bowl and pour into the decorating bag. Snip 3/8-inch from the tip of the bag and pipe lines back and forth on a pretzel. Immediately adhere two candy eyes. Finish the rest of the pretzels and let the candy harden, about an hour.