Disclosure: *This post may include affiliate links. As an affiliate, I earn from qualifying purchases.


gingerbread swizzle sticks
Wanna see what I made for latest issue of Bird's Party magazine? Gingerbread swizzle sticks for hot cocoa. And those cute tags attached? The Cocoa and Marshmallows Party printables are available from Bird's shop. I just used my yummy gingerbread cut-out cookie dough (I added this recipe to my cookie recipe page HERE) to make sticks with holes, baked them, dipped them in chocolate and sprinkled crushed candy canes and marshmallow bits on top. Then I threaded the holes with ribbon and attached little tags. The perfect dip-in-cocoa treat.
I'm honored to be a part of the Winter issue of Bird's Party Magazine. This issue, like every other, if full of sweet party awesomeness. You'll find ideas for a Winter Wonderland, parties from Hollywood to penguin glam, a sparkly New Year's, a whimsical Christmas brunch. Birthday parties for dinosaurs, snow fairies, gangsters, lumberjacks and moose, a clever juice and cheese tasting party. And there are plenty of handmade holiday ideas, including edible placecards and decor that kids can make. CLICK BELOW TO VIEW THE ISSUE: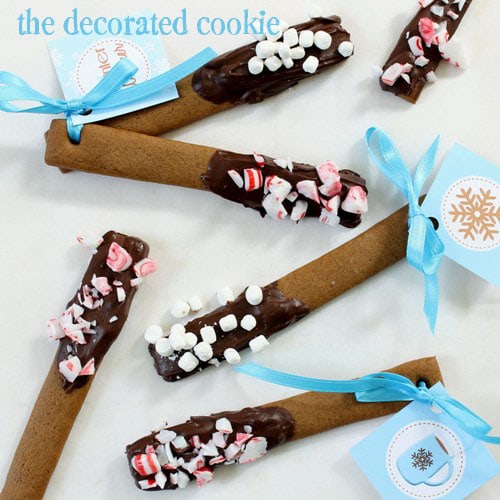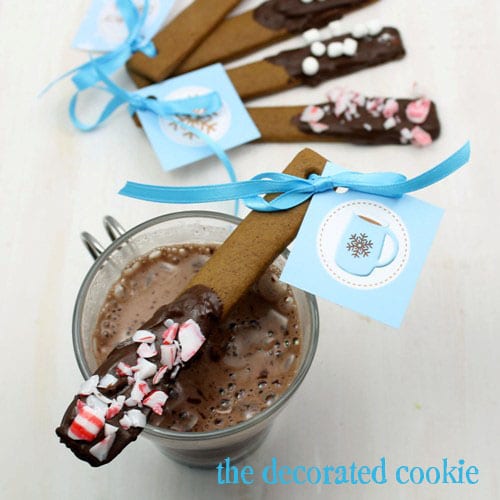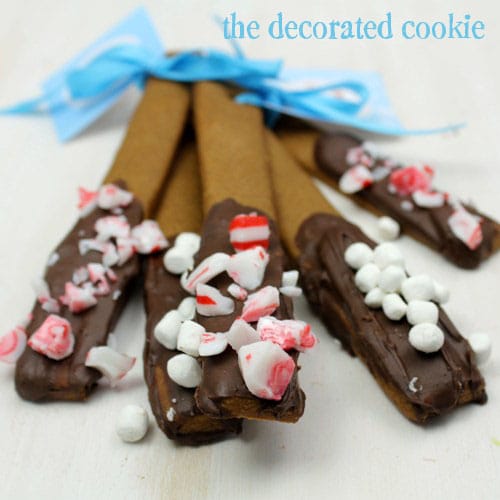 how to make gingerbread cookie sticks, or gingerbread swizzle sticks for stirring hot cocoa
gingerbread cut-out cookie dough, chilled
dough scraper or knife and ruler
lollipop stick or straw (optional)
chocolate chips (semi-sweet, milk chocolate, or any preferred kind)
marshmallow bits
peppermint candies or candy canes
zip-top bag
mallet or rolling pin
parchment paper
ribbon and tags (optional)
What to do:
Roll out your gingerbread dough on a floured surface to 1/8-inch thickness. Use the dough scraper or a knife and ruler to cut out sticks about ½ inch wide by 5-inches long. Place the sticks on a baking tray lined with parchment paper. If desired, use the lollipop stick or straw to make a ¼-inch hole at one end of the stick. Bake according to the recipe and let cool completely.
Line a baking tray with parchment paper and set aside. Place unwrapped candies or candy canes in the zip-top bag and crush with a mallet or rolling pin. Be sure to protect the surface beneath with a dish towel or cutting board. Set aside the crushed candy. Melt chocolate chips, about 1 cup at a time, according to package directions, either in a microwave-safe bowl in the microwave or in the top of a double boiler. Dip one end of a cookie stick into the chocolate and place on the baking tray. Immediately sprinkle with marshmallow bits or crushed candy. Let set about 2 hours. Thread the cookie sticks with ribbon and attach tags, if desired.