Disclosure: *This post may include affiliate links. As an affiliate, I earn from qualifying purchases.


Remember way back when (yesterday) when I promised you more love bug cuteness from Cheryl of Sew Can Do? She who possesses those skills I covet but lack: handiness with needle and thread. So I'm handing you over to Cheryl and her love bug: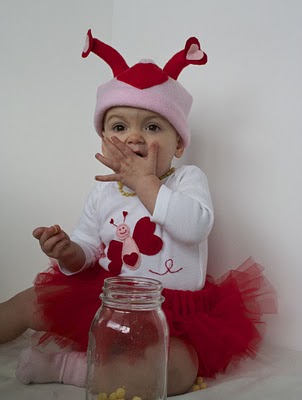 Hi Everyone! It's Cheryl from Sew Can Do. After having so much fun collaborating with Meaghan making "sweet and sewn" gingerbread houses at Christmas, we decided to try it again for Valentine's Day. Meaghan made some awesome edible love bugs, so today I'm sharing how "decorate" a real love bug to eat them.Way better than dressing as Cupid (and probably less embarrassing to look back at years later). And in case you don't sew, you make the applique design with fondant and icing for sweet edible decoration too, so let's get started!
I'm kind of known as the "hat lady" in sewing circles, I started with designing a special little Love Bug Hat complete with heart-tipped antennae. Made from cuddly fleece, it's become a favorite winter hat too. I love how the antennae stay up so it's just as fun from the back as it is from the front. My daughter (the love bug pictured) actually brings it to me to put on her and the smiles and comments we get when she wears it in public are just priceless.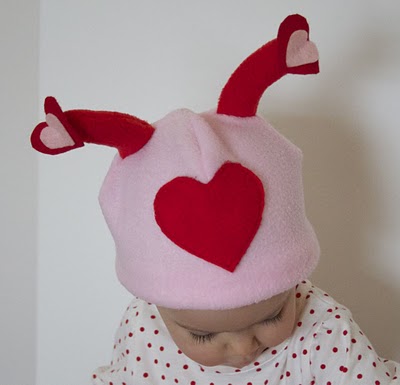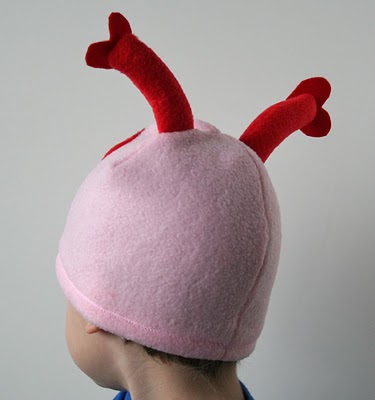 I made one of those super cute, super easy no-sew tulle tutus everyone's always making (the one where you cut some strips of tulle and just knot them onto a bit of elastic). Then I came up with this little felt applique design to put on a plain onesie so I could put together a whole outfit.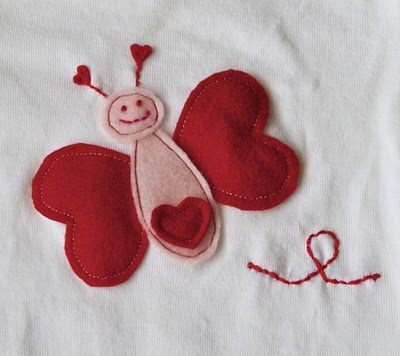 Here's how to make the applique:
Start with these basic shapes cut out of some felt (or fondant):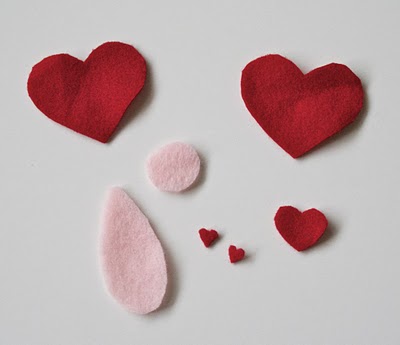 Pin the big hearts onto the onesie with the ends meeting and, with a sewing machine (or by hand), sew them on near the raw edge of each heart with pink thread.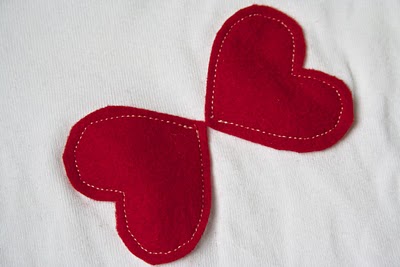 Stitch the small heart onto the body piece just before adding the body and the head on over the wing hearts with red thread.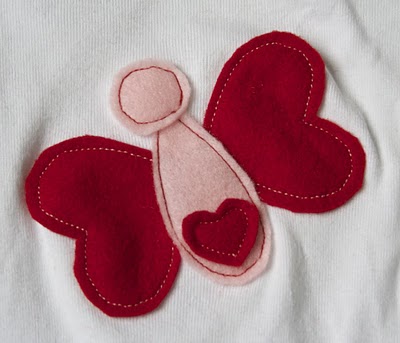 Then stitch on the heart tips for the antennae, hand embroider the eyes with french knots and hand stitch the other details with backstitches in red floss (or use icing and red hots for an edible version).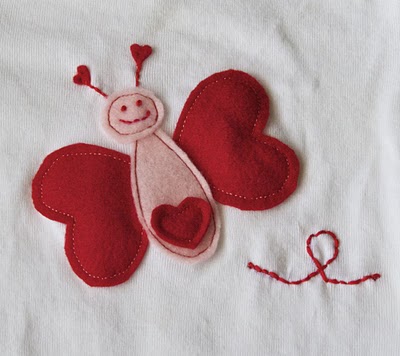 I put the onesie, tutu and hat on my little girl and presto! She's turned into a Love Bug: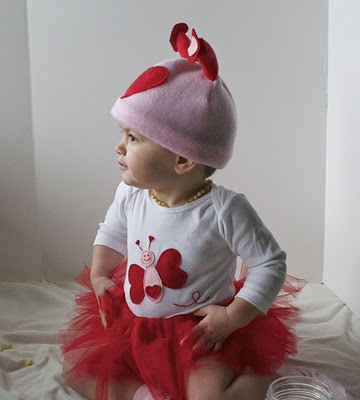 The Love Bug Hat as been getting us a lot of attention when we go out. We had a few errands at the grocery store, Target, etc. today and 5 separate people stopped in their tracks and complimented her little hat. Two asked me where I bought it! So in case any of you want to know, I've added this design to my shop, The Green Hedgehog, so anyone, big or small can be a love bug too.
Thanks for having me over here to visit today Meaghan! XOXO