Disclosure: *This post may include affiliate links. As an affiliate, I earn from qualifying purchases.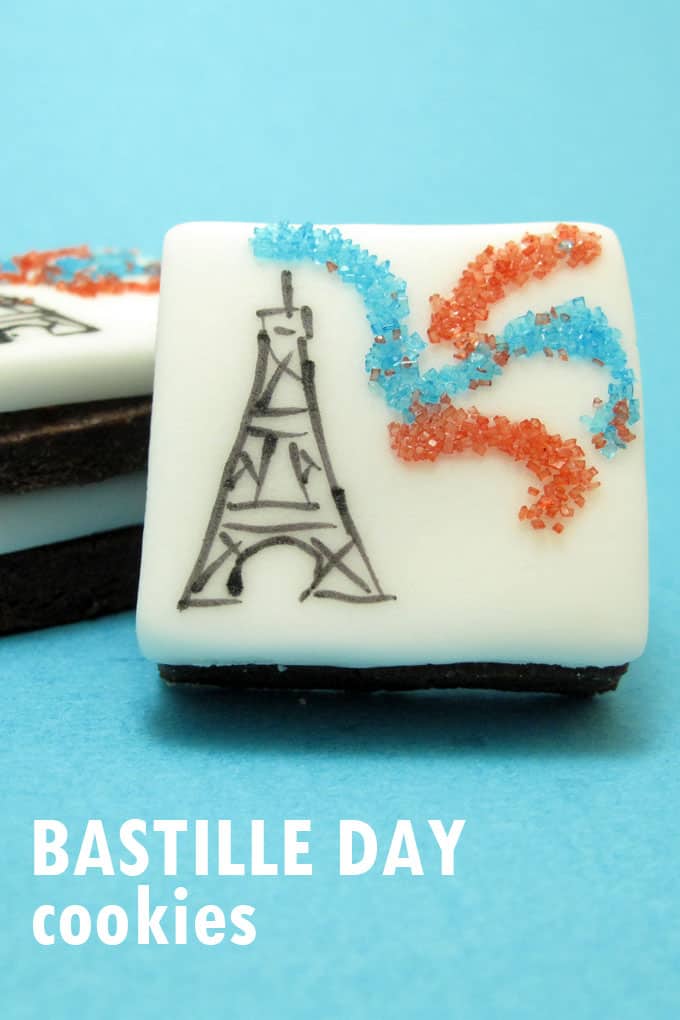 Bastille Day cookies
Bastille Day cookies for you! I was going to draw little prisons for La Fete Nationale, but I figured the Eiffel Tower was more recognizable. You can also do this design on larger cut-outs (circles, squares, whatever).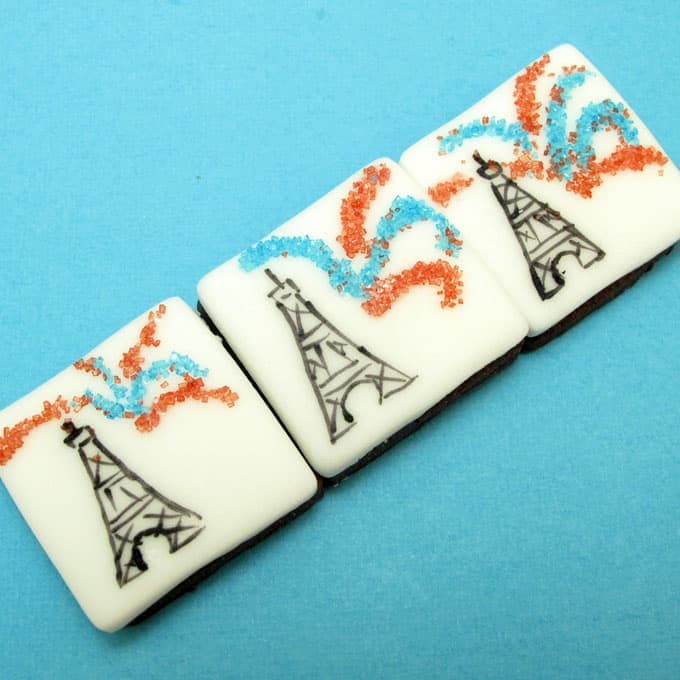 how to make mini Eiffel Tower fireworks cookies
you will need:
white rolled fondant (store-bought or homemade marshmallow fondant )
cut out cookie dough
rolling pin
wax paper or confectioner's sugar
fondant cutter (I used a 1 1/2 inch square)
small paint brush
light corn syrup
blue and red sprinkles
black edible marker
*Find fondant, the cutters, paint brush and the sprinkles (I used Wilton's sparkling sugars) in the craft store. For the pen, I recommend Americolor Gourmet Writers, or the fine tip FooDoodlers. For tips on finding cookie decorating supplies, click here.
step one: prepare your cookies
Make your desired flavor of cookies, cut out cookies with the fondant cutter, and bake according to recipe. Let cool.
step two: cut out your fondant toppers
Roll fondant between two pieces of wax paper or use confectioner's sugar to prevent sticking. Roll to desired thickness, about 1/8 inch. Cut out shapes and set aside on wax paper to stiffen a couple hours if you have the patience (I didn't, I decorated right away, but it would've been easier to wait).
step three: draw the Eiffel Tower
Use the black marker to draw the Eiffel Tower according to the instructions below.
1. draw a line with a square and two long rectangles
2. connect the square and rectangle and the two rectangles with lines
3. draw two more lines in the lower section
4. draw an "L" and a backwards "L" at the bottom
5. connect the two "L"s with an arch
6. draw "X"s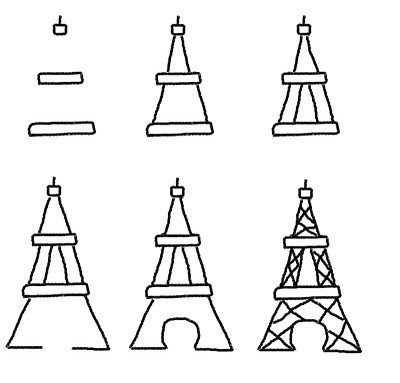 step four: make your fireworks
Pour some light corn syrup in a small bowl. Using the corn syrup as paint, use the paint brush to paint a few curved lines. Sprinkle blue sprinkles over the topper and turn over to remove excess. Repeat with red sprinkles. Let dry several hours and then carefully brush away errant sprinkles with a dry brush.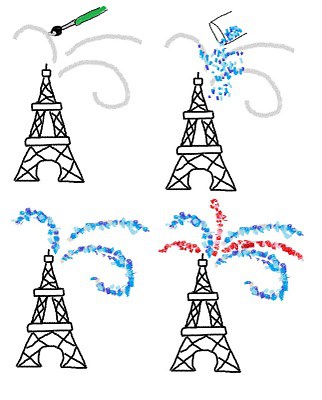 step five: assemble your cookies
Simply adhere the fondant toppers to the cookies with a thin layer of corn syrup or frosting.