Disclosure: *This post may include affiliate links. As an affiliate, I earn from qualifying purchases.


How to use food writers to make raining jelly beans marshmallows for Easter.
jelly beans marshmallows
I haven't done a "how to draw on food" post in awhile, though these are so easy to draw, hardly merits a how-to.
Those are supposed to be jelly beans raining on a bunny, by the way. Not sure if that's clear.So let's just call them raining jelly beans marshmallows.
I skewered the marshmallows on a long lollipop stick, found at the craft store (grease the stick with Crisco first, makes things much easier).
At the craft store, I also found clear cello bags meant for dipped pretzels that fit perfectly for marshmallow kabobs. To make favors, just slide one over the lot and tie with ribbon at the base.
For edible writers, I suggest the Americolor Gourmet Writers, the FooDoodler Fine Line set of 10, or the KopyKake set of ten.
Here I used the Americolor writers for all the jelly beans except the lime green one (that's KopyKake) and I used the black FooDoodler to outline everything.
Packaging idea for cute Easter favors:
how to draw jelly beans
1. for each jelly bean, draw and fill a bean shape with any color, and let the color set 10 minutes
2. outline the jelly bean with black and add a highlight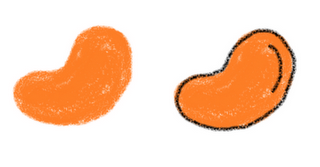 3. draw two bunny ears
4. draw a semi circle
5. draw two dots for eyes and fill the ears with pink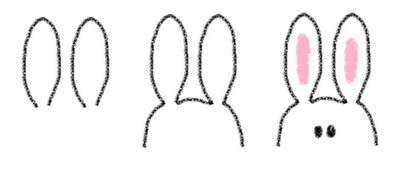 PIN FOR LATER: