Disclosure: *This post may include affiliate links. As an affiliate, I earn from qualifying purchases.


How to make Oreo Cakester daisy petits fours with free bugs printable.
Oreo Cakester petit fours
That's a long title, but lots to cover in something so small. It's been a looooong time since I made you fondant covered Oreo Cakester petit fours.
Yikes, I first came up with these way back when, these colorful Oreo Cakester petit fours HERE almost two years ago. I include this idea in the book, so thought I would revisit them again today with some Oreo Cakester daisy petit fours.
how to make Oreo Cakester daisy petit fours
you will need:
Oreo Cakesters

fondant (store-bought or

marshmallow fondant

)


food coloring (Electric Green

)

sharp knife
rolling pin
confectioner's sugar
edible flowers (see below how I made mine)

light corn syrup
to make the cupcake toppers you will need:
color printer
letter-size, white cardstock or photo paper
1 1/2 inch circle punch
toothpicks
green food coloring
paint brush
glue stick or tape
wax paper
to make the fondant daisies you will need:*
fondant

food coloring (

Egg Yellow

)

little flower fondant cutter (3/4-inch)
1/2 inch circle cutter
*Or, find pre-made edible flowers in the craft store. For tips on finding decorating supplies, click here.
step one: wrap your petit fours
Knead a few drops of Electric Green food coloring into a handful of fondant very well.
Add more drops and knead until desired color is reached. If the fondant gets too sticky from overhandling, let it sit uncovered at room temperature about 15 minutes or until easily pliable.
Roll out the fondant about 1/8 to 3/8 inch thick on a surface lightly dusted with confectioner's sugar.
Dust your rolling pin, too, to prevent sticking.
Cut out a piece of fondant large enough to cover the top and sides of a Cakester, with about an inch of excess fondant all around.
Lay the piece of fondant over the Cakester, use your fingers to smooth the fondant against the top of the cakester and the sides. Use the knife to cut the excess fondant away from the Cakester.
Tuck the edges under the Cakester and use your fingers to smooth the petit four.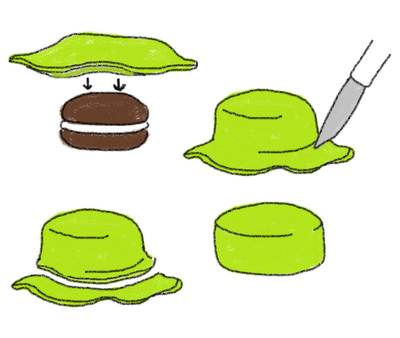 step two: make your flowers
If you are using pre-made flowers, skip this step.
To make daisies like shown, roll out white fondant and cut out mini flowers. Knead yellow food coloring into fondant, roll out and cut out 1/2-inch circles. Use a dab of light corn syrup to adhere the yellow circle on the daisy.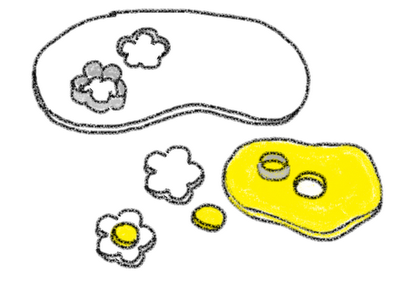 step three: make your toppers
Mix a few drops of green food coloring with a few drops of water on a piece of wax paper. Paint the toothpicks green, lay on the wax paper, and let dry.
Print out the printableon cardstock. Center the hole punch over the square and cut out the bug. Tape or glue to the toothpick. If desired, tape two toppers back to back to each toothpick.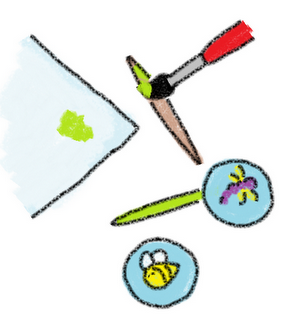 step four: add your daisies and toppers
Use dabs of light corn syrup to adhere your daisies to the Cakester and insert a topper.