Disclosure: *This post may include affiliate links. As an affiliate, I earn from qualifying purchases.


how to make fondant rainbow cupcake toppers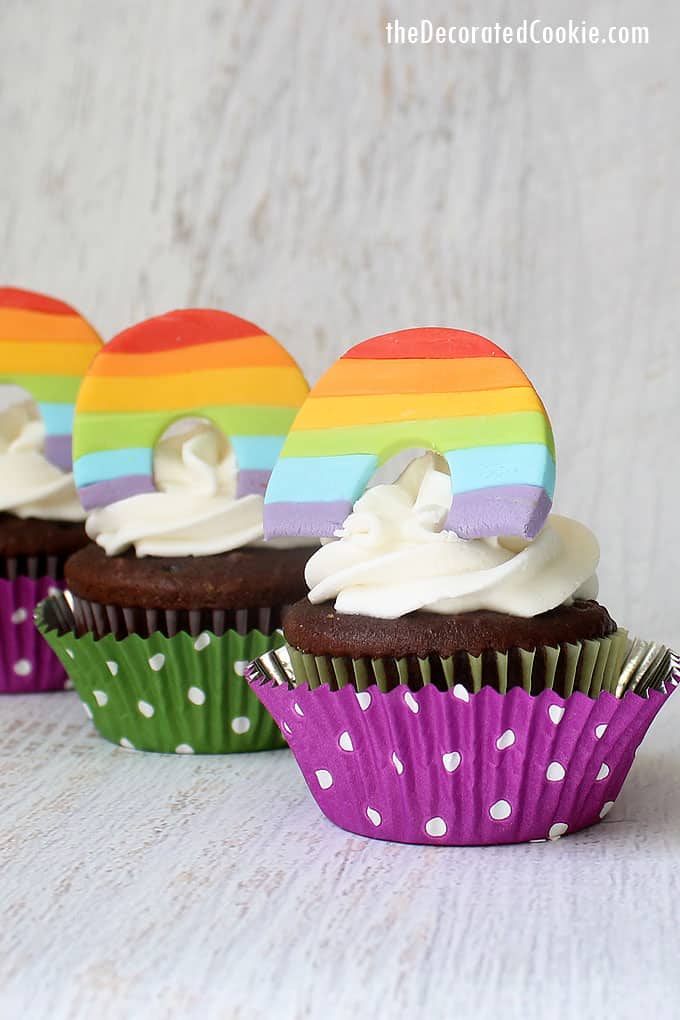 fondant rainbow cupcake toppers
So my daughter is a Girl Scout. A Daisy, to be precise. But as she enters 2nd grade in the fall, she's bridging now to Brownies. At the end-of-the-year ceremony, naturally, I was assigned the cupcakes.
They were to be "rainbow" themed, as in the theme of bridging. I've made rainbow cupcake toppers before (here). But making 50 of those would have taken way more time than my 18 month old gives me during the day.
So instead, I sped up the process. Rather than make each color arc along the rainbow, I instead use a stripe design to give the suggestion of a rainbow. A mere likeness. A rainbow essence, as it were.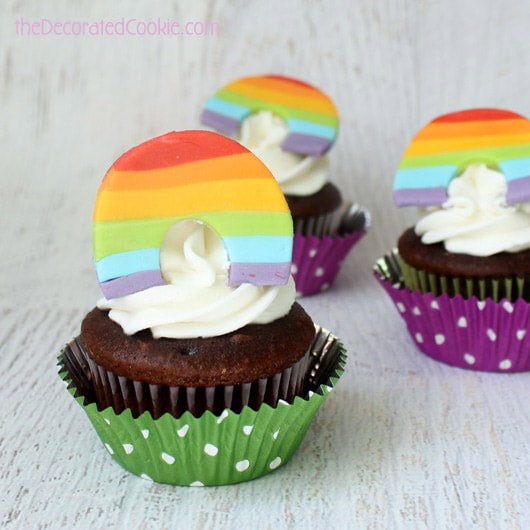 I'm guessing these astute kids will notice the colors run straight across and not in arcs. Oh well, if they bring it up, I'll just tell them to back off. I'm a busy woman.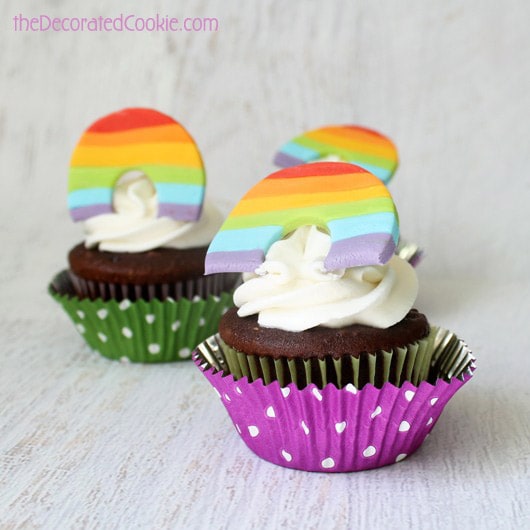 Look, I even made cupcake toppers with the Troop number on them.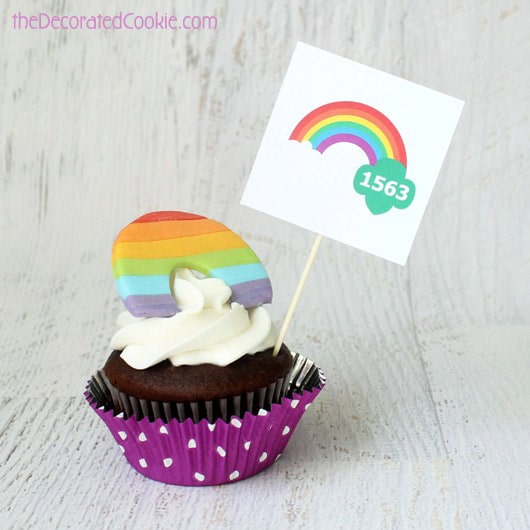 If you need more awesome rainbow food ideas, check out this roundup.
To make fondant rainbows:
You will need:*
White fondant
Food coloring in rainbow colors
Dough scraper or roller tool
Small paint brush
Water or edible glue
Wax paper
Confectioner's sugar and/or shortening
Rolling pin
2 1/4 inch and 1/2 inch circle cutters
*Find premade fondant in the craft store or online, or make your own fondant. Find circle cutter sets in the craft store or online. For food coloring, I suggest Americolor Soft Gel Pastes (Red Red, Orange, Egg Yellow, Electric Green, Sky Blue, Electric Purple). For supplies, see below.
Prepare each color of fondant. To do this, grab a chunk of fondant and knead in a few drops of food coloring until well blended. Knead additional drops of coloring in until desired shade is achieved. If your hands get sticky, coat them with some confectioner's sugar.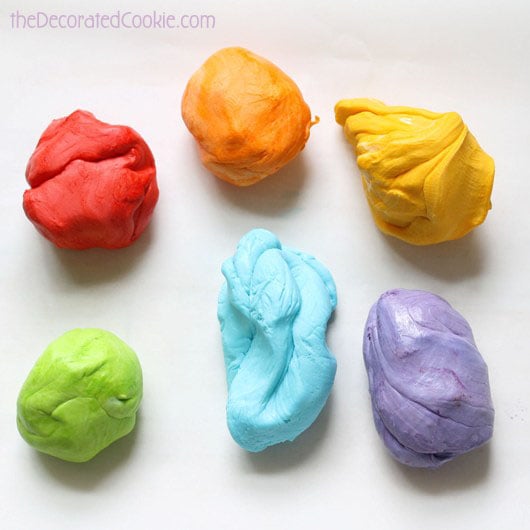 Roll out some of each color of fondant about 3/8- inch wide, and cut strips about 6-inches long by 1/4-inch.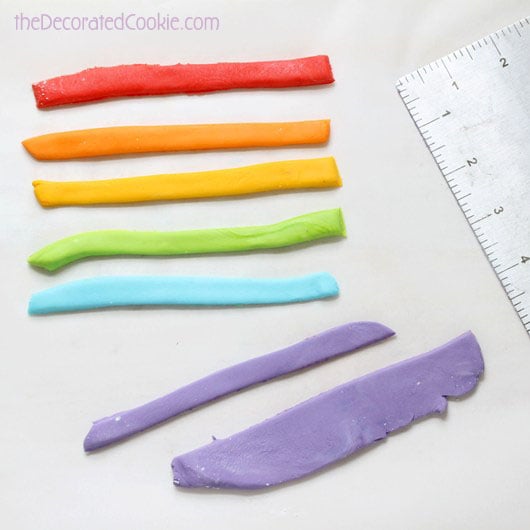 Stack one of each color strip, brushing each layer with just a bit of water or edible glue as you go.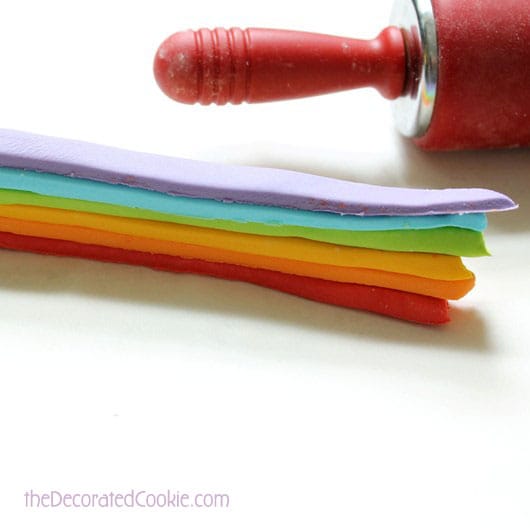 Place the stack on its side and gently roll about 1/8 to 1/4-inch flat with the rolling pin. Make sure to keep moving the strip so it doesn't stick. To prevent sticking, place wax paper underneath the strip. You may also sprinkle some confectioner's sugar on the wax paper or spread a thin layer of shortening.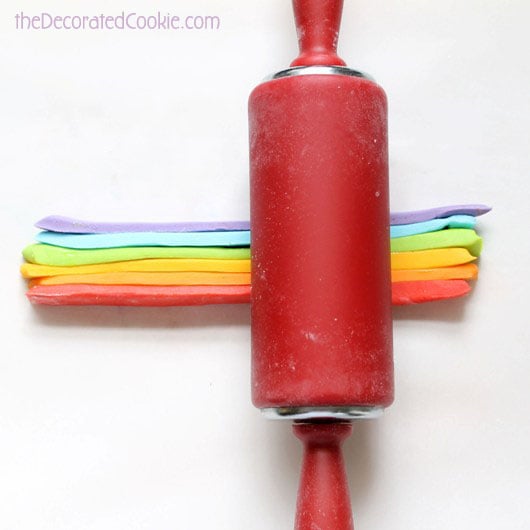 Use the larger circle cutter to cut a circle so the red sits at the top of the cutter. (The fondant won't reach the bottom of the cutter.) Then cut out a small hole at the bottom to make an arc. Cut the circles as closely together as possible, as you can't really use the scraps. I got 4 rainbows each time I rolled out a stack. And I made 48, so I had 12 stacks. This still took a good bit of time, mind you, but it went more quickly than forming each one individually.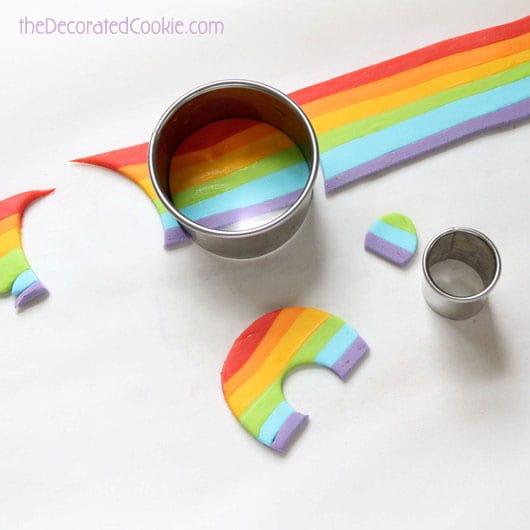 Rest the rainbows on a baking tray lined with wax or parchment paper to stiffen. Use to top cupcakes.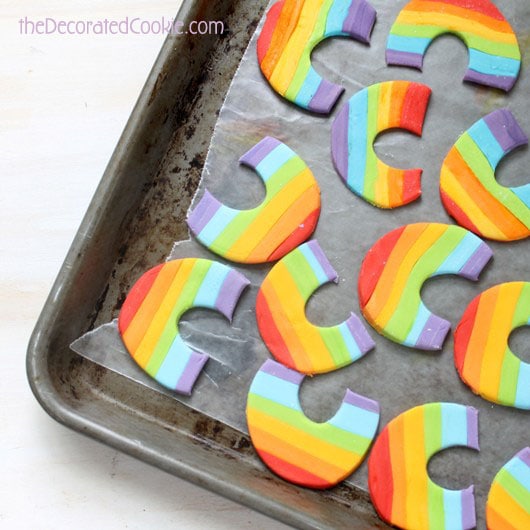 To make the cupcakes, I just baked cupcakes and used my yummy buttercream frosting. I made the frosting thick enough to hold its shape and tinted the frosting white. Then, I fit a decorating bag with size 1M tip, filled the bag, and piped a swirl of white frosting on the top of each cupcake.
SUPPLIES: