Disclosure: *This post may include affiliate links. As an affiliate, I earn from qualifying purchases.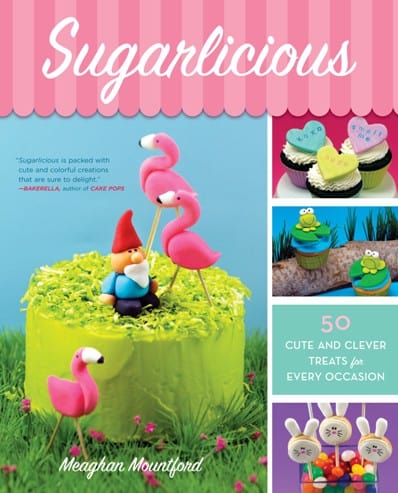 For the entire month of March, I'm going to have to post only on salty foods, because February is devoted to sugar. So very much sugar coming your way. To celebrate the release of my book, Sugarlicious, on February 7th, I have some treats and fun things in store. And remember, all of the information here and elsewhere will be collected on the all about Sugarlicious page.
Before we delve into the calendar, I have a question for all of you, my dear readers, without whom Sugarlicious would not exist:
What do you want to see on the decorated cookie in the next month?
Because Sugarlicious has a lot. Cookies, cakes, cake pops, marshmallows, cupcakes, petits fours and candy clay. I cover putting sweets on sticks, working with fondant, coloring icing and frosting, piping, flooding cookies, painting and stamping with food coloring, using edible markers and edible icing sheets, decorating with sprinkles and candy, and more. I even add tips on packaging sweets as gifts or displaying them at parties. Everything is in there! Seriously, everything. Organizing all this information was my biggest challenge.
So what confuses you?
Royal icing? Fondant? Cake pops? Flooding?
Or more about blogging and book deals?
Or life in general?
I'm all ears…
Check out what's in store:
Some noteworthy events:
Giveaways!! The giveaways haven't ended. Plenty more are on the way.
Treat Week!! This whole week is devoted to appreciating YOU, the reader. Lots of surprises are in store, so be sure to check back.
I'm going to do some chatting with all of you. Check back for details on the facebook chat next week and the twitter event on the 15th.
Sweet Treat Friday!! Fridays are all about you!! I'm going to be asking you for your photos of crafty sweets, so I hope you spend some time in the kitchen!
Keep your eye out for Sweet Peeks, where I'll share how-tos from the book and show you ways to use the techniques to make your own treats.