Disclosure: *This post may include affiliate links. As an affiliate, I earn from qualifying purchases.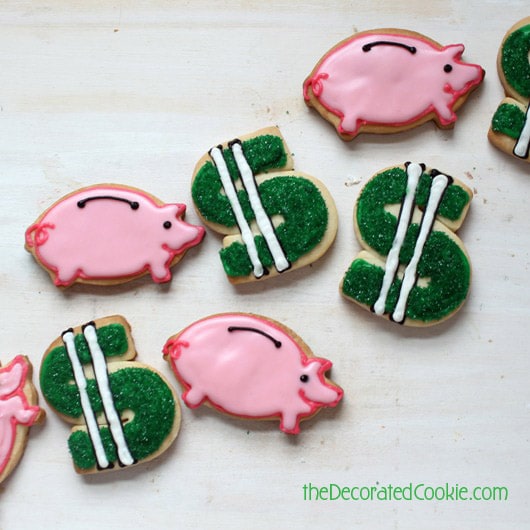 money cookies
These money cookies are a birthday gift for someone who likes money. (So, that's kind of right for everyone then?) Every January bears the same question: What cookies shall I send to my brother for his birthday? There were the Pac-Man and arcade cookies for his 40th. These smiley face cookie pops seem archaic now (like my brother). I must have blanked on what to get him last year, because I stuck with an every-birthday design, happy birthday letter cookies. I'm pretty sure my favorites ever were these bite-size Superhero cookies. (He loves Superheros, Spider-Man the best.)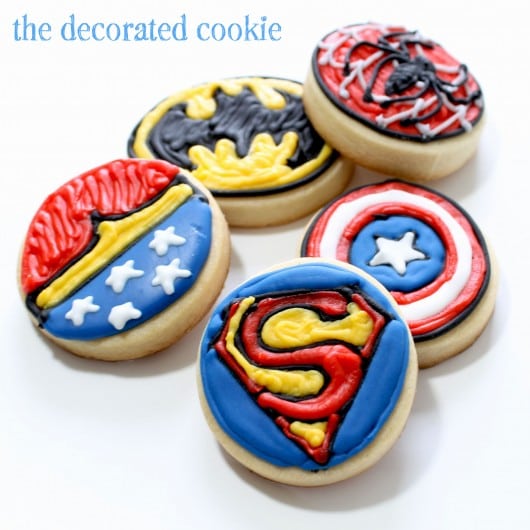 This year I'm giving my brother some money (cookies). Money, money, money. I don't think he's alone in liking money. He does something with the whole stock market-New York-Wall Street-trading-money thing. I don't know what it is, exactly, but I know he's one of the corrupt and greed-free guys, if that helps. He knows terms like "call" and "put" and what happens to gold and that "futures" means something besides where you are vacationing next year.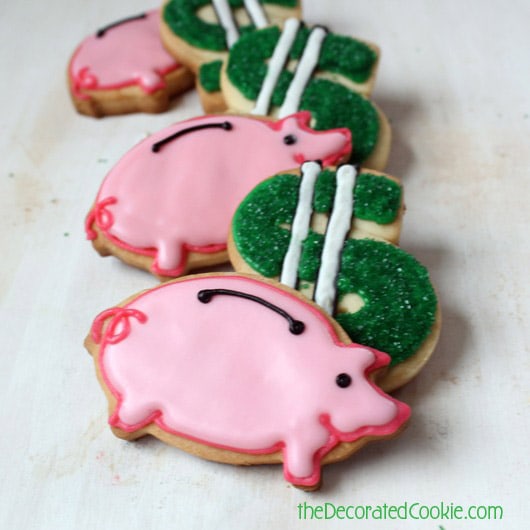 To make money and piggy bank cookies
You will need:*
cookie dough
royal icing
cookie cutters (pig and "S" or dollar sign)
disposable decorating bags
scissors
couplers
decorating tips (sizes 2, 3 and 4)
rubber bands
food coloring (pink, black, white and green)
green sprinkles
*Find the decorating bags, couplers, tips and sprinkles at the craft store. For food coloring, I suggest Americolor Soft Gel Pastes (Electric Pink, Super Black, Bright White and Leaf Green). Find recipes for cut-out cookies and royal icing HERE. To find cookie decorating supplies, click here. For links to cookie cutter shops, slick HERE.
For basic cookie decorating instructions, CLICK HERE.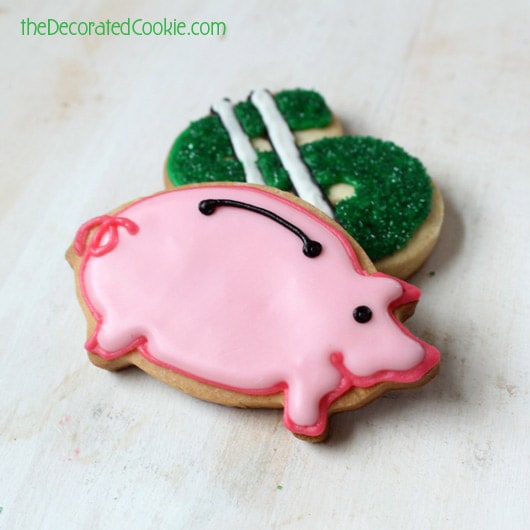 step one: bake your cookies. Roll out chilled dough about 1/4 inch thick, cut out and bake on a baking tray lined with parchment paper according to the recipe. TIP: For the dollar sign, I only had an "S" cutter, so I squished the top and bottom together a bit so there were no gaps in the middle. Let cool completely.
step two: make your icing. Prepare royal icing, divide and tint dark pink, light pink (I use Electric Pink for both, only I added more drops to the dark pink), green, white and black. Prepare decorating bags with couplers and tips, fill with each color and close tightly with rubber bands. For the light pink, however, thin it first with a few drops of water. Thin until, after you stir the icing, it slowly falls into itself and the lines slowly disappear. Fill a decorating bag fitted with a coupler and size "3" tip and close with a rubber band.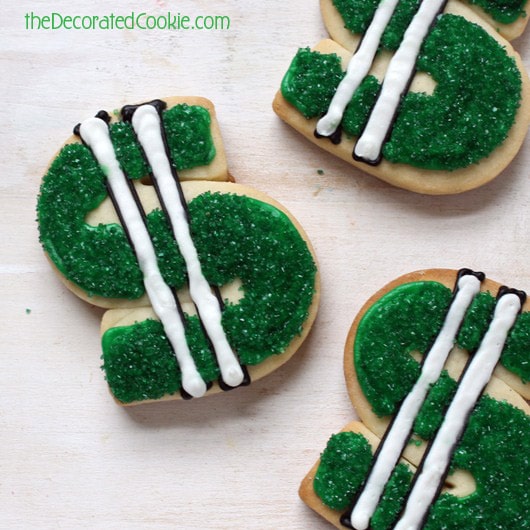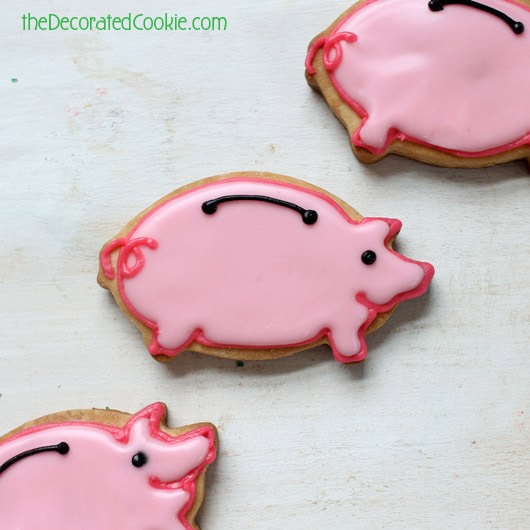 step three: decorate your cookies. For the dollar sign, pipe the stripes with black icing using a size "2" tip. Let set about 15 to 20 minutes. Pipe and fill the "S" with green icing, using a size "4" tip and making sure to pipe around the stripes. Immediately coat with green sprinkles and overturn to remove excess. Pipe to fill the stripes using white icing fitted with a size "3" or "4" tip.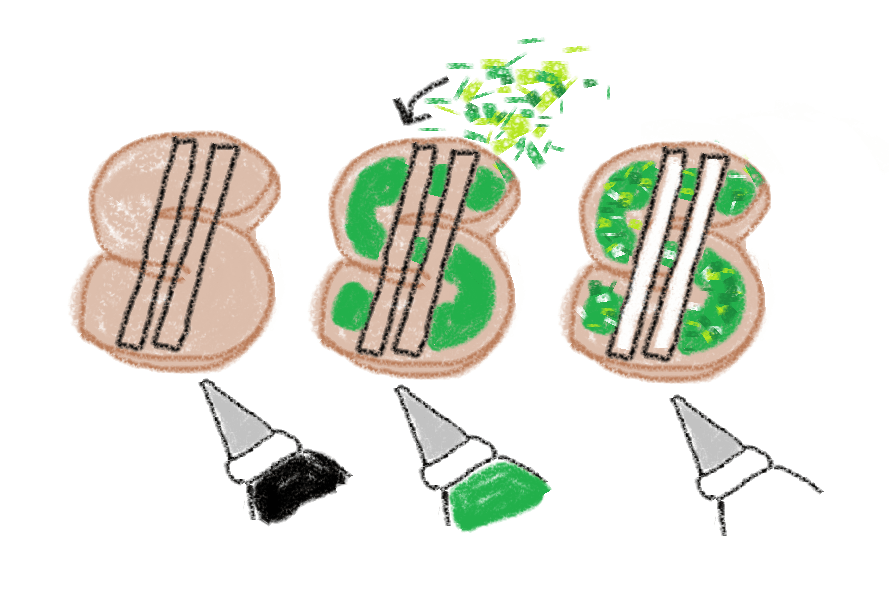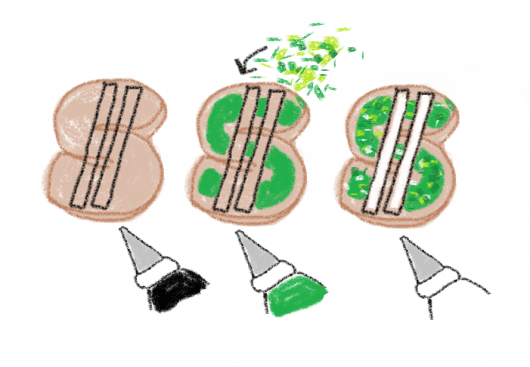 For the piggy bank, outline the pig using dark pink fitted with a size "3" tip. Let set 15 to 20 minutes. Pipe back and forth to fill with the thin light pink icing. Let set about 30 minutes. Use the black icing fitted with a size "2" tip to pipe the dot for the eye and the line for the coin slot. Change the tip on the dark pink to a size "2" and pipe the curlycue for the tail.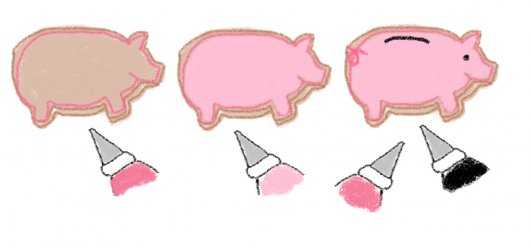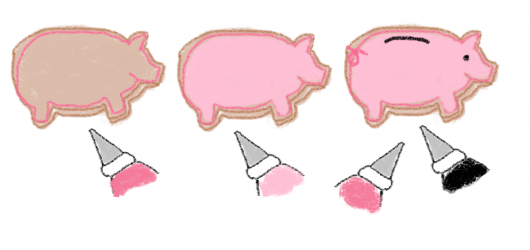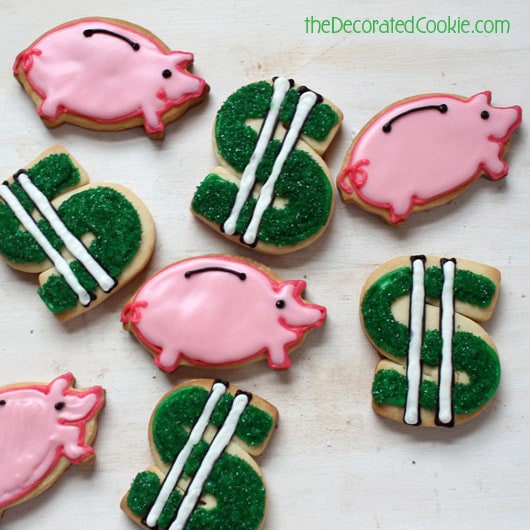 SUPPLIES: