Disclosure: *This post may include affiliate links. As an affiliate, I earn from qualifying purchases.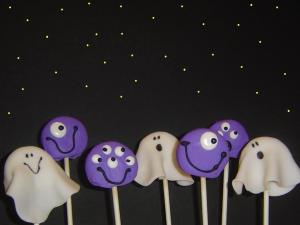 how to make monster and ghost cookie pops
I spent almost ten years as a pro cookie decorating making cookies on sticks, yet I didn't include one stick in my book. I was more into the breadth you can achieve just with frosting bags to think about all the other clever things to do with cookies. Inspired by clever bakers as bakerella and the lovely authors of Cookie Craft, and in honor of Halloween, I went back to my cookie roots (sticks) to create (or rather, re-create from my past) these monster and ghost cookie pops.
MONSTER cookies
you will need:
lollipop sticks
cut-out cookie dough
1 1/2 inch circle cookie cutter
white candy melts
Americolor soft gel pastes (Regal Purple or Electric Green, Super Black, Bright White)
royal icing
2 disposable decorating bags
2 couplers
2 tips (sizes 2 and 3)
(Notes on Supplies: Cutters, sticks, bags, couplers, tips and candy melts are available at most major craft stores. Americolor soft gel pastes are available at specialty cake decorating stores or on the internet. You can use concentrated pastes instead, but I definitely recommend Americolor soft gel pastes first.) For tips on finding cookie decorating supplies, click here.
Step One: make your cookies
Roll out your dough pretty thick, at least 1/4 inch. cut circles with a 1 1/2 inch cutter and lay on a parchment paper-lined baking tray well spaced. Insert a lollipop stick halfway into each cookie. Pat the dough back into shape if the sticks warp them. Bake your cookies and let cool.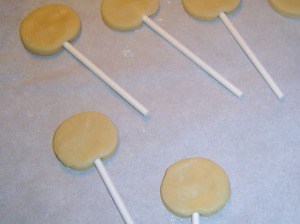 Step Two: dip your cookies
Put about 1/2 cup of the candy melts in a glass measuring cup and microwave at half power for 1 1/2 minutes, stirring every 30 seconds, until full melted. Stir in enough drops of Regal Purple OR Electric Green soft gel paste to get desired color. If the melts start to thicken, stir in a little bit of hot water. The melts should be runny like syrup, but not tooo watery. Hold the cookies by the stick and dip in the melts, tapping off the excess. Prop up to dry. (Use styrofoam, a baby jar, or poke holes in a shallow box.)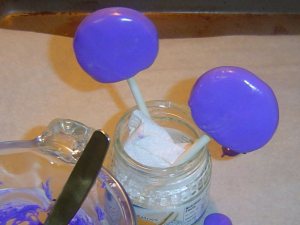 Step Three: decorate your cookies
When dry to the touch after a couple hours, decorate. Prepare two frosting bags, a black with a 2 tip and a white with a 3 tip. Lay cookies on parchment or wax paper and pipe dots for eyes with the white frosting. Let set a pit. Pipe black dots in the white with a black 2 tip and pipe smiles.
GHOST cookies
you will need:
lollipop sticks
cut-out cookie dough
1 1/2 inch circle cookie cutter
3+ inch circle cookie cutter
white rolled fondant
wax paper
frosting (any kind, even store-bought)
black Americolor gourmet writer pen
(Notes on supplies: See above for notes. The fondant is available online and in most major craft stores. It doesn't taste too great, in my opinion, so I would peel it off the ghost before eating the cookie. The Americolor gourmet writer is available online.)
Step One: make your cookies
Follow the instructions above.
Step Two: roll out the fondant
Knead a palmful of fondant and roll between two pieces of wax paper. Cut out a circle with the larger cutter. Continue to roll circle between wax paper until you have at least a 5 inch diameter. (I continue to stretch the circle a bit by hand.) Roll the fondant thinly so the weight doesn't pull off the ghost.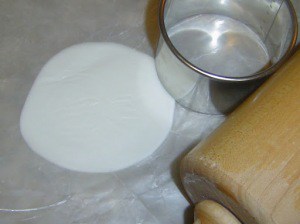 Step Three: assemble the ghost
Spread a bit of frosting on the cookie, getting the top as well. This doesn't have to be neat. Since I had a prepared frosting bag to make the monsters, I piped it on, but you can use a knife. Carefully drape your fondant circle over the cookie, pressing gently into the frosting and arranging the edges so they look ghostly. Prop up to dry.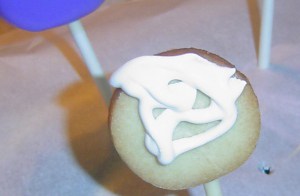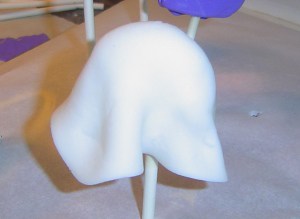 Step Four: decorate your ghosts
Use the Americolor gourmet writer to draw faces on the ghosts.