Disclosure: *This post may include affiliate links. As an affiliate, I earn from qualifying purchases.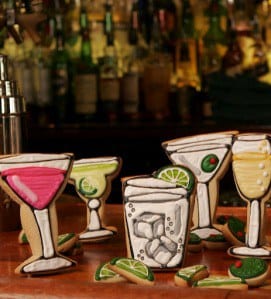 cookie decorating cookbook photo shoot
When I got the contract for my cookie decorating cookbook, Cookie Sensations, I happily and half-mindlessly read the legal mumbo-jumbo (I have a book!) until I got close to the end. I gasped. I did a double take. A triple take. Even a quadruple take. They wanted the manuscript AND the photographs within a month. I didn't even know I had to submit the photos. In a panic, I hired my friend's wedding photographer and rushed out to Michaels, Petco, Home Depot, Babies R' Us and a million other stores to find props. We shot all the photos for the book in a matter of days. With the exception of "Free Falling" (leaf cookies shot in the park), "Down on the Farm" (animals shot outside with my childhood Fisher Price barn), and "Cocktail Hour" (cocktail cookies shot on the bar at Old Ebbitt Grill here in Washington, DC), all the cookies were shot on my kitchen table. In my tiny, tiny row house.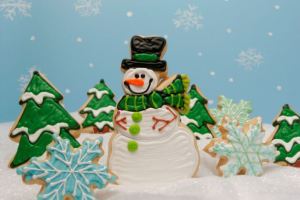 For "A Day at the Beach" I poured sand on paper that had an oceany print and shoved the palm tree, flamingo and shell cookies in the sand. I made a graveyard from astroturf, dirt, cobwebs and stryrafoam tombstones. My cat ate the rice sprinkled around the wedding cookies and kept getting in the shots. In "Winter Wonderland," the snowman (propped up by clay) sits on cotton batting sprayed with adhesive glue and covered with white glitter. I quickly painted "snow" on the blue backdrop as my photographer suggested
The ocean is one of my favorites. I painted "water" on a board as background, poured sand on the table, decorated with fish tank plantes and planted the sea animal cookies.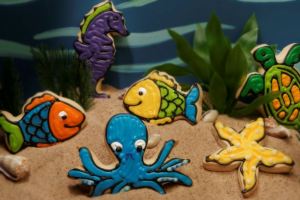 "Space Invaders" was one of the easiest. Cookies resting on a black board shot from above.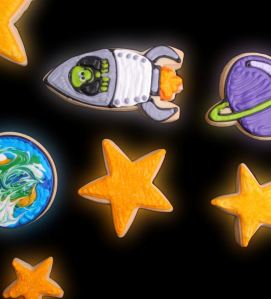 All in all, my speedy, panicky photo session turned out to be one of the best experiences of crafting the book. I lucked out with an amazing photographer (Jason Keefer) and reasonably well-behaved cats.