rainbow unicorn party
My daughter is absolutely devoted to rainbow and unicorns, so her party of course had to be all about rainbows and unicorns. I naturally made unicorn cookies and rainbow cookies. If you scroll to the end, you'll see the rainbow party decorations I made. And
click HERE for the rainbow cake and cupcakes. 
rainbow unicorn cookies
It is pretty much a given I will, nay, need to have cookies at any event I host. For favors, I made unicorn cookies on a stick. I also served little rainbows. I have no idea where I got the unicorn cutter, I just found it in my collection. I used a 2-inch circle cookie cutter for the rainbows. I used
my sugar cookie dough
, cut out the cookies, put the unicorns on a stick, baked the cookies according to the recipe, and decorated them using
my royal icing.
I let the cookies dry overnight. I wrapped the unicorns in cellophane favor bags, and then used a rainbow of ribbon colors to tie them. I propped them in a Stryofoam block wrapped in tissue paper. I just displayed the rainbows on a platter to serve at the party. As always, I used my
Americolor soft gel pastes
and
a few cookie decorating supplies
(disposable decorating bags, couplers, size "2," "3" and "4" tips, and rubber bands to tie the bags closed).
tissue paper pom poms
I used
Martha's instructions for tissue paper pom poms
. I lack Martha's finesse, so my first go resulted in a huge, misshapen, sort of comical fluff of pink. I changed the instructions a bit. I cut the tissue paper in half for smaller pom poms. To make the puffing easier, I used only 4 to 5 sheets of tissue, not 8, and after folding the accordion, I cut little slits at the tip and bottom at the middle of the strip before wrapping with the florist wire. For the rainbow pom poms, instead of 5 sheets of the same color, I stacked one sheet each of the rainbow colors.
rainbow garland
For the garland on the fireplace, I just strung up strands of ribbon in rainbow colors. Done and done. Easy. For the garland on the staircase and on the front porch, I went to Martha again. I used her
circle all over the page punch
, punched a couple little holes on the circle, and threaded it with ribbon.
And I'm pretty sure we all know how to make the classic chain garland. My daughter and I cut out strips of paper and just glued the ends with a glue stick.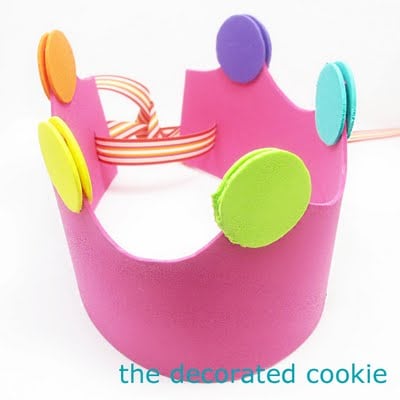 rainbow party crowns 
I also made crowns for the girls (there were only three kids, my daughter and her two cousins, so this wasn't a huge feat) from pieces of that foam paper you find in the kid's section of the craft store. It was too short to fit around a head, so I cut slits and threaded the back with ribbon.
By the way, here is the tiara-clad 4 year old.