Disclosure: *This post may include affiliate links. As an affiliate, I earn from qualifying purchases.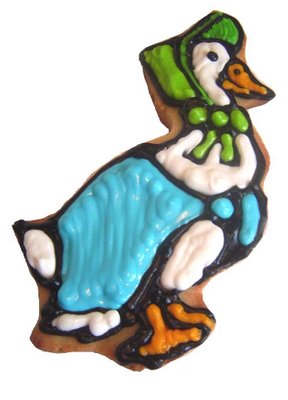 Mother Goose cookies
I just found these Mother Goose cookies pictures among the hundreds on my computer. They are from a cookie project I started and never quite finished. In my other life embedded in literary academia (two masters degrees because one useless degree is never enough) I studied Mother Goose a tad.
A brief history lesson.
Though the name appeared in a French poem 50 years prior, Charles Perrault first mentions Mother Goose in a frontispiece for a folk tale collection intended for adults in 1697, "Contes de ma Mere l'Oye," translated in England as "Tales of Mother Goose." John Newbery used the notion to make verses and jingles, and Mother Goose became associated with a compilation of nursery rhymes in London, 1780.
Pirated editions of Newbery's rhymes made it to America and Isaiah Thomas created an American version, "Mother Goose's Melodies," in 1786. By the next century, "Mother Goose" became a symbol of childhood in America thanks to subsequent, Americanized editions that tried to claim her as our own. One edition published by Munroe and Francis included a preface that likened President Andrew Jackson to a gander.
One legend that attempted to Americanize Mother Goose suggested she was based on a Boston lady, Elizabeth Goose, the mother-in-law of printer Thomas Fleet. The legend was launched by Thomas Fleet's great grandson, John Fleet Eliot, who claimed in an 1860 article that his great grandfather printed the rhymes his mother-in-law told to children.
Before a more romantic view of childhood emerged in the latter 19th century (thanks to the likes of Lewis Carroll and others who placed value on the imagination of children), the 18th and early 19th century viewed children as little adults. Original nursery rhymes often contained harsh words and warnings of danger to children. Think of the Hush a bye baby in the tree top, and down will come baby, cradle and all. Or poor Jack who had to patch his head with vinegar and paper after he broke his crown.
Some cookie versions of Mother Goose (forgive the picture quality… these were taken with my old camera. And you can't see in the picture, but the butcher, baker and candlestick maker are holding a butcher's knife, a baguette and a candle, respectively):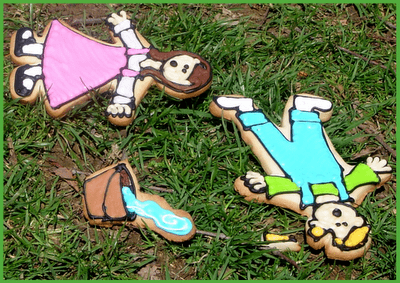 Jack and Jill went up a hill
To fetch a pail of water.
Jack fell down
And broke his crown
And Jill came tumbling after.
Up Jack got
And home did trot
As fast as he could caper.
Went to bed
And plastered his head
with vinegar and brown paper.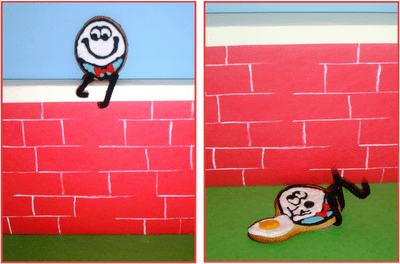 Humpty Dumpty sat on a wall.
Humpty Dumpty had a great fall.
All the King's horses and all the King's men
Couldn't put Humpty together again!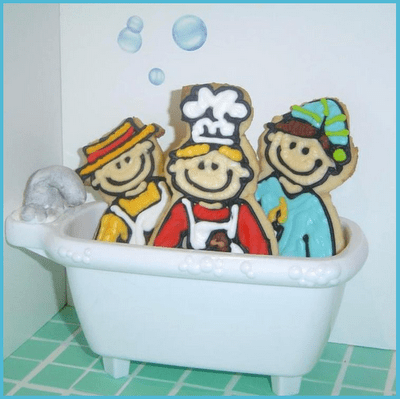 Rub-a-dub-dub
Three men in a tub,
And how do you think they got there?
The butcher, the baker, the candlestick-maker–
They all jumped out of a rotten potato!
'Twas enough to make a fish stare.