Disclosure: *This post may include affiliate links. As an affiliate, I earn from qualifying purchases.


How to use cookie sticks to make pull-apart beach cookies, a fun summer dessert idea.

beach cookies
Beach cookies? Now, as one from the Jersey shore, I should call these beach cookies "shore cookies." But "beach" is SEO and keyword friendly, and blogging is a lot about the search game, so I went with the more-familiar term so you could find me.
But I as the great grand kid of a Jersey shore lighthouse keeper, I do cringe just a little at saying "beach" instead of "shore". Hmmm.
Actually, I suppose these are more like ocean cookies, what with the swimming fish. Let's just say Summer cookies, shall we?
More specifically, pull-apart cookie sticks, kind of in the style of those pull-apart cupcake cakes. See how all the cookies lined up together make a scene?
I'm a fan of making cookie sticks. Despite owning 1,908,423 cookie cutters, I almost always use simple shapes for cookie decorating, usually circles, but sometimes sticks. They are just a little different and handy to serve and eat at parties. And they are easy to cut out and make.
Need more summer cookie decorating ideas? These easy starfish cookies may work, or try your hand at the brush embroidery cookie decorating technique with these turtle cookies.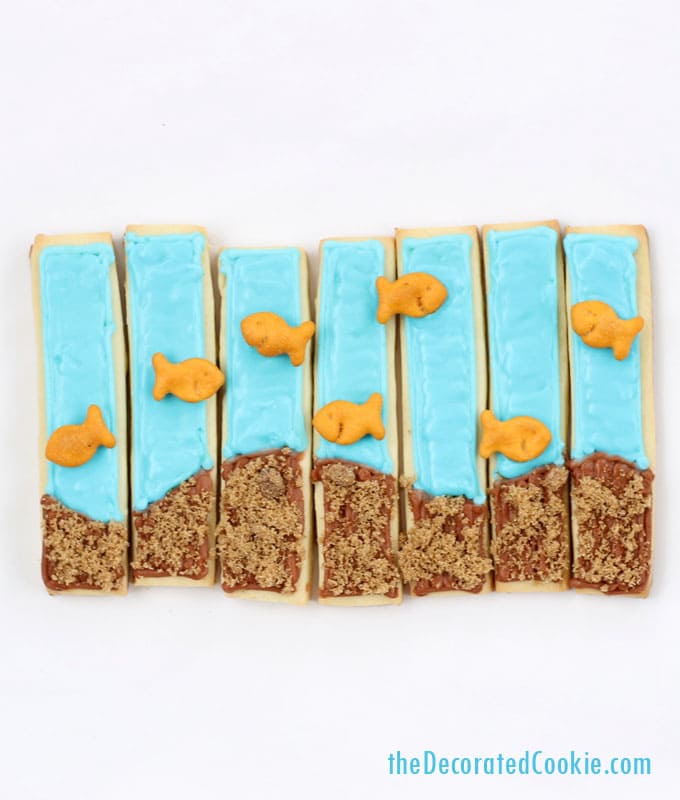 how to make pull-apart beach cookies
you will need
cut-out cookie dough AND royal icing
dough scraper or knife
food coloring (Sky Blue and Chocolate Brown)
disposable decorating bags
size "3" decorating tips
light brown sugar
Goldfish crackers
*Click here for cookie decorating supplies. For more tips on basic cookie decorating, click HERE. Find a detailed cut-out sugar cookie recipe here. Find a detailed royal icing recipe here.
Prepare cookie dough according to the recipe, chill and roll out. Cut out sticks 4 1/2 inches by 1 inch each with the dough scraper or knife. Bake and let cool.
Prepare royal icing, divide and color blue and brown. Prepare two decorating bags with size 3 tips. Fill one with brown icing and fill one with half of your blue icing. Thin the remaining blue icing to the consistency of flooding. Fill an empty decorating bag. Close the bags tightly with rubber bands.
To decorate:
Outline the tops of the rectangles with blue icing.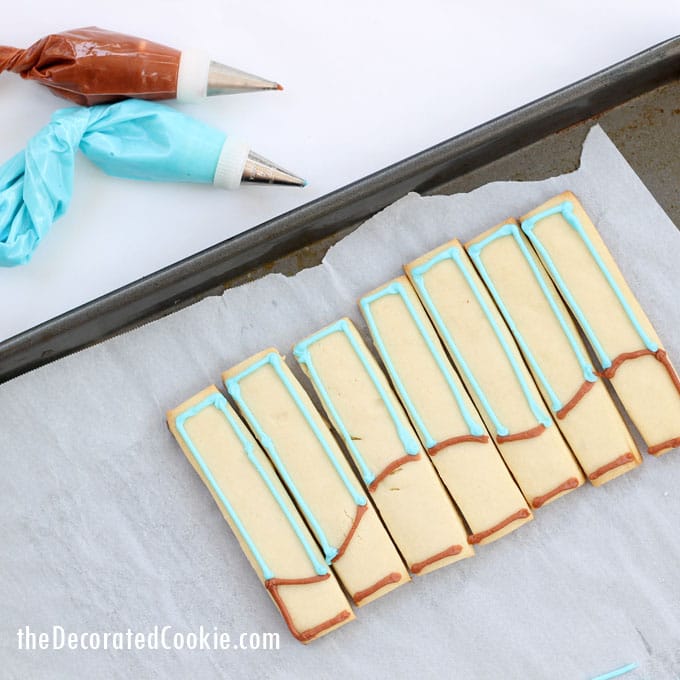 Outline the bottoms of the rectangles with brown icing, making an ocean floor pattern. Pipe back and forth to fill in the bottoms with brown. Immediately cover with light brown sugar and overturn to remove excess.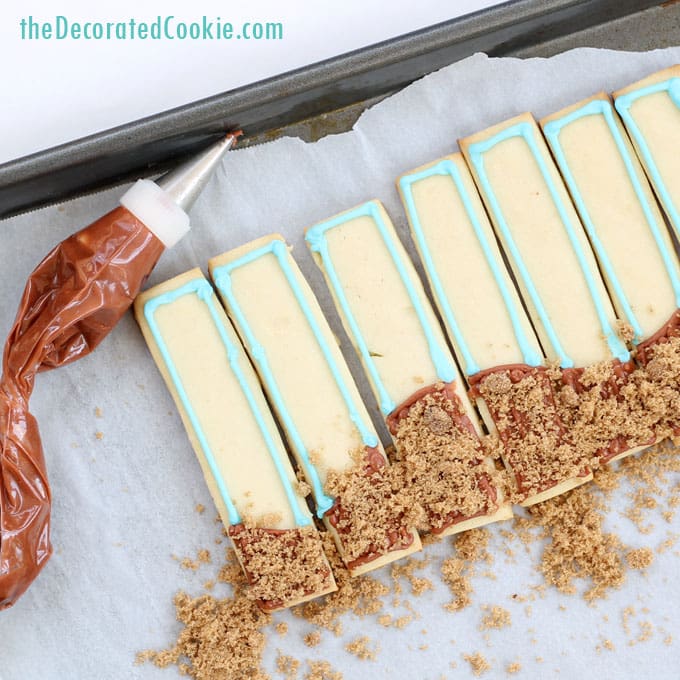 Snip the tip of the blue thinned icing and pipe to fill the cookies.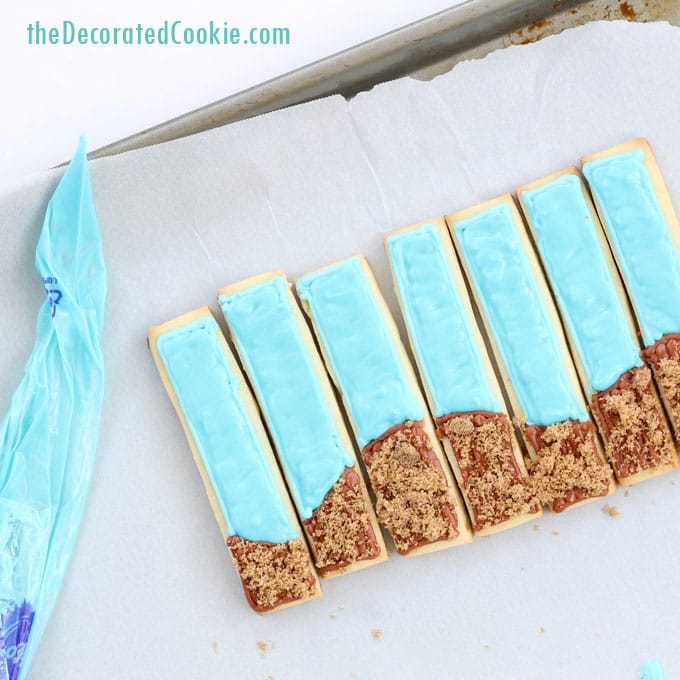 Add Goldfish crackers. Let dry.