Disclosure: *This post may include affiliate links. As an affiliate, I earn from qualifying purchases.


How to decorate Rudolph cookies for Christmas.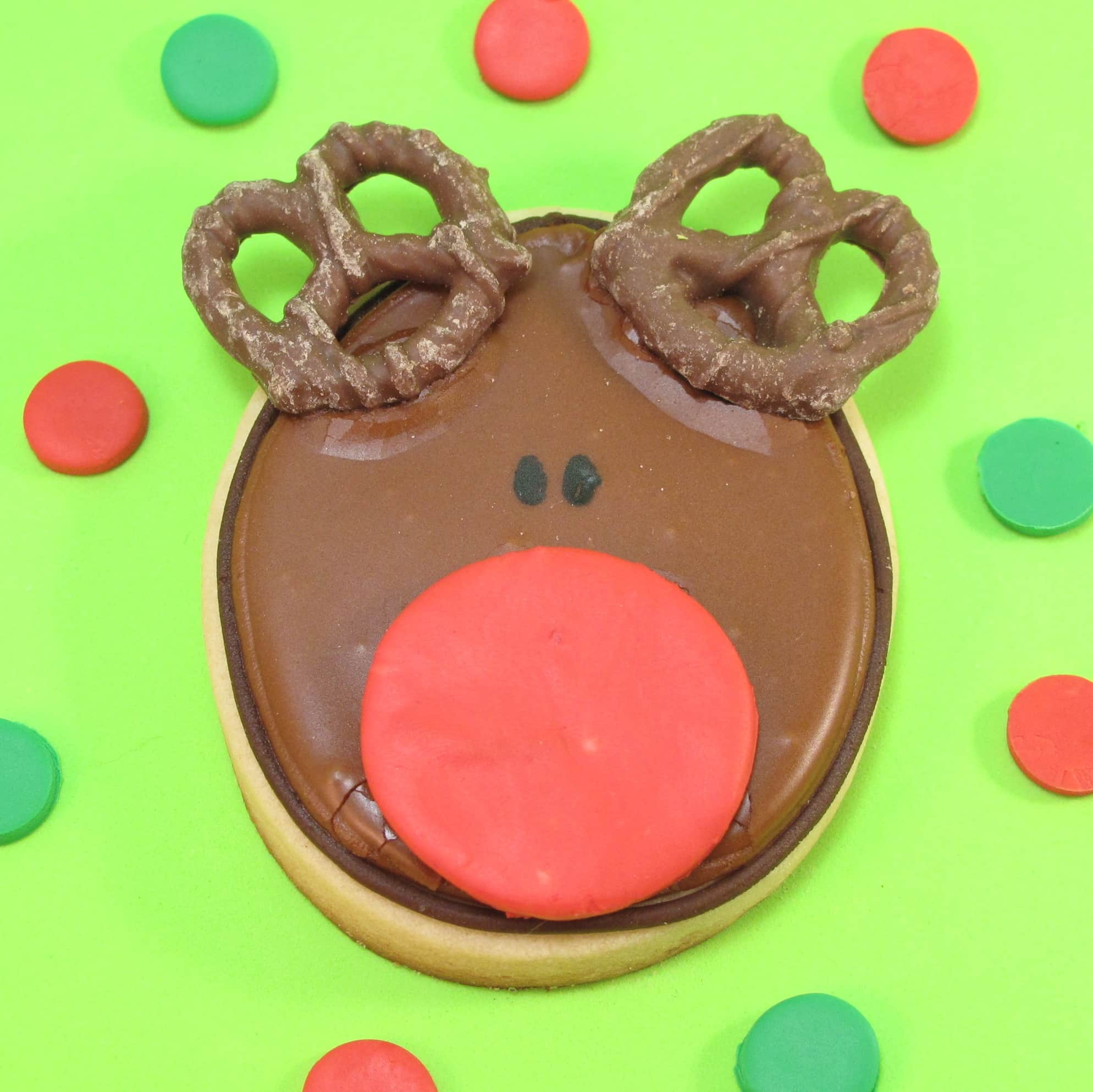 Rudolph cookies
Rudolph cookies are pretty essential for Christmas, right? Here's a simple way to make them, with a circle cookie cutter, brown icing, chocolate-covered pretzels and a black food pen.
how to make Rudolph cookies for Christmas
you will need:*
royal icing
food coloring (rd and brown)
cookie cutters (3-inch oval and 1 1/2-inch circle)
disposable decorating bag
size "4" decorating tip
rubber band
white rolled fondant
black food pen
wax paper
light corn syrup
chocolate covered pretzels
*Find cookie decorating supplies information here. For more cookie decorating recipes, click here. If you need vegan cookies and icing recipes, click HERE.
Prepare dough and frosting according to the recipes. Cut out cookies with the 3-inch oval cutter, bake and let cool.
Color frosting with brown coloring and prepare a frosting bag with size "4" decorating tip. Outline oval with brown frosting and let set about 15 minutes. Flood the oval with thinned, brown frosting and let set well, at least an hour.
Meanwhile, knead a few drops of red food coloring into a handful of rolled fondant very well until blended. Roll fondant between two pieces of wax paper about 1/8-inch thick. Cut out circles with 1 1/2 inch cutter and set aside to stiffen. When brown ovals are ready, dab corn syrup on the back of a red circle and adhere to decorated cookie for a nose. Adhere two pretzels for antlers with corn syrup. With black edible pen, draw eyes. Let dry overnight before packaging cookies. (Tip: If fondant gets sticky when kneading, let sit at room temperature uncovered for 15 minutes.)