Disclosure: *This post may include affiliate links. As an affiliate, I earn from qualifying purchases.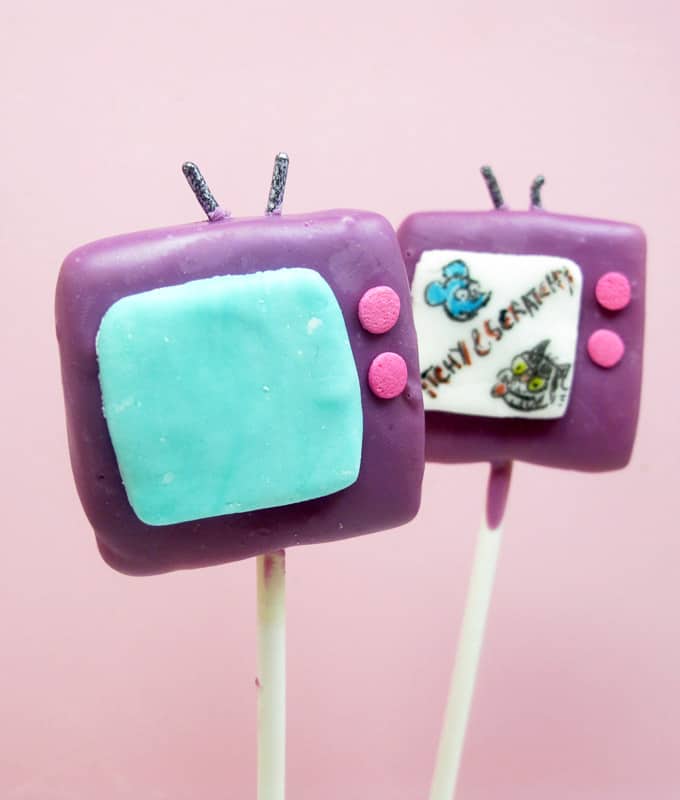 And now for something completely random…. I love TV. Always have. Always will. Don't get me wrong, I (and my now-TV-loving child) lead an active life, for the most part. Not in a got-to-the-gym active way, mind you, but in the get out there, go to museums, go ride carousels, go shoot pool, go out dancing kind of way. But I love TV. My whole family does. Conversations always come back to TV. Nowadays my TV-watching is relegated to the midnight to 2 am slot, and so I must be efficient. I do no channel surfing whatsoever. None. I watch my TiVo and my Roku (best invention ever after TiVo). I love my 30 Rock, Grey's, So You Think You Can Dance, House, Eastenders, 24 on Roku catch up… Now I'm into Doc Martin. Brilliant. I've not watched the Simpsons in years, I'm afraid, but back in the day, oh boy. Depending on the knowledge of my co-conversationalist, much of my verbal repertoire included a steady stream of Simpsons quotes. Simpsons cookies are kind of necessary. Specifically, the Simpsons television cookies.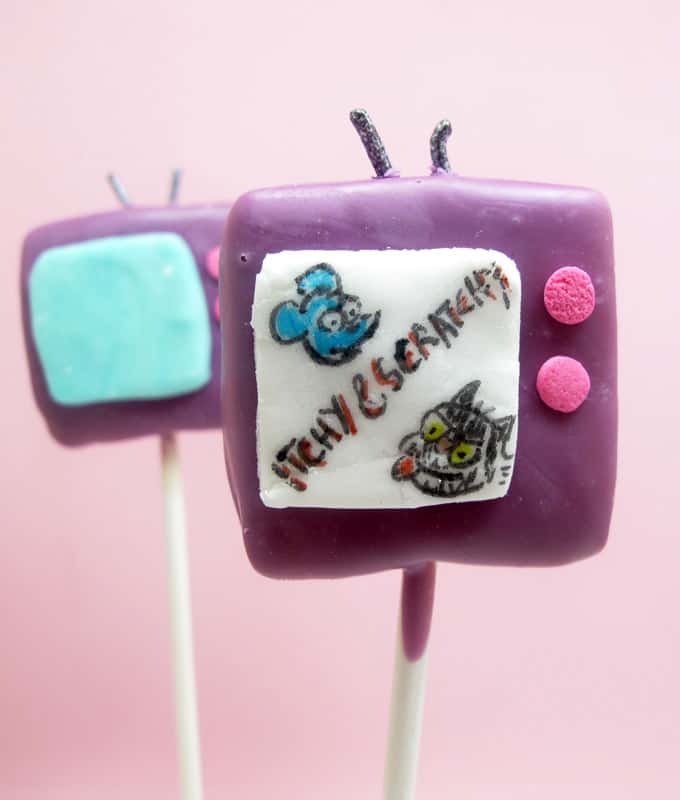 So these Simpsonsesque TVs are an ode to my habit. Cookies, by the way, are dippable in much the same way as these cake pops we all know and love. Pretty much any of
bakerella
's clever concoctions can be recreated with cookie pops. Just use a 1 1/2 inch circle cutter and a lollipop stick. And the bonus is that cookies on a stick are much more solid, so there's less chance of breakage and crumbling during dipping.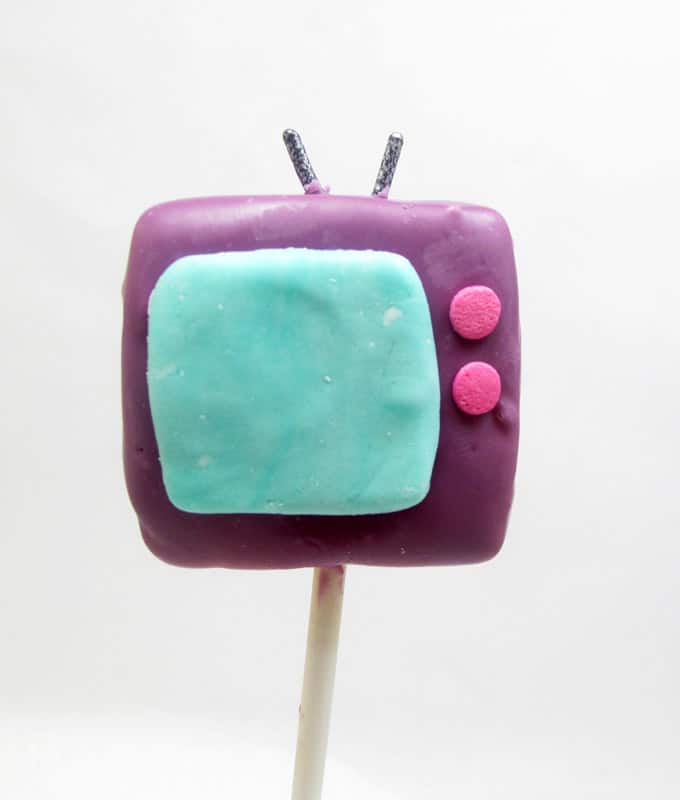 how I made Simpsons TV cookies
I made my
cut out cookie dough,
chilled it, rolled it out about 3/8 inch thick, and used a
1 1/2 inch fondant cutter
to cut out my cookies. Insert a
lollipop stick
, bake according to the recipe and let cool completely. Melt
purple candy melts
in a deep, microwave safe bowl according to the package directions (add a teaspoon of Crisco for easy dipping). Dip the cookie, prop in a
Styrofoam block
and let it set. To decorate, I rolled out some of my
marshmallow fondant
1/8 inch thick. I tinted some with Turquoise, some I left white. I cut out a 1 1/2 inch square with the same cutter, then trimmed the sides so it was only 1-inch square. I used a dab of light corn syrup to adhere the square on the dipped cookie. Same for two little pink
confetti sprinkles
. Then I jammed a couple
silver metallic sprinkles
in the top before the candy melts totally set. If desired, draw on the screen with edible writers (I used
FooDoodler's fine line set
). Find everything in green in the baking aisle of the craft store.