Disclosure: *This post may include affiliate links. As an affiliate, I earn from qualifying purchases.


How to decorate plaid cookies for St. Patrick's Day
Is there even such a thing as "Irish plaid"? Irish tartan patterns? For the sake of this post, let's say yes. If I had my act together, I'd have gotten a Shamrock cookie cutter. Or looked through my hundreds of cookie cutters to find the Shamrock I probably already own. But alas, this pattern can be made on any shape cookie. So here are some plaid cookies for St. Patrick's Day.
how to make plaid cookies
you will need:*
cookie cutter, any shape
5 decorating bags
4 couplers
4 decorating tips (sizess 2, 3, and 4)
rubber bands
food coloring (greens, yellow and white)
*I used a 2-inch circle cutter. For food coloring, I used Americolor gel pastes, Electric Green, Leaf Green, Egg Yellow and Bright White. Find decorating bags, couplers, tips and cutters at the craft store. For tips on finding cookie decorating supplies, click HERE.
step one: bake your cookies
Roll out chilled dough, cut out and bake cookies according to the recipe. Let cool completely.
step two: make your icing
Make icing according to the recipe, divide and tint your colors. You'll need: lime green (the most of this, as it's your background color), bright green, yellow and white. Assemble decorating bags with couplers and tips and fill with the icing. Use a 3 tip for the bright green, 2 tips for yellow and white, and a 4 tip for the lime green. Reserve half of the lime green icing in a bowl, covered. Close bags tightly with rubber bands.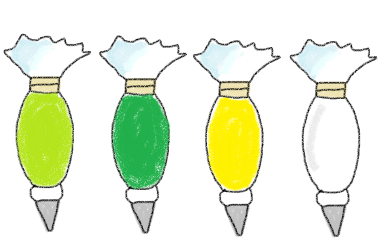 step three: flood the background
Pipe an outline with the lime green. Let set about 15 minutes. Thin reserved lime green icing with water until the consistency of thick glue. Fill an empty decorating bag with the thinned icing, snip 1/4 inch from the tip, and loosely pipe to fill the cookies, letting the the icing flood the entire cookie. Encourage with a toothpick if needed. Let set well, several hours at least or overnight.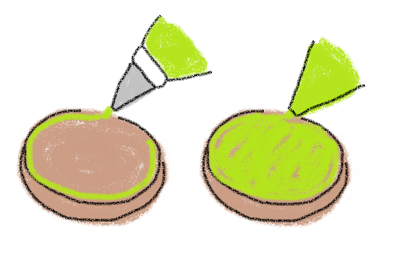 step four: pipe the plaid
Pipe lines with the bright green 3 tip (a grid pattern). Then pipe thinner lines next to the green lines with the yellow and white 2 tips. Let dry.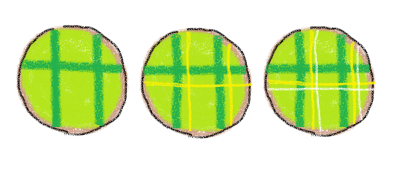 PIN FOR LATER: