Disclosure: *This post may include affiliate links. As an affiliate, I earn from qualifying purchases.


Make waffle iron quesadillas: In 3 minutes, you can have a delicious spinach and cheese quesadilla, thanks to your waffle iron.
waffle iron quesadillas
I just solved your quesadilla problem.
I know what you're thinking, "I don't have a quesadilla problem."
I used to think that, too, before I started making them in my waffle iron.
Sure, you can make them in the oven (although, then the tortillas lose some of their softness) or you can make them on the stove-top (although, that involves all that work of flipping them, and flipping stuff takes a few seconds, and who has an extra few seconds?).
But the easiest, best way ever to make them is by pulling out your waffle iron and making waffle iron quesadillas.
If you like these, check out these waffle iron cinnamon rolls.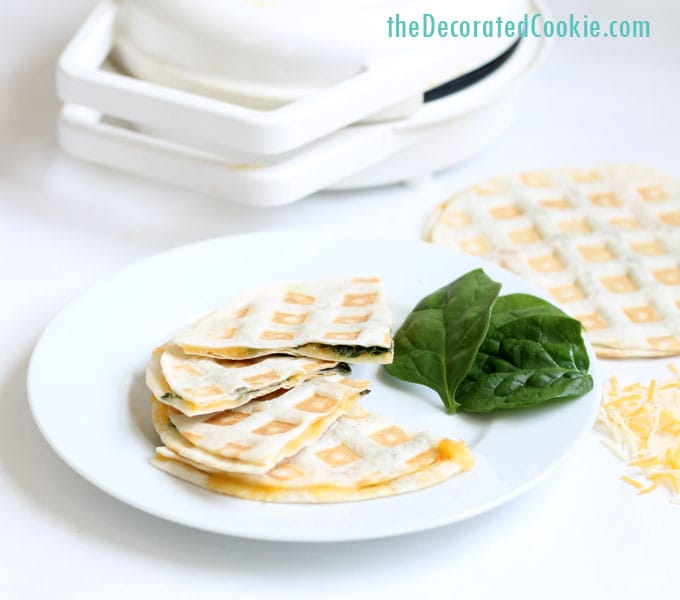 tips on making quesadillas
I made them with spinach and cheese, but you may use any fillings you like.
Try adding chicken, salsa, taco seasoning, avocado, whatever. The tortillas brown just a little, but still stay soft. The cheesy goodness inside is perfectly melted. And if you only want to make one or two, the waffle iron method is ideal.
If the cheese oozes onto the waffle iron at all, wait until the waffle iron is unplugged and totally cool before using a silicone spatula to scrape the cheese off, and then wipe down the iron with a paper towel.
Here's a quick video to get you started. Written instructions are below.
how to make waffle iron quesadillas:
Heat your waffle iron (any 7-inch Belgian waffle maker should work).
Place a 7-inch flour tortilla on the base of the waffle iron.
Top with 1/4 cup of shredded Mexican cheese blend and about 1/4 cup of coarsely chopped fresh spinach leaves or any other fillings you like.
Top with another tortilla and close the iron. Let the quesadilla cook for two to three minutes until the cheese is melted and bubbly.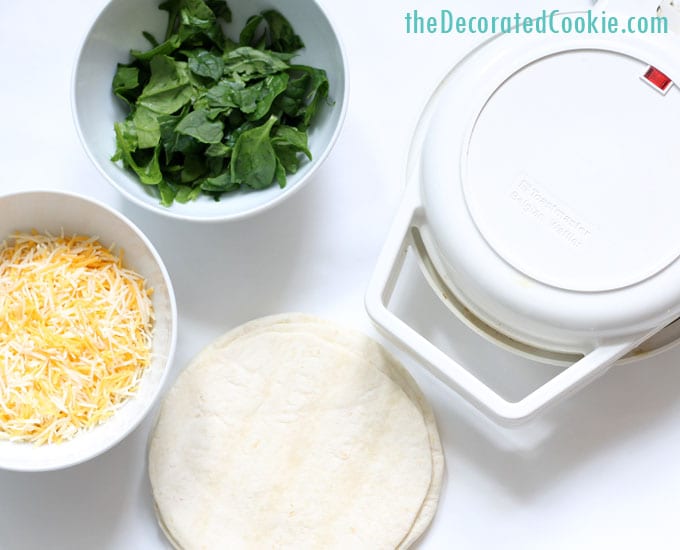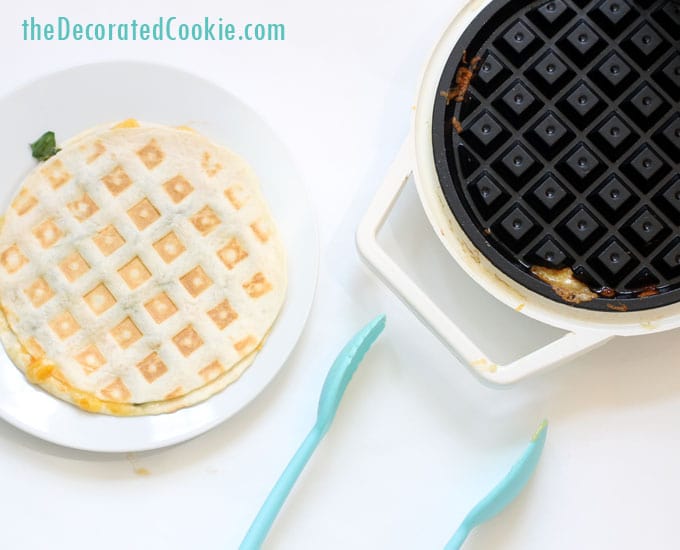 Now I can't stop thinking about what ELSE I can put in my waffle maker.