Awesome summer idea: Make wine popsicles. Wine ice pops travel well to the beach or pool.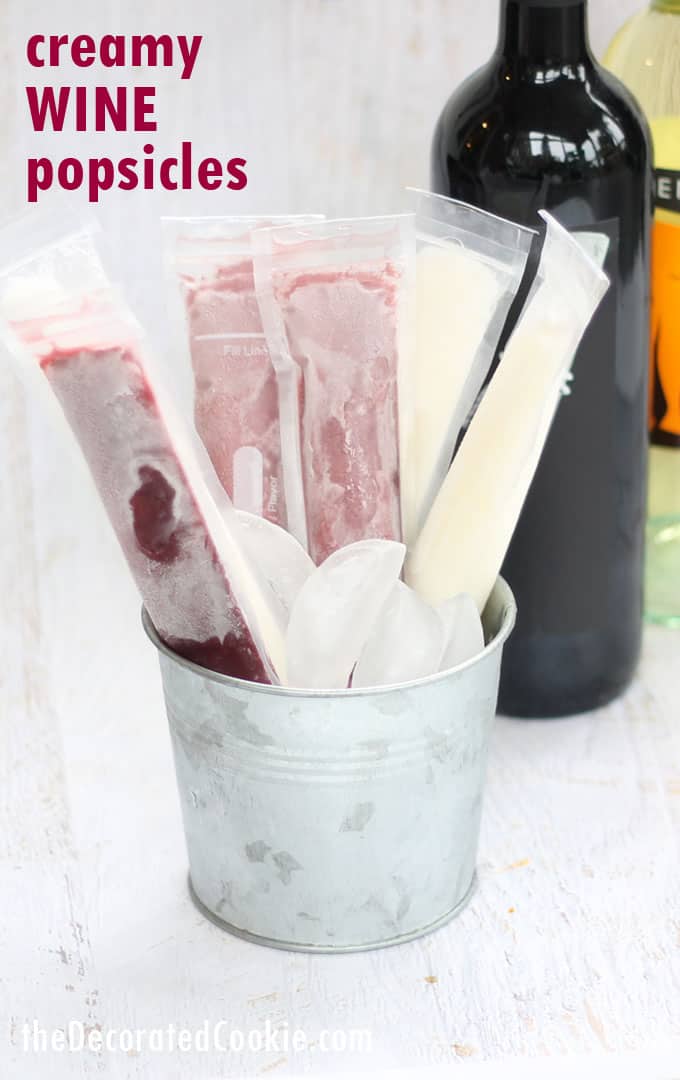 wine popsicles! Or, wine ice pops
Are you getting bored with drinking the same old glass(es) of wine every single day? Especially with Summer coming, don't you want a more seasonal way to enjoy your favorite beverage? I mean, the kids get those liquid tubes of colored sugar water they put in the freezer. We should get something just as refreshing and wholesome. So you get wine ice pops this Summer. All Summer.  Or frozen wine creamsicles. Or, wine popsicles! What the heck are these called, anyway? They're like wine, ice cream and popsicles all in one and they are the best thing ever in the history of ever. When it's blazing hot, you want to cool down your guests, and bonus points for having no wine glasses to wash afterwards.
Thanks to the wonders of the Zipsicle ice pop pouch, you too can enjoy a classic summer treat. Now, if you just want to get to the wine, all you have to do is use a funnel to pour your favorite white and/or red wine into the Zipsicle and freeze. TIP: If you use a box of wine, you don't even need the funnel.
But if you want something more wine plus dessert awesome, here is how you make wine ice pops, also known as frozen wine popsicles. These work with red OR white wine. And the recipe may be doubled. Or tripled. Or quadrupled.
will wine freeze?
Keep in mind that because of the alcohol, these will NOT freeze solid. So you will lack just a bit of the grace that comes with sipping from a glass. But it's summer, so get in there and down your wine slushy. Like I mentioned above, you can pour wine straight into the pouches. While it doesn't freeze fully, it's a super-handy way to bring ice cold wine to the pool or the beach, without the use of glass (often prohibited at said pool or beach).
more wine ideas
These would go super duper well with these grapes cookies, I think, yes? Or chocolate covered grapes would go with the red wine ice pops. Speaking of red wine, the red wine I used for my ice pops is from Sting's winery. Yes, Sting, the singer. And he makes some freaking awesome red wine, by the way. As for white wines, I'm a big fan of the Black Box Pinot Grigio. What are your favorite whites? I need some more suggestions to spice up my nights.  And sometimes afternoons.
By the way, if you're crafty, check out these Lego Minifigures wine charms or these painted wine glasses.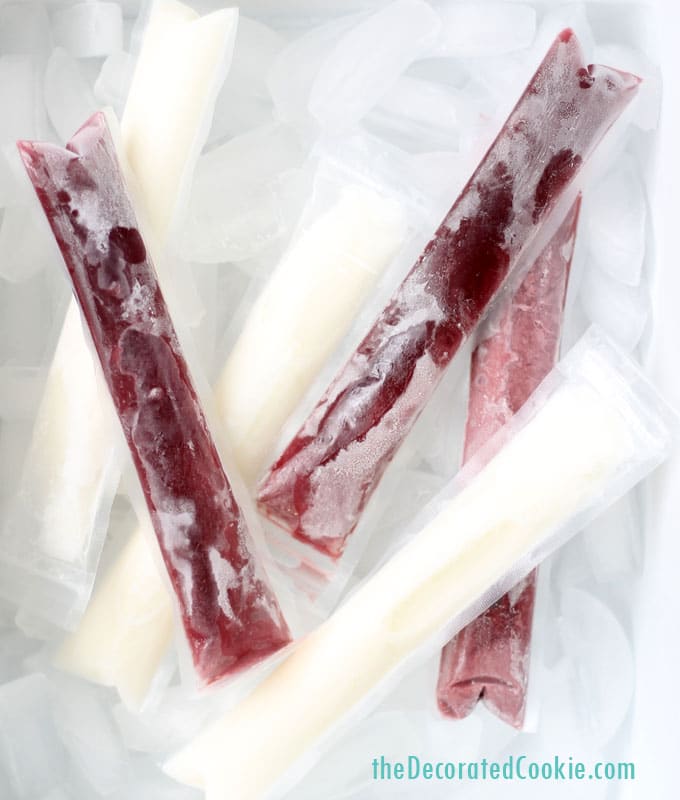 how to make wine popsicles
You will need:
1 cup of red or white wine
2 tablespoons heavy whipping cream
1 tablespoon honey
Combine the ingredients and blend well with a whisk. Pour into Zipsicle bags to the Fill Line. Freeze overnight.  The wine will NOT freeze solid, these wine popsicles will be a bit slushy. (Just how I like it.) Makes 3 wine ice pops (I mean, wine popsicles.)