Disclosure: *This post may include affiliate links. As an affiliate, I earn from qualifying purchases.


How to decorate scribble heart cookies for Valentine's Day.
I've decided that this is my new favorite way to decorate cookies, and I'll just officially call it the "chaos method."
As in what I did back here with these chaos cookies. And kind of here with these birthday letter cookies. And now once again, although I think calling them scribble heart cookies is a bit more accurate.
easy cookie decorating
I often decorate cookies using only one consistency of icing, but you can always see the lines of icing if it's too stiff. Some people don't like that.
So I also decorate cookies by flooding, but that means making a color of icing, then dividing it, then preparing a decorating bag with half of the icing, then thinning the other half, then preparing another bag for the thinned icing, then outlining and letting it set, then flooding and letting that set–forEVer–then piping details and… did I mention I have a two month old?
And I'm tired? And my five-year old talks ALL the time and says "Mommy, where are you?" about twelve times an hour?
And there are dust bunnies under my dining room chairs that scare my cats? Oh, and I found a used diaper under the couch the other day?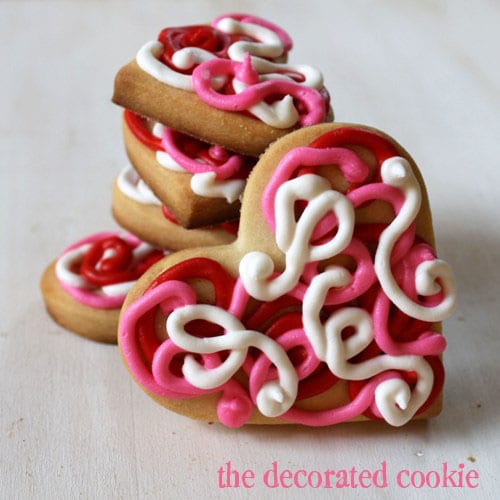 So now I'm about shortcuts and efficiency. I mean, in theory, at least. And this method uses only one consistency of icing, but takes advantage of the seeing-the-lines thing. I love it.
Now sure, you can pretty much only use it for shaped cookies, not for cookies that need detail, but eh, I'm not all that into detail these days anyway. Too time-consuming.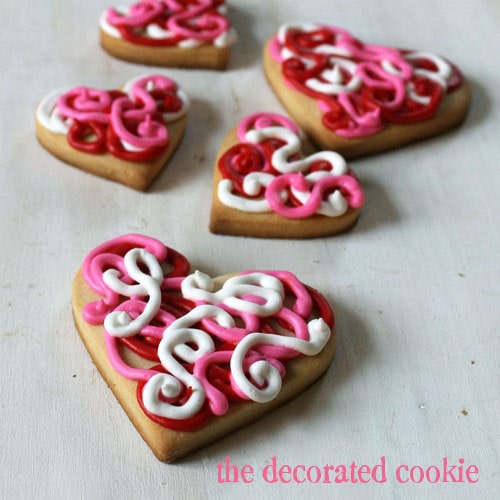 how to make heart cookies
To make these, prepare your cookie dough according to the recipe, cut out hearts (I used a 2- inch and a 3-inch heart cutter), bake and let cool.
Prepare royal icing according to the recipe, divide and tint your preferred colors. I suggest Americolor Soft Gel Pastes for the food coloring, found online or in specialty stores.
Red Red, Electric Pink and Bright White used here.
Assemble disposable decorating bags with couplers and size "4" or "5" decorating tips, fill with the icing and close tightly with rubber bands.
(Find the bags, couplers and tips in the craft store. To find cookie decorating supplies, click HERE.) Pipe designs on cookies and let dry overnight before packaging or handling. (For basic cookie decorating how-tos, click HERE.)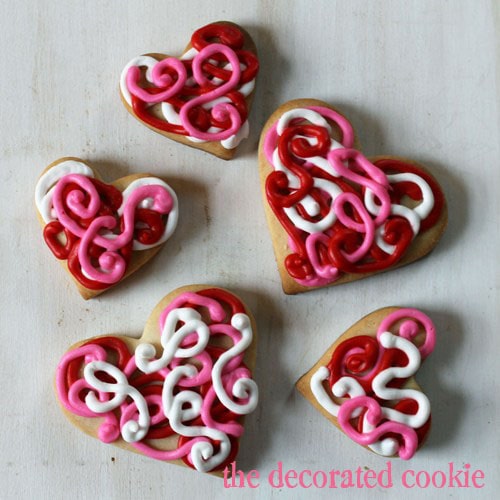 more Valentine's Day cookie ideas
These love bug cookies are also easy to decorate. Or try these "you complete me" heart cookies. Use fondant to make stamped conversation heart cookies. I love sparkly stained glass cookie pops. Warm and fuzzy cotton candy cookies have been popular.