Disclosure: *This post may include affiliate links. As an affiliate, I earn from qualifying purchases.


wafer paper cookies
Wafer paper cookies are cookies decorated with edible sugar sheets that have beautiful printed designs.
So I was in Michaels Craft Store the other day, and I saw THESE. Duff Cake Tattoos. (As in, Duff of Ace of Cakes, as in, designs printed on edible sheets used to cover cakes, cupcakes and cookies.) So I had to try them.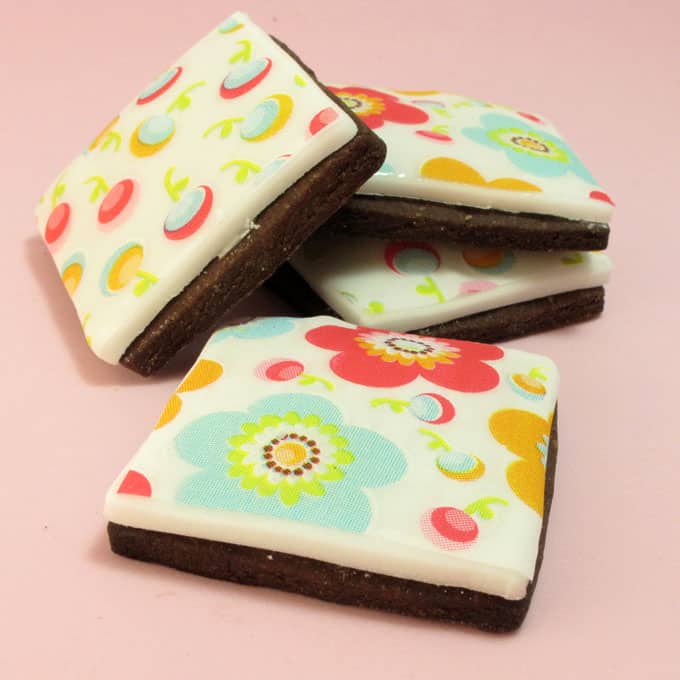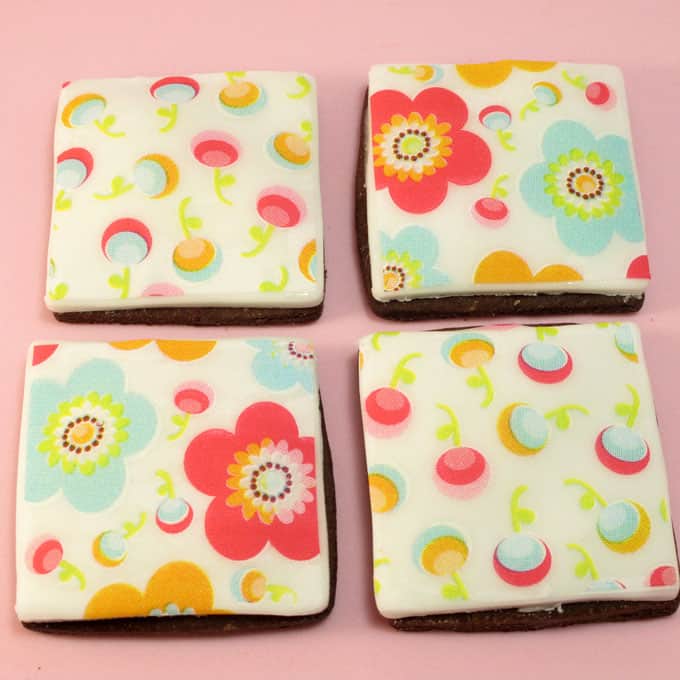 how to use edible wafer paper
I made cookies, of course. Because the tattoos are in strips about 2 1/4 inch wide, I used my handy 2 1/4 inch square fondant cutter to cut out squares of my chocolate sugar cookies. Then I just used store-bought fondant (you can also use homemade marshmallow fondant) rolled it out and cut out squares of the same size. Adhere the fondant squares to the cookie with a thin layer of frosting or royal icing or with a coat of light corn syrup. Instead of fondant, you can also flood the square cookie with white icing.
To use the tattoos, I just cut out a square the same size as my fondant topped cookie, brushed the cookie with light corn syrup (you can also use water), and pressed and smoothed the tattoo on top.
tips for working with sugar sheets
You can use edible wafer paper (or sugar sheets) on fondant or flooded royal icing that has set very well. You can also use the sheets directly on cakes or cupcakes topped with buttercream frosting.
Use scissors to cut the paper to the exact size you need.
Spread the wafer paper directly on buttercream frosting that has been evened with an off-set spatula and gently smooth.
To top fondant or set royal icing (use icing that has been flooded for best results, so you don't see the lines of frosting), lightly brush the fondant or icing with light corn syrup and smooth the paper on top.