Disclosure: *This post may include affiliate links. As an affiliate, I earn from qualifying purchases.


Mania indeed…also, the perfect collision of design, content and craftiness in books about, somehow, rubber bands and duct tape. My friend, Amanda Formaro, who skillfully manages an infinite supply of creative ideas (seriously, where do they all come from? how does she never run dry?) over at Crafts by Amanda, has published her first two craft books for kids ages 6 to 12 in the Mania series: Duct Tape Mania and Rubber Band Mania. More about Duct Tape coming soon. Today I'm all about rubber bands.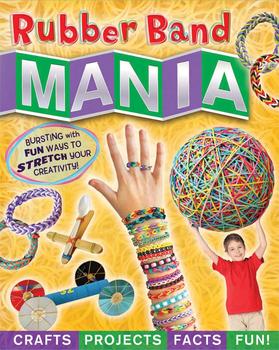 I have a 7 year old who crafts incessantly, so she ripped open the package and tried to take my books before I had a chance to review them. Nice try, Maeve. Nice try.
Rubber Band Mania has over 40 rubber band projects, each with clear step-by-steps and photographs that kids can follow on their own or with minimal help. There are also tips and fun facts sprinkled throughout. Did you know the US Postal Service uses millions of pounds of rubber bands a year to help sort mail? I do now.
If your kid has discovered the loom like mine, not to worry. The first section of the book honors the craze with bracelets, necklaces, and rings you can make with with your fingers, a fork and even a DIY loom. But there is much more, like organizers and notebooks and luminaries kids can make, or a rubber band car, marshmallow catapult, slingshot and bow and arrow. They can paint and stamp and tie dye with bands or make a harp or guitar or even do magic tricks. My kid has already made the popsicle charm. Two of them. And has promised more for her friends.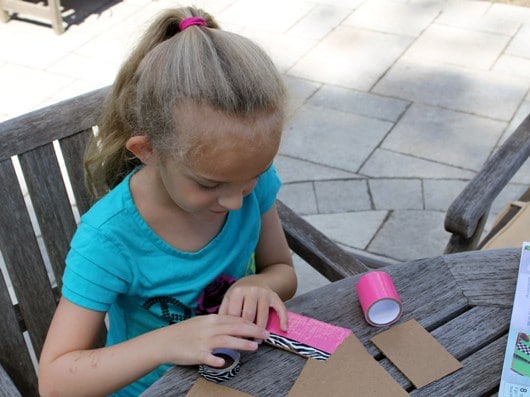 Next, we made a boat. She outfitted the boat with duct tape while I painstakingly blew up our inflatable pool. I'd have rather have had her job. Oh yeah, just relax at the table playing with tape. Don't mind that woman passed out on the ground behind you.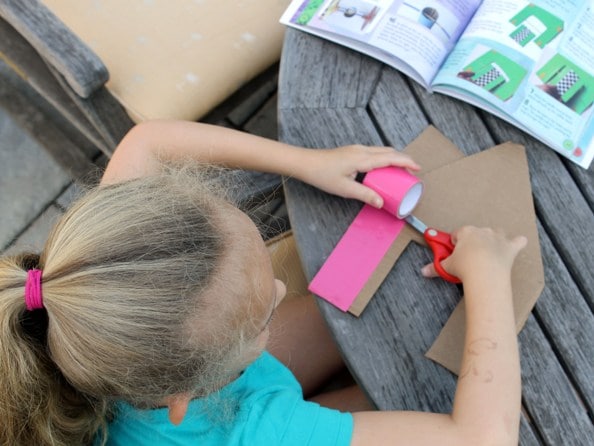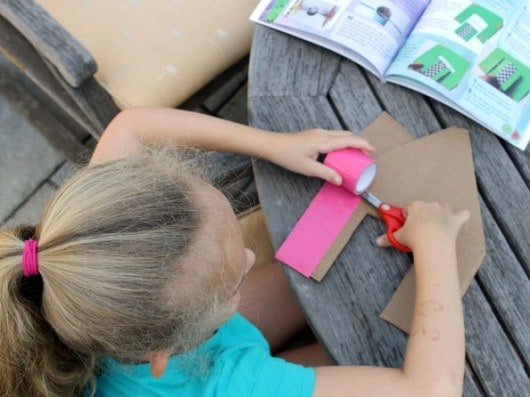 And the boat is ready to launch. Please note the top of the pool is barely inflated. I gave up half way. And I forgot to take video of the boat zooming across the pool. I can make a thousand more boats, but please don't ask me to re-inflate that pool.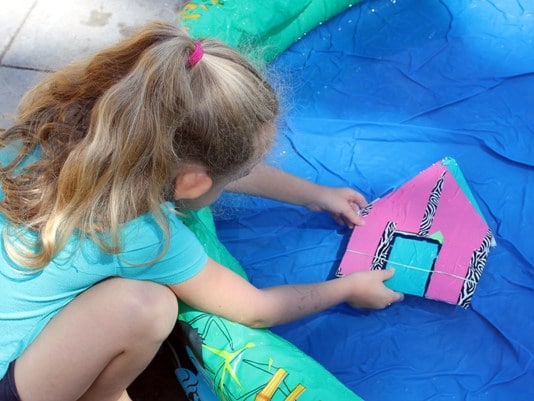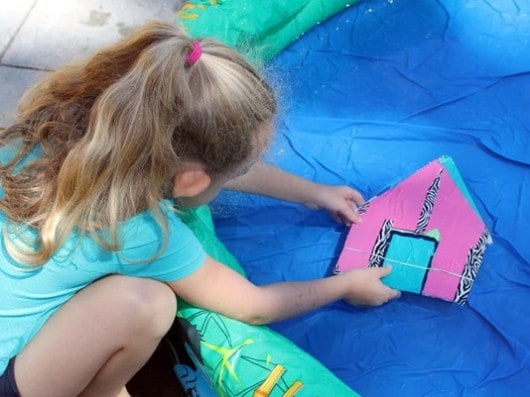 THE GIVEAWAY!!
Leave a comment here before Monday September 15th, midnight EST for a chance to win a copy of
Rubber Band Mania by Amanda Formaro
Winner drawn randomly.
Winner has 48 hours to respond after being notified before another winner is notified.
Ships to US addresses only.