Disclosure: *This post may include affiliate links. As an affiliate, I earn from qualifying purchases.


EASY decorated rainbow cookies.
rainbow cookies
"Easy" striped rainbow cookies because you don't need to fiddle with any couplers or tips with these. You don't need two consistencies of icing. You don't need to flood anything. You could even fill ziplocs instead of buying decorating bags, too.
I was making cookies for my dad's birthday and wanted my daughters to make some for him, too. Whenever I make cookies and icing for kid's cookie decorating, I make things as simple as possible. So I divide my royal icing into colors and scoop into disposable decorating bags, close tightly with rubber bands and snip the tip. Then they can pipe any design they like.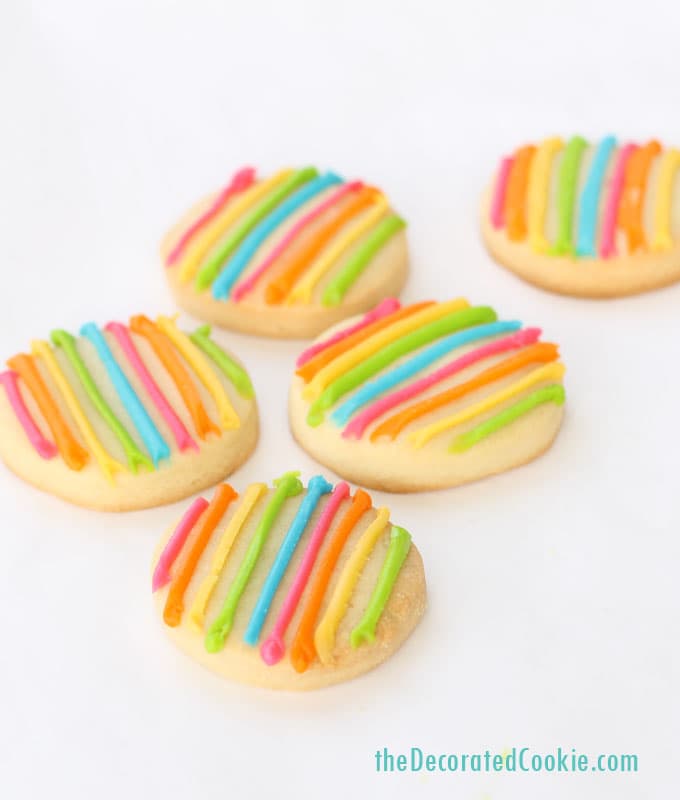 more rainbow cookie ideas
My kids designed these cookies here (the flowers are my eight year old's, the more abstract designs are my three year old's):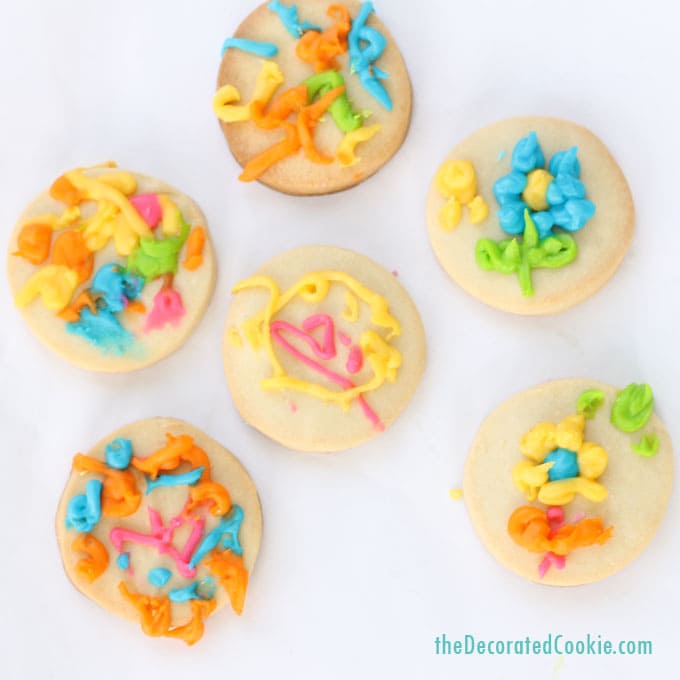 I made rainbow stripes. I wanted to use the same bags of icing they were using and I could pipe all of my cookies quickly and easily with rainbow stripes. I kind of love the '80s vibe to these, too. A bit neon. Remember these "shutter shades" all neon '80s style? Just doesn't seem like a smart design for sunglasses, visually speaking, but hey, who am I to judge?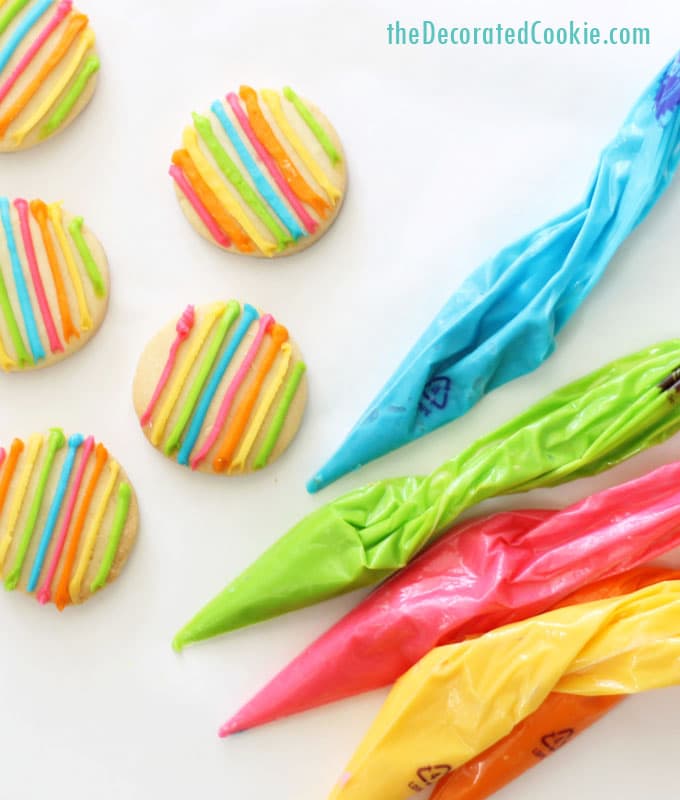 how to make striped rainbow cookies
you will need:*
royal icing
circle cookie cutter
food coloring
disposable decorating bags
rubber bands
*For food coloring, I suggest Americolor Soft Gel Pastes (Electric Pink, Orange, Egg Yellow, Electric Green and Sky Blue used here). Here are some tips on finding cookie decorating supplies. For more cookie decorating recipes, click here. If you need vegan cookies and icing recipes, click HERE.
Prepare cookie dough according to the recipe, chill, roll out, cut out circles, bake and let cool. Prepare icing according to the recipe, divide and tint your preferred colors. Fill empty decorating bags with icing, close tightly with rubber bands and snip about 1/4-inch from the tips. Pipe your designs and let the cookies dry well.