Disclosure: *This post may include affiliate links. As an affiliate, I earn from qualifying purchases.


In early October of last year, I had the chance (and honor and joy) to join 19 fellow food bloggers at the Eat, Love, Sandals Culinary Conference. In Jamaica. At an all-inclusive–meaning all the food, drinks, swimming and paddle boarding I want–resort. Namely, at Sandals Ochi Beach Resort. We each stayed in our own villa room and we each were doted upon by the ever-smiling staff. My only regret is I didn't drink more. At every turn I had a chance to get something from a bar. Dang. They made a mean Tanqueray and tonic, too.
Like many other bloggers, I hit walls over the years. I get frustrated by my lack of income, lack of traffic, lack of time to devote to my craft. I pointlessly compare myself to others and their much better successes. Perhaps it's the isolation of blogging that lets us wallow. So I realized with this trip the importance of meeting like-minded folks in real life. Real life. In person. Face-to-face. So you can hear their jokes, see them laugh, admire their shoes. The reminder that people power these blogs and not robots who just know more than I do is invigorating. Hey, I'm a person, too! These real people save blogger ennui. And they did just that. With a tropical backdrop.
I was most awed by how unique, clever, and interesting every one of my fellow 19 bloggers are. I would take up my whole blog post describing how cool each of these women are. Kristan of Confessions of a Cookbook Queen and Jamie of My Baking Addiction (I'm going to assume you know these ladies, and if you don't, you better) planned the whole thing, so they are my first two heroines. I've had such a crush on Glory of Glorious Treats so long, it was kind of a dream come true to not only meet her but–gasp–hang out with her! I made a new friend (sounds like I'm in kindergarten, but it's true) in Jocelyn of Inside Bru Cru Life. And I'm pretty sure Leslie of The Hungry Housewife and I are the same person. The only bloggers I've met before, I got to see again. And "got" to see is the correct term, Julie of The Little Kitchen, Shelly of Cookies and Cups and Lindsay of Love and Olive Oil. I wish they lived near me, because I'd be bugging them to hang out all the time. I got to hang with the cutest-ever Stephie of Stephie Cooks. And Jen of Yummy Healthy Easy, Meghan of Cake N Knife and I together witnessed the unbelievable talent of this singer below who should be topping charts. She had old men hugging their wives with passion anew. I could have listened to the travel stories of Kita from Pass the Sushi for hours longer, too. And I'd like to be Amber of Food Fanatic. Like be her. Because she's so together and wise.
And I could have talked to Joan of Chocolate, Chocolate, and More for hours longer. We sat at dinner talking and laughing as we ate all the bread, efficiently covered so much of our lives in a short amount of time. Weeks after we parted in Jamaica, our food blog world was shocked to its core when dear Joan passed away in her sleep. Because of Joan, I have not been able to write this post until now. Because Joan was the epitome of life and energy. Because of Joan, everything after we returned changed. And only now am I able to go back to Jamaica. And I want to share more about the trip and the experience Sandals created.
The Sandals team treated us beautifully. One evening at dinner, our Sandals representative, the ever cheerful and kind Lindsey (please forgive me if I'm spelling your name incorrectly), told us her story. As a teenager, she spent every free moment volunteering. When she started to work for Sandals, she mentioned her volunteer work and they responded by completely outfitting the children's home where she volunteered with more cribs and baby gear. That was the moment she knew she would stick with Sandals, because there she can fulfill her passion of helping the people in her country.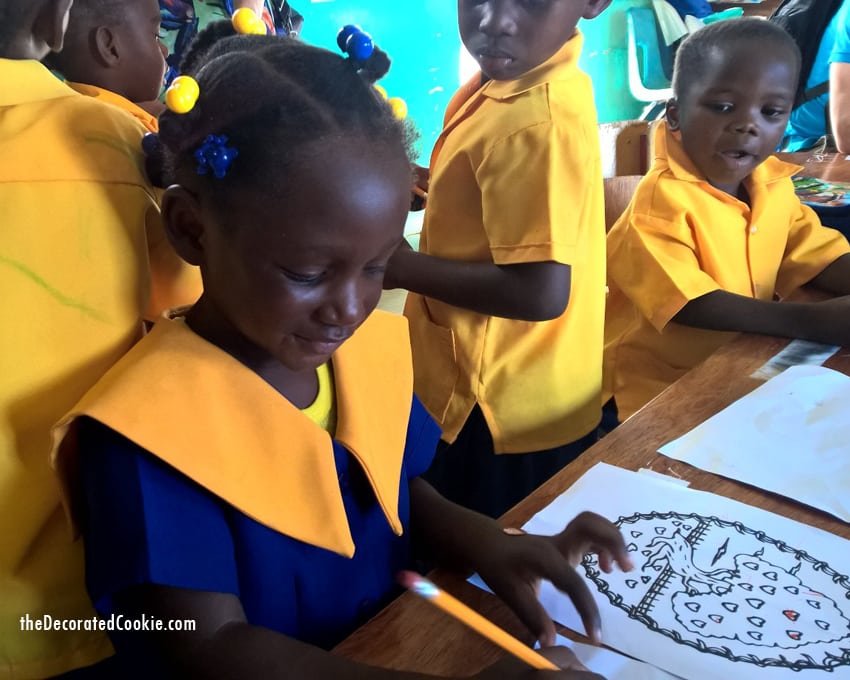 The highlight of the trip, for me, was visiting a local school to bring supplies, read and play with the children. In another life, I'm not food blogging, but with children all day. I've worked with children often throughout the years, from babysitting to teaching to volunteering, and I'm most comfortable when I'm surrounded by kids. So I had no trouble jumping right in to a Jamaican classroom. And they had no trouble tackling us to the ground with hugs the moment we entered the two room structure.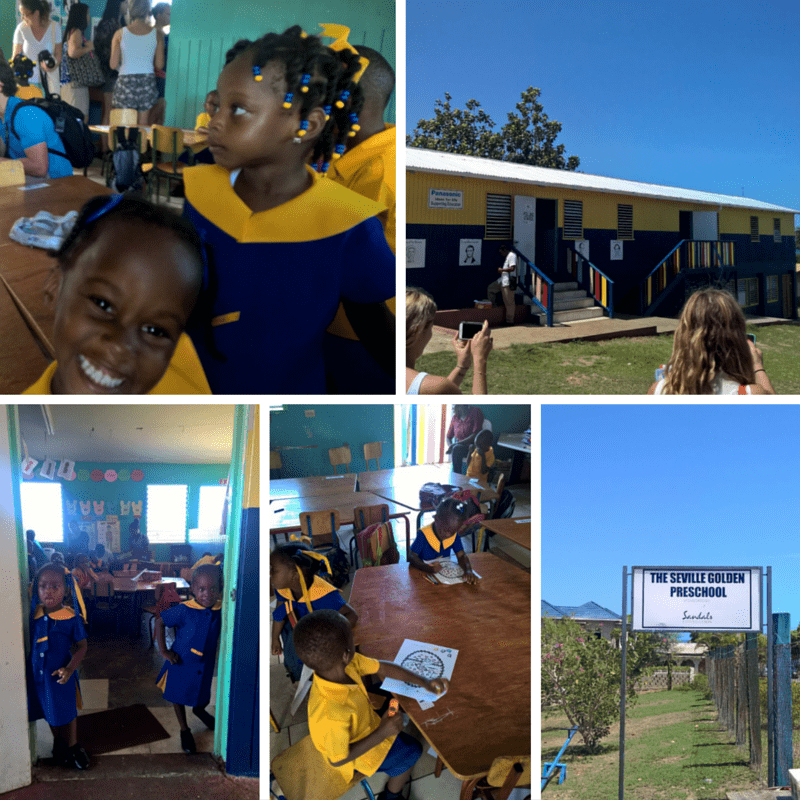 On the way back to the resort, Joan asked Lindsey if we could pull the bus over to take shots of the beach. Lindsey complied and we pulled off into a small gathering of homes and lean-tos on the beach. We stopped and talked to the residents, took these pictures, adding another level of experience to the day.
I debated going to Jamaica. I was afraid that I didn't know anyone and it would be awkward. That the plane ticket was too expensive. That I'd have to leave my kids for a few days. Because of Joan, I now know there should be no debate. When given the opportunity… Go to Jamaica.
To learn more about the work Sandals does in the community, click HERE to visit the Sandals Foundation.