Disclosure: *This post may include affiliate links. As an affiliate, I earn from qualifying purchases.


Fuzzy chocolate monsters pops for a cute Halloween treat!
fuzzy chocolate monsters
I don't know at what point we, as a collective imagination, decided monsters needed to be fuzzy. Oh wait, yes I do. Good call, Jim. The fuzzy part makes monsters decidedly less scary and infinitely more cute. Coconut is the fuzz in these fuzzy chocolate monsters pops. And boy, are they scary, huh?
If you like this easy Halloween treat idea, be sure to check out these monster cookie sticks or monster lollipops.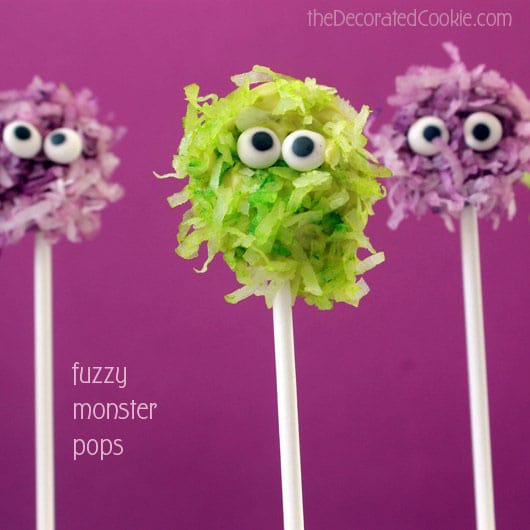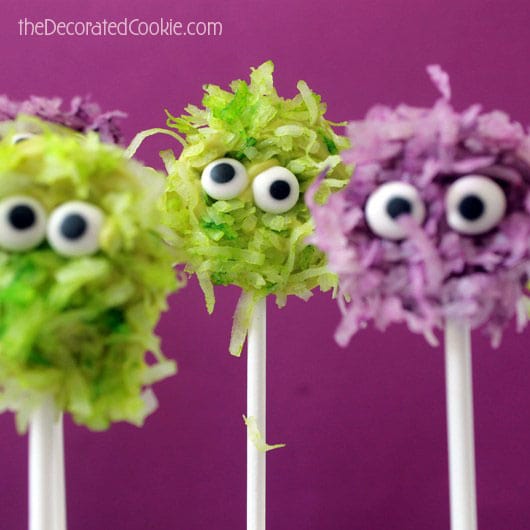 how to make fuzzy chocolate monsters
you will need:*
green candy melts

purple candy melts

green and purple food coloring

shredded coconut

Ziploc bags

disposable decorating bags

lollipop sticks

baking tray

wax paper

candy eyes
*Find the candy melts, disposable decorating bags, lollipop sticks and candy eyes in the craft store, or, see links below. For food coloring, I suggest the Electric Green and Electric Purple Americolor Soft Gel Pastes (links below).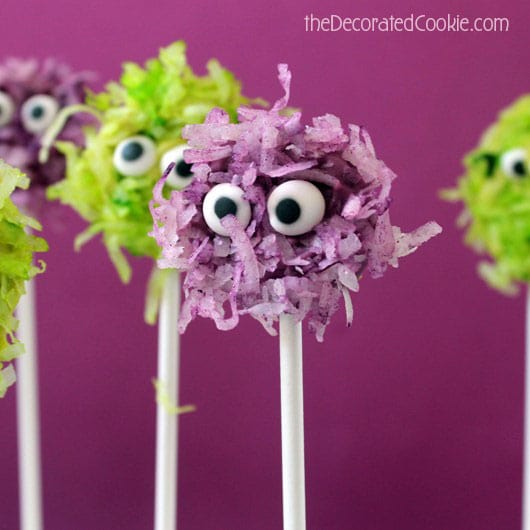 step one: tint the coconut
Pour some shredded coconut in a Ziploc bag. Add a drop or two of food coloring and mix like crazy until the coconut is a uniform color. Set aside.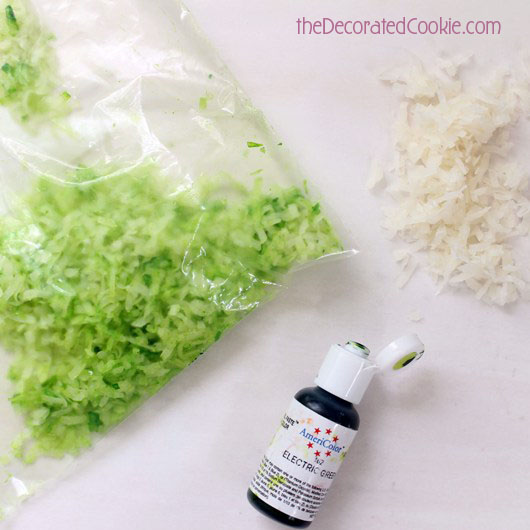 step two: prepare your trays
Line baking trays with wax paper and set aside.
step three: melt the candy melts
Place 1/2 cup to 1 cup of candy melts in a disposable decorating bag. Microwave at 70 percent power for 90 seconds. Massage and continue at 15 to 30 second intervals until the melts are fully melted.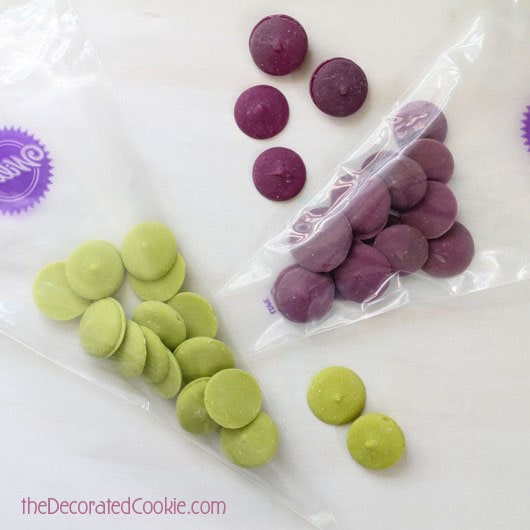 step four: make your pops
Snip 1/2 inch from the tip of the decorating bag. Pipe a dot, place a lollipop stick on top and pipe a larger circle on top. Sprinkle coconut over the circle in a coordinating color. Press two candy eyes on top. Jam the eyes in, if you can, so they stick to the candy below the coconut. If needed, add another dab of candy melts on top of the coconut so the eyes stick.
TIP: Be sure to do one pop at a time, as candy melts harden quickly. Let the tray sit for about an hour. Lift the pop off the tray and gently shake off any excess coconut.