Disclosure: *This post may include affiliate links. As an affiliate, I earn from qualifying purchases.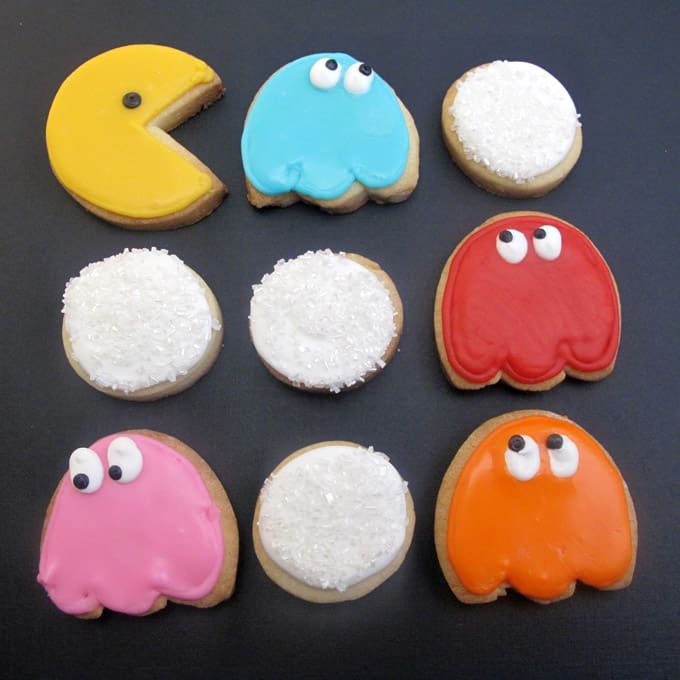 pac man and video game cookies
My brother is turning 40. Wow. And I'm not far behind. Sigh. (Scratch that, turned 40. I wrote this in January.) My brother is a video game fanatic. He has an old school arcade game console in his basement that he somehow magically rigged up with a computer loaded with every arcade game ever invented. And so, here are some Pac Man cookies and a bonus arcade cookie.
And as he is familiar with every arcade game ever invented I could've gone any route with these cookies. But while my brother is familiar with every arcade game ever invented, I am not. My knowledge is limited to my '80s video game years and Pac Man. Hence, Pac Man cookies. Though I also play a mean Pitfall, Frogger and Asteroids (for Intellivision).
Need more '80s video game cookies?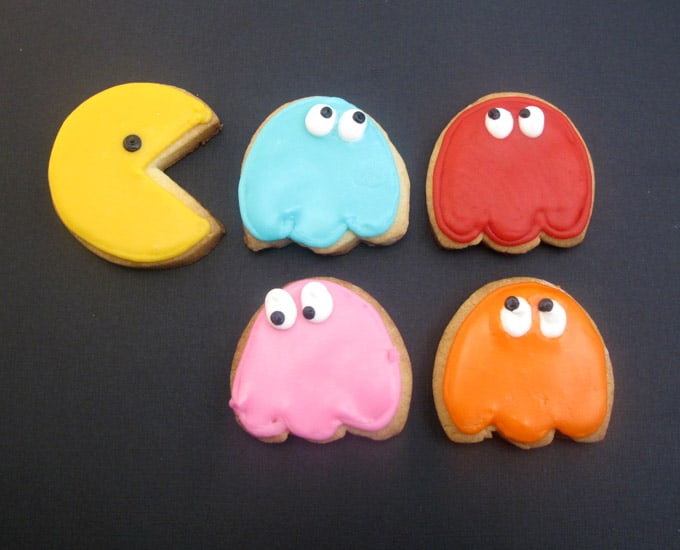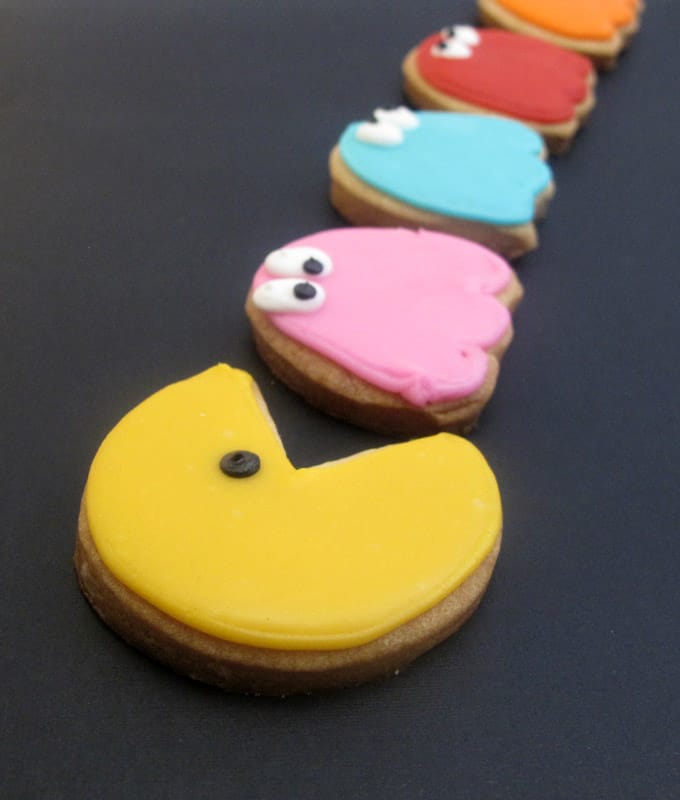 how to make pac man cookies

you will need:
food coloring
circle and oval cookie cutters
decorating bags
couplers
decorating tips
rubber bands
white sprinkles
*For food coloring, I use Americolor soft gel pastes (Egg Yellow, Electric Pink, Red Red,Turquoise, Orange, Bright White, Super Black). For Pac-Man, I used a 2 inch circle, for the ghosts I used a 2 inch oval, and for the dots I used a 1 1/2 inch circle. Find decorating bags (the 12-inch disposable), couplers, tips (you'll need sizes "2," "3" and "4"), sprinkles and likely the cutters in the craft store. Click HERE for tips on finding cookie decorating supplies.
step one: bake your cookies
Prepare cookie dough according to the recipe. Chill, roll out and cut out cookies. For Pac-Man, cut out a circle, then use a knife to cut out a wedge. For the ghosts, cut out an oval, then use a sharp knife to make three scallops, for the dots, just cut out circles. Bake and let cool.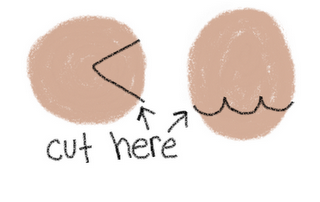 step two: prepare your frosting
Prepare frosting. Prepare frosting bags with couplers and tips and fill with these colors: yellow, red, turquoise, orange, pink, white and black. Tie closed with rubber bands.

step three: decorate Pac-Man and the ghosts
Using size "3" tips, outline Pac-Man in yellow and the ghosts in their respective colors (red for Blinky, pink for Pinky, blue for Inky and orange for Clyde). Let set about 15 minutes.

Flood cookies with the same color icing as the outlines. To flood cookies, squeeze some of the frosting from the frosting bag (this is easier if you take off the tip) into a bowl and thin with drops of water, stirring well, until the consistency of thick glue. Fill an empty decorating bag with the thinned frosting, snip 1/4 inch from the tip, then loosely pipe the thinned frosting on the cookie, starting around the outline, then back and forth in the middle. Let the icing flood to the edges, encouraging as needed with a toothpick. Let set well, several hours.

For Pac-Man, pipe a dot using the black frosting with a size "2" tip. For the ghosts, pipe two dots with white frosting using a size "3" tip. Then pipe two small black dots. Let dry overnight.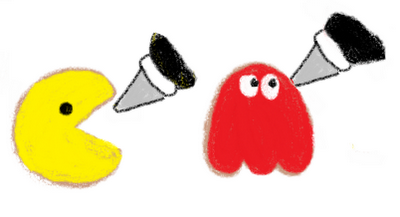 step four: decorate the dots
With white frosting using a size "4" decorating tip, pipe a circle and pipe to fill the dot. Immediately dip the top in sprinkles and shake off excess. Let cookies dry overnight.