Santa dinner rolls are a kid-friendly, fun food idea for Christmas.

Santa dinner rolls
Use store-bought refrigerated dough and food coloring to make cute Santa dinner rolls for Christmas dinner.
Santa dinner rolls, because in this age of Pinterest, all our food has to be fun and themed! And because these are terribly imperfect, but also kind of cute, so there's that. And because they are a Christmas conversation piece for the dinner table. Or serve these with fondue at a Christmas party.
You can use any of your favorite dinner roll dough, but I just popped open a can of Pillsbury breadsticks. Because easy. Next time, I'll use a bit of egg white to adhere all the pieces, though, because some of the parts shifted in the oven. That is, Santa's hat lost its pom pom or his beard was unexpectedly trimmed on a few.
Like this idea? Be sure to check out my collection of Christmas food crafts from around the web over at Pinterest.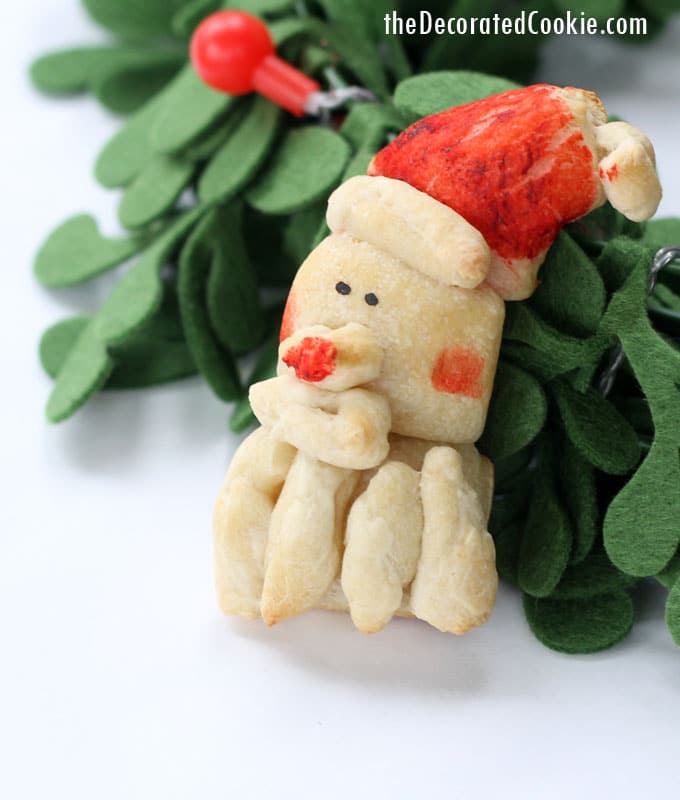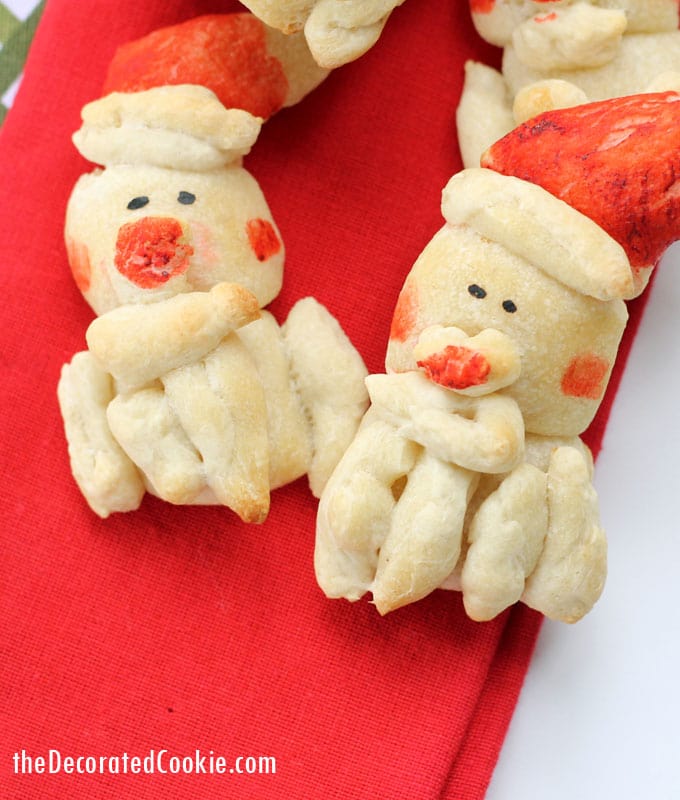 Here are some quick and simple video instructions, but the fill written how-tos are below.
how to make Santa dinner rolls
you will need:
1 can refrigerated Pillsbury breadsticks
1/2 tablespoon butter
red food coloring
black food coloring
paint brushes
egg white (optional)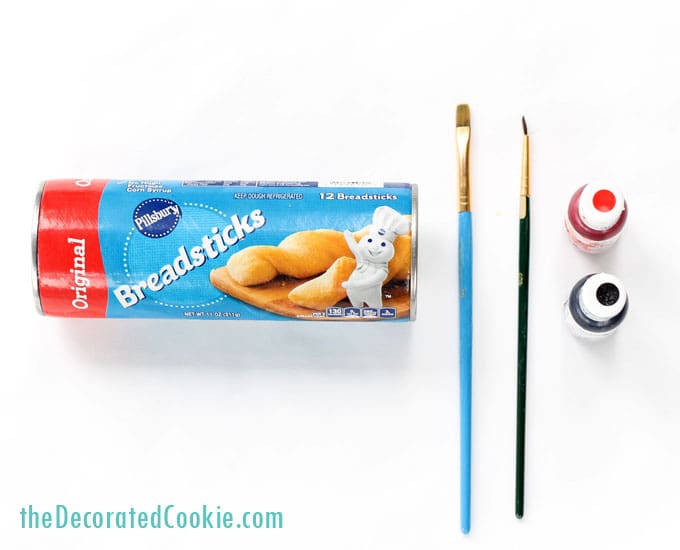 what to do:
Preheat the oven to 375 degrees F. Line a baking tray with parchment paper. Open the breadsticks and separate the dough.
To make each Santa you will need one breadstick. Cut off 1-inch of dough and shape into the hat. Cut off 1-inch of dough and shape into a circle for the head and place it beneath the hat. Cut off 1-inch of dough and place that under the head for the beard. Roll a bit of dough into a circle and gently press onto the top of the hat. Roll a small snake and place at the bottom of the hat. Roll another ball and gently press on the face for the nose. Roll 4 or 5 snakes and arrange on the beard. Roll one last small snake for the mustache. Optional: To prevent the bits from shifting too much in the oven, you can adhere all the parts together with dabs of an egg white mixed with a splash of water.
With a small paintbrush, add two dots of the black food coloring for eyes. Melt the butter and mix in two or three drops of food coloring. Use a paintbrush to paint the hat, the nose and make two circles on the cheeks.
Bake for about 15 minutes or until golden brown.