Disclosure: *This post may include affiliate links. As an affiliate, I earn from qualifying purchases.


sprinkle birthday cookies
I love sprinkles. They are such an easy way to decorate cookies. These sprinkle birthday cookies are bite-size treats perfect for anyone.
Need a tag to go with your cookies? Here is a free birthday gift tag printable.
how to make sprinkle birthday cooki
es
you will need:*
cut out cookie dough AND royal icing
1 1/4 inch circle cutter
2 1/4 inch square cutter frosting colors
disposable frosting bags
couplers
tips (sizes "2", "3", "4" and "5")
rubber bands
sprinkles
*Find the cutters (you can use any size circle or square you prefer), bags, couplers, tips and sprinkles in the craft store. For the coloring, I use Americolor soft gel pastes food coloring (I used: Bright White, Sky Blue, Electric Pink, Electric Green, Orange and Egg Yellow). For tips on finding cookie decorating supplies, click here. For basic cookie decorating instructions, click here.
step one: bake your cookies
Roll out chilled dough according to recipe and cut out bite-size circles and the squares. Bake and let cool.
step two: make your frosting
Prepare frosting and make desired colors. I used: white, orange, blue, lime green, yellow, and pink. Prepare frosting bags with couplers and tips (you will need size "5" for the circles and varying sizes for the squares) and fill with colors. Tie closed tightly with rubber bands. (If you are making the squares, reserve some of the white frosting in a bowl and cover.)


step three: decorate your cookies
For the squares: Pipe an outline on the cookie using the white frosting with a size "4" decorating tip. Let set about 15 minutes. Thin reserved white frosting with drops of water until the consistency of thick glue. Using a small spoon or an empty frosting bag with about 1/8 inch snipped from the tip, spoon or loosely pipe the thinned frosting on the cookie, letting it flood to the edges and encouraging as needed with a toothpick. Let set very well, a few hours or overnight. When dry, pipe another outline on the square with the white. Immediately sprinkle the outline to coat with the sprinkles, turn over to remove excess, and use the other colors and tips (I suggest sizes "2" and "3" to pipe any desired birthday design on top.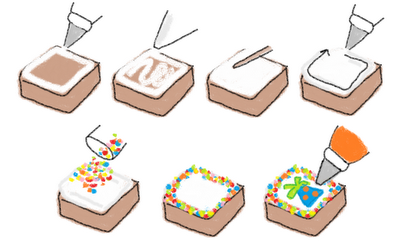 For the circles: Using size "5" tips on any desired colors, pipe and fill circles on the small circles (I just piped spirals on each to make a circle). Work with one cookie at a time and a sprinkle with sprinkles immediately after piping the circle. Let dry overnight before handling or packaging.